With its young (average age of 30), dynamic population, skilled workforce, an increasing employment rate, a growing middle-class with high purchasing power and unique geographical location, Turkey has the fastest growing economy among the members of the Organization for Economic Co-operation and Development (OECD) and the third fastest in the G-20 .
It grew on average by 5.6 percent between 2003 and 2016 and was the 13th largest economy in terms of purchasing power parity at year-end in 2016.
After growing for 27 consecutive quarters, the Turkish economy shrank in the third quarter of 2016, then immediately picked itself up and posted an annual Gross Domestic Product (GDP) growth of 4.2 percent in the last quarter of 2016, followed by 5.2 percent in the first quarter and 5.1 percent in the second quarter of 2017.
Turkey is located right in the middle of Europe, Central Asia, and the Middle East, thus provides easy access to the European, Middle Eastern, North African, Central Asian and Gulf markets, which have a combined population of more than 1.6 billion and a GDP worth over $28 trillion.
More than half of the world's trade takes place within four hours by air from Turkey, which is one of the main reasons why many multinational companies, such as 3M, Coca-Cola, Microsoft, and Intel have selected Turkey as their strategic regional headquarters.
The country has implemented a range of successful economic reforms to invigorate its domestic investment environment, based on the strong foundations it laid down to attract international investment.
Thanks to the structural reforms carried out over the past decade, it has created an environment where all international investors get equal facilities, rights and are subjected to identical rules as domestic companies. research and development, tax reforms, regional and sectoral incentives as well as general incentive programs to improve the investment environment also provide attractive opportunities for foreign investors.
As a result, Turkey has continued an upward climb in the World Bank's Ease of Doing Business Index. With an increased foreign direct investment coming into the country it has also become an important player in the global economy.
In 2002, the number of companies with foreign capital operating in Turkey stood at 5,600, that number reached 55,000 as of June 2017. Additionally, until 2002, the total foreign direct investment in Turkey was around $15 billion but since 2003 more than $185 billion has poured into the country.
ISPAT provides support for investors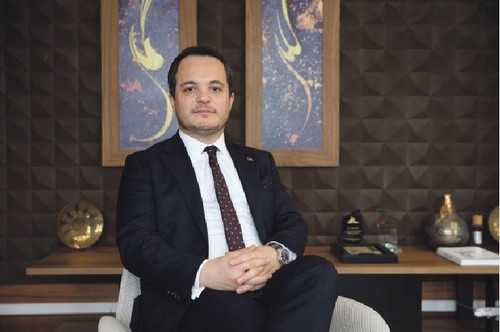 Investment Support and Promotion Agency (ISPAT) Chairman Arda Ermut
Investment Support and Promotion Agency of Turkey (ISPAT), under the Turkish Prime Ministry, was established in 2006 during President Recep Tayyip ErdoĞan's first term as prime minister. It is the sole official institution tasked with promoting investment opportunities presented by Turkey and with supporting investors at every step of their investment there.
Since its establishment, ISPAT has been fulfilling important duties in determining and implementing investment support and promotion strategies geared towards encouraging investment in Turkey to help boost its economic development.
The Agency, which combines its official institutional identity with a private sector approach, provides services such as market research and analysis, industry and sector reports, investment conditions assessments, investment area selection, company matching for possible partnerships and joint ventures, incorporation, incentive applications, support services, as well as facilitation during official correspondence such as license, work, or residence permit applications. ISPAT sees every project as a new experience and formulates strategies that will lead Turkey to success, with a "one-stop-shop" approach to services required by the projects.
With its expert staff, who are able to provide services in Turkish, as well as in many other languages including English, Arabic, and Chinese, ISPAT is the first address for investors looking to take advantage of the opportunities provided by Turkey. The agency also operates in the U.S., U.K., Germany, United Arab Emirates, China, France, Spain, Japan, and Saudi Arabia via local consultants. In addition to foreign consultant activities, ISPAT organizes company visits and investment promotion events, in coordination with stakeholder institutions and organizations.
10 REASONS FOR INVESTING IN TURKEY
1 Strong economy
2 Large domestic market
3 Strategic location
4 Young and dynamic population
5 Qualified, competitive and skilled workforce
6 Uninterrupted, continuous reforms
7 Free investment climate
8 Incentives
9 R&D ecosystem
10 Sectoral opportunities

IMPORTANT INVESTMENT PARTNER FOR INDIA

South Asian giant India hosts plenty of investment and trade opportunities for Turkey due to a long standing economic and political partnership. As of the end of 2016, trade volume between two countries was around $6.4 billion.
More than 260 companies with Indian capital are operating in Turkey as of June 2017 and during the last 14 years, these companies have made $103 million worth of direct investment in the country. This shows that there is still a huge room for improvement in terms of bilateral investments.
Indian companies operating in Turkey include Polyplex, Wipro, and Mahindra among others.
Polyplex Europe incorporated a wholly-owned distribution subsidiary in Turkey in September 2013, to expand their reach in the local Turkish market. Wipro, one of India's biggest IT companies, operates in the fields of software development; work process procurement, management consultancy, and engineering support services through its country office in Turkey.
On the other hand, Indian automaker Mahindra Group recently acquired a 75 percent stake in Turkish-farm equipment producer Hisarlar.
With its qualified and competitive workforce, a young population, liberal, open-minded investment environment, reforms and regulations, incentive packages and low tax practices, and more importantly its location on the energy corridor, Turkey presents an exciting opportunity for Indian investors.