Turkey's newly appointed Ambassador to China Abdulkadir Emin Önen said during his stay in Beijing, his priority will be to improve economic relations, trade and Chinese foreign direct investments (FDI) in Turkey, underlining that many projects are in preparation to broaden the scope of cooperation in culture and education, which are expected to bring the two countries closer together.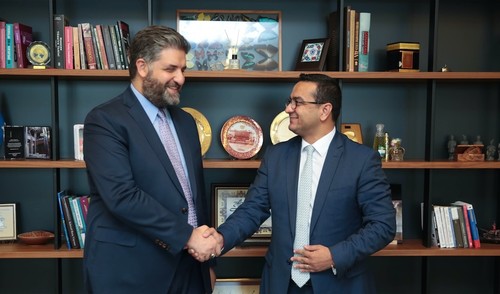 Abdülkadir Emin Önen, a former member of Turkish Parliament and chairman of the Turkey-China Inter-Parliamentary Friendship Group, excelled during his tenure in Parliament, being elected as vice president of the Organization for Security and Co-operation in Europe (OSCE) Parliamentary Assembly and vice president of the Asian Parliamentary Assembly (APA). Prior to being appointed as Turkey's new ambassador to China, Önen served as one of the chief advisers to Turkey's President Recep Tayyip Erdoğan. According to Ambassador Önen, one cannot understand the dynamics of the economy and the global structure of the coming decades without having an understanding of China. He believes that improving the various dimensions of Turkish-Chinese bilateral relations is of vital importance.
Regarding the One Belt One Road (OBOR) initiative, Önen stressed that all projects launched in the scope of this initiative are a priority for Turkey. Stating that the Middle Corridor will be one of the main elements of extensive economic cooperation between Turkey and China, he also underlined that Turkey's economic cooperation will not be limited solely to the Middle Corridor and it will also be expanded to include ports, logistic centers, cooperative efforts in the financial sector as well as joint investments in new economic sectors.
Touching upon relevant projects related to the "2018 Turkey Tourism Year" in China, Ambassador Önen said that they have prepared roughly 50 different projects with the Turkish Ministry of Culture and Tourism amid aims to reach a target number of 1 million Chinese tourists.
Daily Sabah: How are the current relations between Turkey and China? In which fields the two countries could increase cooperation?
Emin Önen: While the two countries celebrate the 46th anniversary of diplomatic relations, friendship between China and Turkey goes back thousands of years. Because of this longstanding friendship, bilateral relations between the countries in terms of economy and politics are at a very good standing.
Bilateral relations between the two countries have been improving since 2003; however, the strategic partnership agreements signed in 2010 is a milestone for the relations.
As a result of the agreement, our trade volume has reach US$28 billion. While US$26 billion of this trade consists of Turkey's imports from China, the remaining US$2 billion constitutes Turkey's exports to China. I know China also desires to balance this bilateral trade. I believe if we can attract foreign direct investment from China and be more active in employing cheap finance opportunities for Turkey's larger projects, we might bring a balance to the bilateral trade.
In order to exchange ideas about balancing bilateral trade, we have come together with 25 companies that invested the most in Turkey and their CEOs. Our businesspeople also agree that the trade volume between Turkey and China will improve with investments.
On the other hand, 2018 was announced as Turkey Tourism Year in China, as you know. We believe this is a significant development. With the contributions of our Ministry of Culture and Tourism, embassies and Turkish citizens who have invested in China, we desire to reach the determined target of 1 million Chinese tourists in 2018.
D.S.: As Turkey's new Ambassador to Beijing, which fields will you prioritize for improvement?
E.Ö.: Firstly, increasing the volume of our economic relations will be one of our priorities. China is the second largest economy and it is expected them to become the first in a decade. In other words, without understanding China, one cannot understand dynamics of economy and the global structure in the following decades. Being among the top then economies of the world is a part of Turkey's 2023 goals.
Meanwhile, we are in a process in which new projects beside China's "Belt and Road", deemed the new Silk Road, are being discussed. As it is known, until the end of 15th century, Silk Road was very active. The new Silk Road, China's "Belt and Road" project became a humongous project that involves approximately 60 countries. Our priority is to increase fields of cooperation between Turkey and China while improving economic relations.
In addition, we are planning to implement projects that allow more Turkish students to attend universities in China, improve cooperation between Turkish and Chinese universities and creating China desks in Turkish institutions and organization.
Our most significant handicap is that we learn Chinese culture from foreign sources; for instance, we are trying to learn China from an American author's book which is translated from English to Turkish. Similarly, there is not a book written in Chinese that introduces Turkish culture. Again, Chinese people try to get acquainted with Turkey through an American or British author's translated book. There are many fields that the two countries share similarities, ranging from family structure to cultural life. We have to explore these fields.
In the short-term, our priority is to improve economic relations, trade and Chinese foreign direct investments in Turkey. We are also preparing many projects that will increase cooperation in culture and education which will bring to the countries closer.
Do you believe the geographical distance between the two countries is an obstruction to improve bilateral relations?
Firstly, I would like to express that I really don't understand the term "Far East". In conferences and my visits to universities, I always say the following: Have you ever heard of Far West? Far according to who? They believed it was a "far" kind of mentality, so they have severed our connections with the region known as Asia and Far East. A perception that China is unreachably far is engraved in our minds.
We have to deconstruct this wrong perception. When you embark from Istanbul, the travel to New York City or Washington DC takes 10 hours. When you want to go to Beijing from Istanbul, the trip also takes around 10 hours. So, we have to eradicate the term "far". We are trying to implement a foreign policy that covers 360 degrees.
Turkey faces the West and EU continues to be an important anchor for us. However, whenever we turn our face towards Asia or implement policies regarding Asia, there are discussions about a shift of axis. We don't agree with this assessment. Turkey is in a prominent region and has to cover 360 degrees without prejudices, regardless of direction.
You have expressed that Turkey has to have a 360 degrees foreign policy. Yet, whenever Turkey improves its relations with Asian countries, especially China, Western-based media starts to criticize Turkey and claim that the country has to "prefer" one side over the other, like preferring between NATO or Shanghai Cooperation Organization. What is your take on these criticisms?
EU and NATO memberships are not an alternative for Shanghai Cooperation Organization (SCO). So, they are not mutually exclusive.
You can reach more than 40 capitals with a three-hours flight from Turkey. Therefore, Turkey is an Asian, European, Caucasian, Mediterranean, Black Sea and Middle Eastern country. Even though it might seem like a disadvantage at times, it is a prominent advantage. We are in a position which disallows us from neglecting anyone. Our historical bonds won't allow us. For this reason, developments in Asia are crucial for us.
In this respect, we have to improve cooperation with Asia-based institutions and organizations such as SCO and ASEAN in the following years. While the world was economically shifting towards to west, today we are observing that the shift is reversed and it's from the west to the east.
Moreover, I would like to underscore that Turkey is an independent country and determines its own policies. It doesn't require unsolicited advices of others in which organization or institutions Turkey is to cooperate with. Turkey is a prominent country of the region that has created its own policies, has its own foreign policy and military presence.
Turkey is on the Middle Corridor of China's "Belt and Road" project. How do you evaluate the impact of this project on the future of bilateral relations?
The Middle Corridor doesn't only benefit Turkey; this corridor which starts in China and reaches London will be beneficial for all. It's a relatively short road and the climate is suitable. Moreover, by 2016, this corridor has become a prominent part of the project, almost like a hub.
In this respect, Turkey has been realizing tremendous infrastructure projects which will connect China and Europe together. For instance, the construction of the third Bosporus bridge which has a railroad and the renewal of various railroads. The most important step in this field is the Baku-Tbilisi-Kars railroad which was opened on October 30. With the realization of this project, a product produced in China will reach London through Turkey within 14 days. This will contribute to the increase of the trade volume between countries.
We are not only talking about railroads that go through our country. There are many other countries that we are to cooperate with. Kazakhstan, Azerbaijan, Georgia, Kyrgyzstan, India, Bangladesh and Caspian region are all important. It's a complex project; beside land routes, there are also sea routes. Turkey has important ports and we are cooperating with China in this matter.
Considering all of these, Belt and Road project is not a solely economic project; it has political dimensions. China has dedicated a tremendous budget for this project. There are many funds involved, including Asian Development Bank. These funds will be used for infrastructural investments and will allow products to be transported to Europe in the best possible way. For this reason, this project is vital for Turkey's economic development and investment targets.
All projects of the Belt and Road Initiative is a priority for Turkey. The Middle Corridor will be one of the main elements of an extensive economic cooperation; however, it should not be the only one. We will definitely extend and expand our economic relations with China through ports, logistic centers, cooperation in financial sector and joint investment in new economy sectors.
2018 is to be celebrated as Turkey Tourism Year in China. Could you inform us about the preparations?
We are cooperating with the Ministry of Culture and Tourism; there are around 50 projects that are being prepared. Most of them will take place in China, while some will in Turkey. We are aiming to host numerous Chinese delegations in various cities of Turkey. There will be concerts and theatrical performances along with events that are jointly prepared by the two countries.
These events should be diverse and continuous; we desire to hold such events in 2018. For instance, Chinese calligraphy is world renowned. Similarly, our calligraphy is as well-known. We may bring prominent Chinese and Turkish calligraphers together and organize events where they could show people their craft. If we can realize such events, we will be able to introduce Turkey to all those who participate in these events. We may organize events like these in Shanghai, Beijing, Hong Kong and other cities. We will be in touch with Chinese officials to determine cooperation in these fields.
Similarly, we will exhibit the richness of our culture with various activities like shadow play in order to introduce Turkey to China.
For instance, we may also exhibit Göbeklitepe in China, as it is one of the first places where agriculture emerged with its 12,500 years of history. This might arouse interest in China as historical and cultural tourism are the prominent fields of tourism for Chinese people. We know that Chinese tourists in our country spend significant amounts for this.
We are aiming to realize all of these projects together with our Ministry of Culture and Tourism, embassy and the private sector.
In terms of preparations for the tourism year, in which aspects do you feel an absence of certain elements? Are there efforts to improve these lacking aspects?
We have met with Ministry of Culture and Tourism along with Association of Turkish Travel Agencies (TURSAB). The most important issue is finding employees which known Chinese. There are Chinese Language and Literature departments in 12 universities. We are thinking of evaluating graduates of these departments in the following process. Addressing a tourists or official delegates in their own language is sincerer. Moreover, cultural tourism attracts Chinese people more than sea tourism. In this respect, Turkey is like an open-air museum.
For instance, we see that Cappadocia attracts many tourists from all over Asia, especially China. As hot air balloon tours are a rare experience, there is much interest in them. Even now, there is a very special tourism bond between this region and China. Intensifying this relation and institutionalizing it is among our top priorities.
We are a country that is rich in history. We have the means and numerous locations to take tourists. In this respect, we know that Chinese tourists are fond of Turkey. Our target is to attract as many Chinese tourists we can and organize travels to these locations.
World's second largest economy China also the second country that makes the most foreign direct investment (FDI). What should Turkey do to attract more foreign investments from China?
Chinese investors are investing an annual US$200 billion abroad. I believe there are two essential factors which determine their investments. Firstly, the investment should be feasible and secondly, there should be incentives for investment. In this respect, Turkey has many advantages ranging from tax deductions to acquiring property.
In the Shanghai markets, the exchange rate of Turkish Lira and Yuan is not indirectly quoted over US Dollar, but is directly quoted. Exchange agreements between the two countries' central banks are deepening. Even though Turkish banks were always interested in China, it is possible to expect this interest increasing especially with the ongoing financial liberalization process in China.
Beside the close relations between central banks, I would like to express that our door is open to improving relations between banks, other financial institutions, stock markets, supervisory institutions and actors of organized market.
Meanwhile, a country has to be culturally attractive if you want Chinese investors to feel comfortable there. There are Chinatowns in prominent centers of the world. Similarly, we have to establish Chinatowns in Turkey's larger cities. Chinese people are keen on their cuisine; so, we have to cater to their needs. If they found something of their culture when they come, they will adapt more easily.
On the other hand, China should be regarded as a neighboring country now. For instance, largest contracting and investment firms in Africa are all Chinese. As Africa is a neighbor of Turkey, so is China. Operating in the region, many Chinese firms establish their headquarters in Turkish cities like Istanbul, Kocaeli or others. Chinese investors in the region are increase by the day. These relations also involve third parties; we have many field of cooperation with China in Africa. Considering that Turkish contracting firms are in a good shape, why shouldn't firms of the two countries cooperate in investments to Africa? We are trying to achieve this. We want to cooperate with Chinese investors not only in Turkey, but also in third parties.
Some news about Uighurs in China's Xinjiang Autonomous Region caused misunderstandings in bilateral relations between Turkey and China in the past years. What is the current situation? Do you believe Turkey and China were able to completely overcome these negativities?
Both of the leaders of Turkey and China understand each other, are close as friends and manage their respective countries well. Between 2016-2017, President Erdoğan and Xi Jinping have met 5 times.
Moreover, we understood that China really cares about its relations with Turkey from how they welcomed and hosted Turkish delegations along with the quality of meetings that were held. These incidents took place in previous years and we could deem these news as a plot against both of the countries. We have to overcome these issues; if we make these issues our top priority, we won't have the opportunity discuss any other subject. The most important point is to discuss what we should do to improve bilateral relations in terms of politics, economy and trade. However, we know that there are certain external elements involved in this matter, trying to cause trouble with false pretense. I believe we can overcome this issue by staying in touch, directly communicating with each other and bypassing any third parties.
Your interest in Asia-Pacific goes a long way back. Written in 2003, your master's thesis is titled "Perception of Asia in Turkish Foreign Policy". In this respect, how do you evaluate the current perception of Asia in Turkish foreign policy?
Unfortunately, we have neglected Asia for too long, disregarding the developments. However, from 2003 onwards, we see that bilateral relations with many Asian countries improved swiftly. This is the case for Japan, Korea, India and Vietnam.
I would like to underscore that Turkish citizens are always in a privileged position in Asia. We have a head start there, as we have longstanding friendships with many countries in Asia. We have martyrs and veterans in Korea and have good communications with the country. We have a friendship with Japan that started with the Ertuğrul Frigate incident and that continued with Turgut Özal sending planes to evacuate Japanese citizens from Iran. Similarly, we have thousands of years old relations with China. As a result of these historical friendships, Turkish citizens are cherished and are subjected to the utmost hospitality. Our citizens are deemed as entrepreneurs, businesspeople and employers. This perception is the exact opposite in Europe; our citizens are treated as second-class citizens.
I don't believe we have fully tapped our economic potential with Asia. We are not able to benefit from the developments in countries like Japan, Korea and China which have finalized their industrialization. I believe we will able to benefit more from them in the following years.
Do you want to add anything?
One of my priorities during my stay in Beijing will be to increase the number of Turkish institutions and organization in China in order to render the Turkish lobby more effective. Turkish Radio and Television Corporation (TRT) is an important component of this. We are aiming to realize many achievements in addition to Anadolu Agency's presence, Prime Ministry Investment Information Agency office, opening of the Yunus Emre Institute branch and formation of Turkish-Chinese chambers of commerce in China. The increasing number of these institutions will be beneficial. As you know, Independent Industrialist and Businessmen's Association (MÜSİAD) has also opened an office there.
Considering all of these, your human resources increase along with qualified human resources. Moreover, the increasing number of institutions, organizations and people facilitates embassy's duties. We have discussed this with TRT and they are keen on opening an office. Establishing an office there would take some time; however, it is important to have a headquarters in Beijing along with addressing and analyzing Asia objectively. We are currently gathering information about Asia through Western news outlets. I hope 2018 will be a year that we will make great jumps and introduce China to Turkey and vice versa.