Turkish steel exports to the U.S., which were recorded at $1.2 billion in 2017 and account for almost 10 percent of Turkey's total steel exports, are said to have been affected by U.S. President Donald Trump's latest decision to introduce new tariffs of 25 percent on imported steel and 10 percent on aluminum imports.
While the scope of the impact on Turkish steel imports is said to have been relatively limited, the wider results remain to be seen by the U.S. and global industries. Since Trump's campaigning, the world has seen a great schism that almost created a schizophrenic global trade policy with Trump championing trade protectionism to "Make America Great Again," and with Chinese President Xi Jinping taking the role of the commander-in-chief of globalization.
So far, Trump has been quite willing to "Make America Great Again" with import tariffs on a number of Chinese products. The last action in his love for protectionism hit the wires following his meeting with American industrialists at the White House on Thursday.
Unable to withstand the pressures from U.S. industrialists, Trump, who thinks the World Trade Organization (WTO) is a "catastrophe," on Thursday unveiled the anticipated steel decision without waiting for the deadline. But the decision was lambasted worldwide because a small number of countries that will be affected by the latest levies and the stakes were higher.
Turkey is the eighth-largest steel producer in the world. The country's exports to the U.S. stood at around $1.2 billion in 2017, according to data from the U.S. Census Bureau. Turkey's total iron and steel exports totaled around $8.25 billion in 2017, according to Customs Ministry data.
The U.S.'s decision to introduce new 25 percent tariffs on imported steel and 10 percent on aluminum imports will of course impact Turkey, but it will be relatively limited, according to Turkish Steel Exporters' Association (ÇİB) head Namık Ekinci.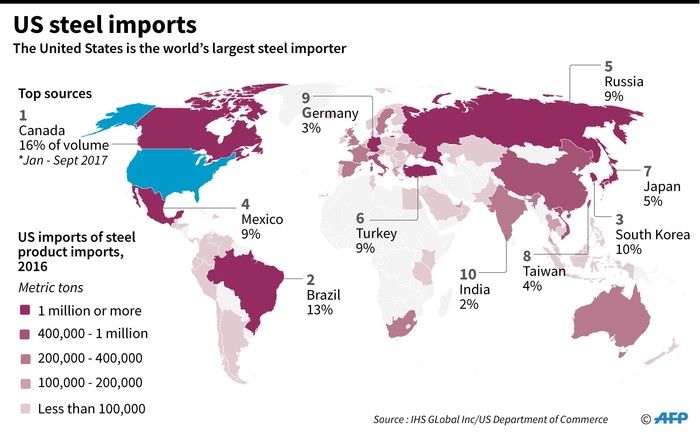 Although not officially signed, Turkey's steel exports to the U.S. will continue in the case of 25 percent tariffs for all exporters worldwide, Ekinci sighted.
Ekinci said that they are in favor of fair trade under the rules of the WTO and that attempted protective measures unjustly and negatively affect world trade.
"Of course, for it not to be implemented would be the best, but if it is to be paid, it would be the most normal that the tariff is introduced equally for all countries. Like some other countries, our steel exports to the U.S. will also continue," Ekinci said.
The U.S. will be the most affected by this turmoil, Ekinci said. "Following the announcement of the U.S. Secreatary of Commerce's press release on Feb. 16, which included three tax options for Section 232, an increase in the prices of all steel products was seen in the U.S. market. For example, the price of construction steel rose to $850. This is expected to increase further and exceed $900." A number of countries on Friday slammed Trump's decision to introduce tariffs on imported steel and aluminum.
Strongly regretting the U.S. president's announcement, the European Commission late Thursday promised countermeasures against U.S. goods for a rebalance in trade between Europe and the U.S. "We strongly regret this step, which appears to represent a blatant intervention to protect U.S. domestic industry and not to be based on any national security justification," Jean-Claude Juncker, president of the European Commission, said in a written statement.
Germany lashed out at Trump's decision to slap protectionist tariffs on imported steel and aluminum. Foreign Minister Sigmar Gabriel said such punitive tariffs would mostly affect European industries, warning that it might also spark an international trade conflict. Europe will retaliate with a firm joint response if the Trump administration goes ahead with plans to impose tariffs on imported steel and aluminum, French Finance Minister Bruno Le Maire said on Friday.
U.S. rating agency Fitch Ratings cited on Friday that China, among others, would experience a limited effect as a result of the tariffs. The financial institution said that it expects China's steel market to maintain stability in 2018.
As for Trump, he gave an answer to the reactions on his Twitter account: "When a country (U.S.) is losing many billions of dollars on trade with virtually every country it does business with, trade wars are good, and easy to win. Example, when we are down $100 billion with a certain country and they get cute, don't trade anymore-we win big. It's easy!"
Moreover, global stock markets fell sharply Friday as investors fretted over a trade war following Trump's vow to impose stiff steel and aluminum tariffs.
Ekinci said that as the president of the U.S., Trump has to take into account the interests of not only the steel industry, but also the interests of all domestic producers and the public, and that despite the harm to its people and industrialists, he sided with domestic steel industrialists in a landslide.
"The people who are customers of industries such as automotive, appliances, machinery manufacturing, construction and so on, which use steel as a raw material, will see great losses due to increases in prices. With such a decision, the U.S. will not provide benefit to its own steel industry, but it will bring up huge losses in the near future. The U.S. domestic steel industry uses old technology and is inefficient. Closing trade out will lead to no effort to be competitive. They will go back further in their work and will resist technological renewal. This will result in a kind of laxity in the steel industry," Ekinci said. He added that he thinks the situation for now will not have a major effect on the Turkey's steel exports to the U.S.
Meanwhile, leading Turkish steelmaker Borusan Holding is considering expanding its plant in the U.S. after U.S. President Donald Trump proposed a hefty increase to tariffs on imports, the company's chief executive said on Friday. "The U.S. tariff decision on steel imports is important for Borusan ... We are considering expanding our production facility there, depending on the details of the U.S. tariffs," said Borusan Holding CEO Agah Uğur. The details of the new tariffs Trump announced are expected next week.