The International Monetary Fund foresees strong, stable growth in the world economy for 2018-19 but is warning that prospect of an escalating trade conflict "threatens to undermine confidence and derail global growth prematurely."
The IMF on Tuesday predicted global growth for both this year and 2019 at 3.9 percent, unchanged from the Washington-based crisis lender's quarterly World Economic Outlook in January. The world's major regions are expanding in unison for the first time in a decade, aided by low interest rates and a revival in global trade.
The 2018-19 growth forecast is the fastest since a 5.1-percent global rate in 2010, as the world briefly rebounded from the 2008 financial crisis.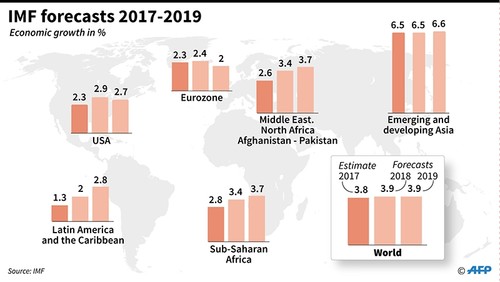 The IMF predicted that the U.S. economy will grow 2.9 percent this year, up from the 2.7 percent it had forecast in January and from the 2.3 percent growth the economy achieved last year. The U.S. economy will enjoy a boost through 2020 from tax cuts President Donald Trump signed into law in December, the IMF predicts.
The IMF issued the update to its World Economic Outlook on the eve of spring meetings in Washington this week of the 189-nation IMF, the World Bank and the Group of 20 major economies.
Maurice Obstfeld, the IMF's chief economist, warned in prepared remarks that the economic gains the agency foresees face a rising risk from "escalating tensions over trade." Trump, who campaigned on a pledge to protect U.S. industries from what he argues is unfair foreign competition, has slapped tariffs on steel and aluminum imports. He has also proposed imposing tariffs on $50 billion in Chinese imports to punish Beijing for its aggressive attempts to obtain foreign technology.
China has countered by proposing tariffs on $50 billion in U.S. products, including soybeans — a highly valuable export for America's farm belt — and small aircraft. Trump has, in turn, ordered the U.S. trade representative to consider targeting up to an additional $100 billion in Chinese imports.
The prospect of a trade war between the world's two biggest economies has rattled financial markets for weeks. For now, though, the global outlook remains sunny, thanks to low borrowing rates and increasing trade and investment.
The IMF upgraded its forecast for the 19-country eurozone to 2.4 percent — which would be its best showing since 2007 — and up from the 2.2 percent it predicted three months ago. The eurozone, which emerged only slowly from its 2011-2012 debt crisis, is expected to benefit from continued low rates.
For Turkey, the IMF projected 4.4 percent growth for 2018, up from its previous prediction, but downgraded its forecast for 2019 to 4 percent.
In its January upgrades, the IMF had forecast 4.3 percent growth for the Turkish economy in both 2018 and 2019.
The IMF said it expects Turkey's economy to grow above potential, bolstered by improved external demand and supportive policies on multiple fronts, including expansionary fiscal policy, state loan guarantees, pro-cyclical macro-prudential policy, and an accommodative monetary stance.
However, the IMF warned that Turkey needed to limit balance sheet currency mismatches and high exposure to foreign exchange risk was an urgent priority, especially with the U.K. and the U.S. undergoing monetary policy normalization which could result in the shift of capital flows away from emerging market economies.
"Moreover, given that sudden re-pricing of term premiums remains a distinct possibility (as discussed in the "Risks" section) and that portfolio shifts could occur, it is important to mitigate rollover risk by avoiding excessive reliance on short-term borrowing," it said.
China is projected to grow 6.6 percent this year, decelerating from 6.9 percent growth in 2017. The world's second-biggest economy is attempting a transition from super-fast growth based on often-wasteful investment to slower but steadier growth built increasingly on consumer spending.
India is expected to outpace China, registering 7.4 percent growth this year. Japanese economic growth is forecast to decelerate to 1.2 percent from 1.7 percent in 2017. Japan's economy has long been hobbled by an aging workforce and dwindling population.
A recovery in the prices of commodities such as oil, which imploded in 2014-2015, likely will help developing economies this year. Sub-Saharan Africa's economy is expected to grow 3.4 percent this year, up from 2.8 percent in 2017. Latin America is forecast to expand 2 percent this year, up from 1.3 percent in 2017.