The longstanding political and economic ties with Europe have instigated Turkey's European partners to raise their voices against the recent threatening economic showdown of U.S. President Donald Trump. His decision to impose sanctions on Turkey, a longtime NATO ally to the U.S., has been criticized on the other side of the Atlantic. The steep fall in the Turkish lira for the last couple of weeks has not been possible to explain with the macroeconomic fundamentals of the Turkish economy, many bankers, government officials and economists have emphasized. The high volatility in the exchange rate was the result of unsubstantiated manipulations on the Turkish lira, which were deemed as the main strategy of an economic war waged against Turkey by Trump.
However, attempts to destabilize the Turkish economy have found no support from the U.S.' allies in Europe. Particularly German and Italian ministers and government officials have criticized Trump's decision to put additional tariffs on steel imports from Turkey, which took effect yesterday. German Chancellor Angela Merkel said yesterday that they want to see economic prosperity in Turkey and emphasized that no one has an interest in the country's economic destabilization. Speaking at a press conference yesterday, German government spokesperson Steffen Seibert also underscored that the stability of the Turkish economy is beneficial for German economic dynamics.

Meanwhile, Italy's Prime Ministry Undersecretary Giancarlo Giorgetti said his country could face an economic attack similar to Turkey.
In an interview with the local newspaper Libero on Sunday, he said they were expecting a similar crisis by the end of August or in the beginning of September as market assaults were affected by small summer trading volumes.
"The markets are populated by hungry speculative funds that choose their prey and pounce," he said. "In the summer, the market volumes are small and you can lay the groundwork for aggressive initiatives against countries. Look at Turkey."
Giorgetti said that in case of such an attack Italy has "the resources to react, thanks in part to its large amount of private savings."
Italian Foreign Minister Enzo Moavero Milanesi sent a message of support to Turkey in an interview with Il Foglio newspaper on Saturday. The Italian minister said Turkey plays a significant role for the financial equilibrium of the Mediterranean region. Speaking of the recent fall in the Turkish lira, Moavero said, "I think it is important to keep solidarity with a critical player for the commercial and financial balance of the Mediterranean. As Europeans we all should to maintain cooperation as necessary."
Italian Foreign Minister Milanesi said that what happens in Turkey also concerns Europe, stating that the Turkish lira showed how important it was for Italy to have euro as currency.
Furthermore, local media reported Sunday that Germany's economy minister also renounced Trump's decision to impose additional tariffs on Turkey.
"This trade war slows down and destroys economic growth and produces new uncertainties," Peter Altmaier said according to Germany's Bild am Sonntag newspaper.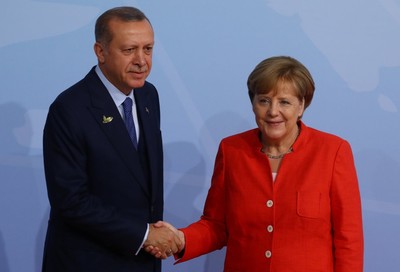 President Recep Tayyip Erdoğan shakes hands with German Chancellor Angela Merkel.
"The past has shown that consumers are particularly affected by trade wars, as the products are becoming more expensive," Altmaier said, emphasizing Germany's will to keep good economic relations with Turkey. "Turkey stands for security and reliability in Europe, we are working together well with Ankara in terms of migration."
Altmaier is scheduled to visit Turkey on Oct. 25-26 to boost bilateral economic ties, accompanied by an 80-member business delegation of leading companies.
Turkey is the fourth largest export market of the European Union and fifth largest provider of imports. The EU is by far Turkey's number one import and export partner. Turkey's imports from EU dominated by machinery and transport material, chemical products and manufactured goods while the country mainly imports machinery and transport equipment, followed by manufactured goods.
Last year, Turkey's exports to the EU totaled to 69.8 billion euros and its imports from the union were recorded at 84.5 billion euros.
Treasury and Finance Minister Berat Albayrak expressed gratitude to Germany's Economy Minister Peter Altmaier for his criticism of the U.S. sanctions.
"I appreciate Mr. @peteraltmaier's [Peter Altmaier] remarks on the most recent U.S. actions against Turkey," Albayrak said on his official social media account yesterday.
"Politicians who act in good faith and advocate diplomacy, will strengthen the Turkish people's confidence in our relations with Germany and the EU," Albayrak stated.
In addition to European allies, Turkey's longtime friend Pakistan also opposed the "unilateral sanctions" imposed by the U.S. on Turkey.
"Pakistan, in principle, is opposed to imposition of unilateral sanctions against any country. The solution to any and all issues should lie in dialogue, mutual understanding and goodwill," a statement by the country's Foreign Ministry said yesterday.
Meanwhile, a statement by Pakistan's Foreign Ministry lauded Turkey's importance to the region.
"Pakistan acknowledges and greatly appreciates Turkey's invaluable role toward regional and international peace and stability. It is also a vital member and engine of the global economy," the statement read.
No macroeconomic indicators prove slide in lira
The political rift between Turkey and the U.S. that has escalated with the case of pastor Andrew Brunson who is being tried by the Turkish judiciary because of his links with the Gülenist Terror Group (FETÖ) and PKK, a Kurdish separatist armed group designated as a terrorist organization by the U.S. He is currently on house arrest in Turkey's İzmir province, which has led Trump to wage an economic war against Turkey by imposing sanctions on the country's ministers and additional tariffs on steel imports.
Instead of taking steps to avert collapse in ties, Trump said on Friday he had authorized higher tariffs on imports from Turkey right at the time when Minister Albayrak was announcing the country's new economic approach. He imposed a 20 percent tariff on aluminum and a 50 percent tariff on steel, a move that has further stoked tensions.
These developments have negatively reflected on the Turkish lira which has lost almost 50 percent of its value since the beginning of this year. Following Trump's tweet on Friday, the Turkish lira hit 6.46 at around 8 p.m. local time.
The dollar/Turkish lira exchange rate hit a new high hitting 7.13 during the day yesterday and was trading at 6.90 at 4:25 p.m.
Government officials, prominent bankers and economists, however, have not been able to make sense out of the recent movements in the Turkish lira, maintaining that the fall cannot be explain by meaningful macroeconomic indicators of the Turkish economy.
President Recep Tayyip Erdoğan himself repeatedly stated that Turkey is under an economic siege.
Speaking at the 10th annual Ambassadors' Conference in Ankara yesterday, the president said that Turkey will act to eliminate the economic manipulations targeting the country's national interests.
Presidency Communications Director Fahrettin Altun warned late Sunday of a perception operation over Erdoğan's remarks.
"This perception operation is part of the economic war that our country is facing," Altun tweeted. "Turkey is facing an economic war. However, our economy is strong, we will win this war in unity of the nation with the state!"
Turkey's İşBank General Manager Adnan Bali said in a televised interview on private broadcaster BloombergHT that Turkey is under serious speculative attacks. Referring to the 1994 and 2001 crises in Turkey, 1997 Russian economic crisis and 1998 Asian crisis, the recent turn of events in TL-denominated markets shows no sign of such crisis.
"It is not possible to explain the exchange rate volatility with economic foundations. According to the theories of economics, the cross exchange rates of two countries are calculated by the difference of inflation in those countries. Therefore, I think the fluctuation in dollar/Turkish lira exchange rate does not comply with any theoretical explanation," Bali said.
The İşBank general manager said that the market dynamics fail to make sense out of what is happening right now.
"This is literally and economic war," he said, adding that Turkey should also carry out its obligations by foreseeing these kinds of manipulative attacks and always act vigilantly and use precautions.