Danish shipping group A.P. Moller-Maersk says it will send a cargo vessel through the Russian Arctic for the first time as a result of melting sea ice.
Janina von Spalding, spokeswoman for the world's biggest shipping company, said Thursday the new ice class container vessel, the Venta Maersk, would embark on "a one-off trial designed to explore an unknown route for container shipping."
The Northern Sea Route, the official Russian sea route between the Novaya Zemlya Island and the Bering Strait, is a part of the overall Arctic sea route known as the Northeast Route.
It could be a shorter route for journeys from East Asia to Europe than the Northwest Passage over Canada because it will likely be free of ice sooner due to climate change.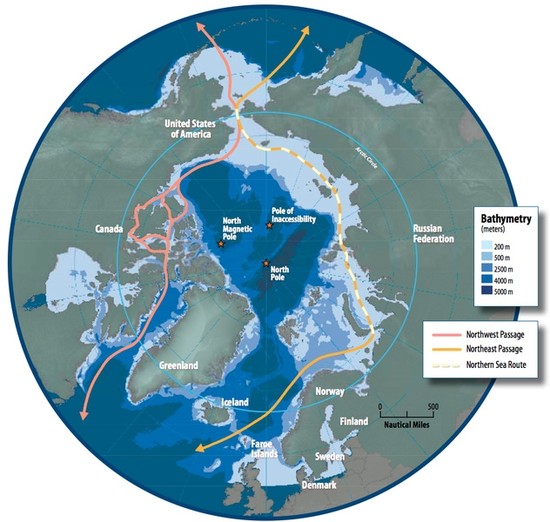 Source: Wikipedia

The route can cut the travel time between Europe and East Asia by one or two weeks, while it currently stands near one month over the route following the Mediterranean Sea, the Suez Channel, Red Sea, Indian Ocean, Strait of Malacca and South China Sea.
However, current ice levels require ice breakers and smaller and reinforced ships, meaning a more costly journey. Additionally, current trade routes serve major population and production centers, allowing freighters to have more diversified and profitable options.
Maersk also told the Financial Times that they are committed to their existing routes.
The route is expected to be conventional and economically viable no earlier than two or three decades. It is currently being used for a two-month period in the summer mainly for oil and gas shipping from fields located in Russia's far-north, including Siberia. Several companies have also launched efforts to develop container shipping on the route.
Environmentalists and experts say that increased shipping in the Arctic will add more environmental troubles in the region.
Von Spalding said the ship will leave Russia's Pacific port city of Vladivostok around Sep.1 and sail to St. Petersburg where it will arrive by the end of the month.