Women who did not have opportunities to receive formal education earlier in life are getting a second chance thanks to a new literacy campaign launched by Turkish President Recep Tayyip Erdoğan and his wife Emine Erdoğan.
Aged 20 to 76, illiterate women are using pencils for the first time through a program supported by Istanbul's Küçükçekmece Municipality held at Sefaköy Culture and Arts Center.
Students can earn a primary school diploma after taking 300 hours of courses, with two courses offered per day.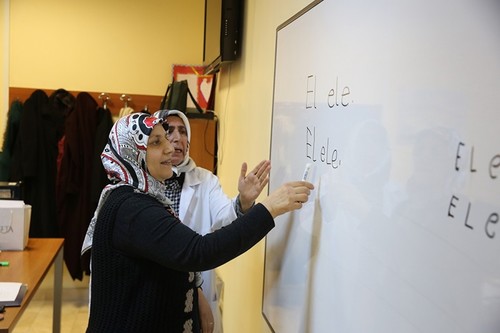 The women who attend the course say they are determined to learn, regardless of their age, as literacy gives them voices.
"We are all very excited and happy. We're experiencing the pleasure of accomplishing something," Ayten Mutlu told Ihlas News Agency.
"I count myself lucky to have a place in the program," she added.
Demand for courses has increased significantly since the program's launch.
Some students said their parents had held them back from school when they were young, or that there had not been educational resources in the rural villages where they were born.
"When we were young, they were not teaching girls in my home village, only the boys," Hamdiye Doğru explained.
For Doğru, literacy is a critical need. As a cancer patient receiving chemotherapy, she worries she can't understand fully what doctors explain about her illness, since she cannot read the paperwork.
"I wanted [to learn] a lot and I'm so excited. I give thanks for our president and his wife. They gave me a chance to read and write," said Doğru.
President Erdoğan and Emine Erdoğan have long supported literacy efforts in Turkey and around the world. The couple most recently appeared on a daytime show to endorse a literacy campaign launched by Müge Anlı, host of ATV's popular show "Tatlı Sert" (Sweet and Tough).
According to 2014 data from the Turkish Statistics Institute (TÜİK), some 9.2 percent of Turkish women could not read or write in 2014, versus just 1.8 percent for men.