President Recep Tayyip Erdoğan and Prime Minister Binali Yıldırım highlighted the importance of unity at the grand 'Yes' campaign rally in Istanbul's Yenikapı square on Saturday.

Thousands of people flocked to the Yenikapı Square in Zeytinburn district to attend the 'Yes' campaign rally. Over a million people reportedly attended the rally on Saturday, where Erdoğan and Yıldırım urged people to vote 'Yes' in the upcoming referendum.

"Are you ready to completely get rid of FETÖ, the PKK, Daesh, and the DHKP-C terrorist organizations?" Erdoğan asked the crowd.
The Gülenist terror group (FETÖ) is accused of orchestrating last July's defeated coup, which killed 249 people and left some 2,200 injured. The PKK's decades-long terrorist campaign against Turkey has claimed some 40,000 lives.
Stressing how "significant" the referendum is for Turkey's future, Erdoğan said the country's short-lived governments of the past were "signs of instability".
"If stability had been ensured, our development would have been twice of what it is now," he said.
He also argued that some previous leaders from various political parties had favored a presidential system, "but they just could not start the change."


Yıldırım evoked the defeated coup of last July and how the putschists "were plotting to assassinate the president, trying to destroy the government, bombing the nation's parliament."
"But they failed, they will not succeed," he said.
"We stood up against those who do not accept the choice of the people, we protected democracy," he added.
The ruling Justice and Development (AK Party) Party has been promoting its campaign in support of the constitutional amendment package that foresees a transformation in the system of government, which will be voted in a referendum on April 16.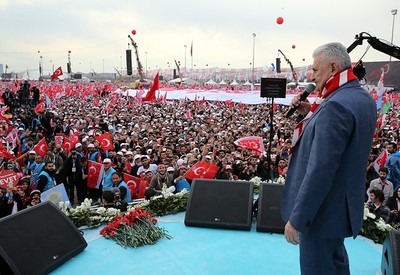 Those arriving at the meeting square arrived by boats, underground sea-tunnel Marmaray and metro, carrying Turkish flags and colorful posters in support of the campaign.

Around 5,000 police officers are reportedly participating to ensure safety and security during the grand meeting.
On April 16, 55.3 million Turkish people are expected to cast their votes.
Constitutional amendments have been on the agenda since Erdoğan's election as president in Aug. 2014.
The changes will abolish the post of the prime minister, which the AK Party claims resulted in an ineffective two-headed political system and replace it with a stronger system, which is expected to produce stability and effective long-term governments.