The referendum fever has spread across Turkey with only a couple days left until the crucial April 16 constitutional referendum. The main talk on the streets, in the shops and workplaces in Istanbul is about which front will prevail on Sunday night.
Male barbers spend at least half an hour or more with each customer, and they mainly chat about politics, football or daily life problems, just like the taxi drivers Daily Sabah talked to on Wednesday.
Naim, a barber in his 60s in Istanbul's Beşiktaş district, has been "doing what he is doing for decades." He explains that he communicates with all kinds of citizens every day in his small barber shop.
Despite having voted for the Justice and Development Party (AK Party) in every election for the past 15 years, Naim was leaning towards the "no" in the beginning. "It is a referendum. It has nothing to do with political parties, so I was going to vote 'no.'"
However, things have changed recently for Naim and many of his customers. "Many of my customers, including myself, have changed our minds after the strife with the Netherlands and Germany," he said.
Looking at the staunch opposition from foreign actors to the constitutional changes, Naim asserted that he would vote against what "the outer powers say."
The "yes" campaign has had a positive impact on the 63-year-old as well. The AK Party's services over the course of the last 15 years, highlighted in ads and on banners, played a role in Naim's voting tendency. "There is now an airport in my hometown. It was a miracle. You cannot buy this with money," Naim said, who is from Iğdır, a small province in Turkey's relatively poor east.
Many hairdressers were sharing the idea that the district where one works determines costumers' voting preferences. "This is Beşiktaş. So, most of my customers tend to vote 'no.' Yet, my girlfriend, for instance, works in Ümraniye [a relatively conservative district in Istanbul] and her customers are mostly 'yes' supporters," said Derviş, who works as a hairdresser in a saloon in Beşiktaş.
Derviş also expressed his observation that many people are "concerned about the country's future" and think that there would be many uncertainties swirling around Turkey if the new constitution is approved.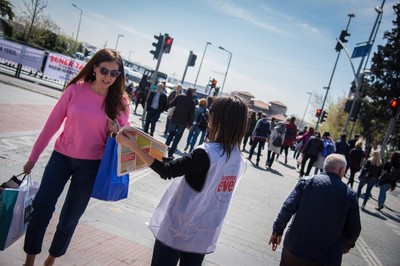 Musa Peçe, who is also a hairdresser in Beşiktaş, also agreed that working in Beşiktaş is an important indicator of his customers' political orientation. "My customers' main tendency is to vote for 'no.' Yet, they all agree that 'yes' votes will eventually prevail and I also think that way," he conveyed, while indicating that he is from Güneysu, a district in the northeastern province of Rize, so he will certainly vote for the "yes" campaign.
Peçe further said that although normally gossiping is the main pattern within the saloon he works for, since there are only a few days left to the referendum, it is the hot topic of the week among his customers.
The proposed law gives executive powers to the president and vice president while abolishing the post of prime minister. It also lowers the age of candidacy for Parliament from 25 to 18 and increases the number of parliamentarians from 550 to 600 in accordance with the country's growing
population. The number of members of the Constitutional Court will also be decreased from 17 to 15.
The same law also proposes that general elections be held every five years, instead of the current four years, with the presidential election also to take place on the same days.
The president will be able to appoint presidential aides and ministers on his or her own, and will also have the right to unseat them. In addition, there will be no Council of Ministers, but there will be ministers. Moreover, the president will have both executive power and authority within the limits of the law.
In the new system, Parliament will have the power to discuss and change executive decrees, and be able to take the country to parliamentary and presidential elections, if the yes campaign wins.
Also, executive orders issued during the state of emergency will have to be discussed in Parliament within three months.
However, not all the hairdressers have been caught up in the referendum fever. Ahmet, a hairdresser in his 40s, said: "We don't speak about politics in my saloon."
"I believe that these kinds of conversations may lead to arguments that I would prefer not to deal with. Thus, even if a customer tried to make remarks on the upcoming referendum or anything similar, I would shush them kindly." He also said none of his fellow coiffeurs should be busy with such topics while doing their job.