Justice and Development Party (AK Party) Vice President of Electoral Affairs Ali İhsan Yavuz answered Daily Sabah's questions regarding the upcoming municipal elections. Asserting that Turkey has one of the most transparent election systems, Yavuz said that the Supreme Electoral Council (YSK) emphasizes election security at an unprecedented level and continuously creates new mechanisms.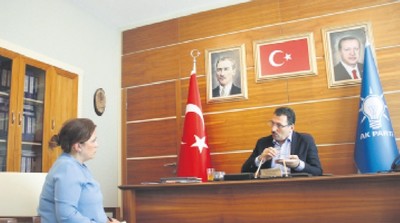 He indicated that Turkey's election system gives political parties the right to protect the ballot box equally and underlined that the parties have a greater responsibility in the functioning and improvement of democracy.

Moreover, Yavuz expressed that the AK Party has established the Result Acquisition System (SAS) for their own party which allows them to instantaneously receive data from all their provincial organizations and said that all parties could create a similar system.
Turkey held parliamentary and presidential elections on June 24 this year and the municipal elections will be held in March 2019.
Underscoring that they are trying to manifest the spirit of 1994, the year when President Recep Tayyip Erdoğan was elected as Istanbul mayor, Yavuz said, "Maybe the other parties are in a disadvantageous position as they don't have a leader like Recep Tayyip Erdoğan who has extensive knowledge on party organization. This is our edge."

Regarding the candidates AK Party is seeking for municipal elections, Yavuz stated there is a set of criteria.

"Ultimately, the candidate should be able to win over the people. The candidate should be able to serve the people and have a real connection with them. In this respect, those who have the spirit of '94 and manifest this spirit their best will be preferred," he explained.
Commenting on the ongoing alliance meetings with the Nationalist Movement Party (MHP), Yavuz expressed that the alliance was actually prioritized during the presidential and parliamentary elections rather than municipal elections.

He underlined that the continuation of the alliance is crucial; however, he asserted that it was impossible to form an alliance for the municipal elections because of the current law.

"It seems all political parties will appoint their own candidates. Certain tactical or strategic moves could be realized during elections to maintain the spirit of the alliance. I believe it's important and very precious to maintain this alliance. In this respect, we might maintain the spirit of the People's Alliance," Yavuz stated.
Election security
Speaking on election security, Yavuz expressed that there is criticism originating mostly from abroad which he deemed weak and baseless. According to Yavuz, the YSK has proved its adequacy and the criticism toward the institution is about minor technical issues.

"The criticism to the council is all minor because the YSK emphasizes election security and creates new mechanisms. For instance, ballot box committees will be chaired by citizens who are randomly selected through a lot. This will prevent the mistakes done by chairs that were appointed by parties who were uneducated and seldom acted with a certain political fervor," he asserted.
Yavuz stressed that it is next to impossible to do wrong at the ballot box as major political parties have ballot box committee members while all political parties could appoint observers for each ballot box. He also added that in certain occasions the ballot box committee has the authority to overrule the chair of that specific ballot box.

"In this respect, if a political party alleges wrongdoing at any ballot box, this party itself isn't fulfilling its duty. We urge all political parties to train their ballot box committee members and observers," he said.
Underscoring transparency, he stated that the YSK scans and digitalizes all electoral reports originating from ballot boxes across Turkey, allowing all political parties to access these documents.

Yavuz also affirmed that there might be minor mistakes in these documents which are not intentional but these could be corrected by reporting it to the YSK.

Stating that political parties have representatives at the YSK along with provincial and district election committees, Yavuz said, "This being the case, it's impossible to have any doubts regarding election security. I believe the YSK is one of the most transparent and meticulous institutions not only in Turkey, but in the world."
Parties' duty to improve functioning of democracy
Yavuz stated that political parties are one of the indispensable elements of democracy and have a greater duty of improving democracy. He affirmed that AK Party wants to protect every vote and is against any kind of tampering with votes even if it is to their advantage.

Signifying that the political party and election laws were not novel, he asserted all political parties should do what they must.

"For instance, we have created a system called the Result Acquisition System [SAS], which allows us to compare the data provided by the YSK and our party representatives. We identify any mistakes and convey it to the authorities. This system could be established by the Republican People's Party (CHP) as well," remarked Yavuz.
He stated that the CHP created a similar system; however, according to him, this system was created at the very last moment and pushed the boundaries of law.

"If you don't prioritize elections and try to create a system at the last moment, you won't be able to achieve anything. Meanwhile, if other political parties have any prominent suggestions or projects regarding Turkey's election law and system, we would urge them to share it with us so that we all could discuss it. The main opposition party CHP should know that they won't gain anything just by criticizing," he said.
Regarding the AK Party's SAS, he expressed that they were able to collect results from the most remote electoral district in Turkey even before the YSK's digital publication of ballot box reports through their observers and members. Moreover, he affirmed that they identify the phone numbers of all observers to AK Party's call centers to prevent any kind of external manipulation of data.
Yavuz stated that they are working on a more updated system for the upcoming municipal elections.

"For seven months, we have been working on a new system for our party. We want to manage our candidates through this updated system along with acquiring results of the election in a swifter manner. We'll manage everything over this system: Candidate applications, tendency surveys, coordination of party members, schedules… We're upgrading SAS to address our new needs."
The intraparty electoral process and the spirit of 1994
In regards to the preparations of local elections in March 2019, Yavuz expressed that their only opponent is themselves. Referring to Erdoğan's Istanbul mayorship as the "spirit of '94," he affirmed that the foundation of election coordination centers within AK Party began in Istanbul.

"We meticulously select the heads of these coordination centers through interviews. This has become a prominent feature of our party. We also heed the suggestions of Erdoğan. In this respect, we're always improving," he said.
Underscoring that the candidate applications have not yet started, he affirmed that it would begin soon after the party council's decision.

Yavuz expressed that tendency surveys will take place following the candidacy applications. He signified that the tendency surveys will be realized in all cities, districts and even in towns.

"The party's provincial chairs, provincial council members, women's branches, youth branches and almost all members of intraparty institutions with the exception of municipal assembly members, provincial assembly members and district assembly members will take part in these tendency surveys. We are talking about a meticulous process with a significant number of people partaking," Yavuz said.
Regarding the question whether they will unconditionally adhere to the results of intraparty tendency surveys, Yavuz said that they will also take the public tendency into consideration which will be measured through polls and various other methods.

He said they will keep in touch with the people and learn their opinions about the party and its candidates.

In addition to surveys, he stated that the party has experts for each geographical region of Turkey along with one for Turkish citizens living abroad. Yavuz affirmed that these experts always keep track of developments in their respective regions and analyze the public opinion toward the party and its policies.

"We call these experts 'memories of the party' as they keep track of and analyze the public opinion. We have additional experts who are specialized in specific local administrations. We can say that we have established a unique mechanism with the immense contributions of President Erdoğan himself. This mechanism functions well and keeps memories of all terms," he said.
Yavuz stated that a commission headed by Erdoğan himself is being established as the fourth stage of the electoral process. He affirmed that this commission will have the final say in these matters and has the authority to order new surveys, polls, interviews or any other means to obtain additional knowledge.
Talking about their municipal candidacy criteria, Yavuz said the following, "Ultimately, the candidate should be able to win over the people. The candidate should be able to serve the people and have a real connection with them. In this respect, those who have the spirit of '94 and manifest this spirit their best will be preferred. Why is the spirit of '94 so important? Because Erdoğan had won the people's heart through his diligent work at a time when none of the political parties possessed such power. After winning the people over, he founded the AK Party; I believe this is the foundation of our success in both central and local administrations. Transparency, collectivism, fraternity, being open to criticism and improving through heeding criticism are some of the hallmarks of this spirit."
Women as candidates
Regarding women in politics, Yavuz asserted that Erdoğan advocates the increased participation of women in politics. He said that Erdoğan always suggests that at least 30 percent of a newly established provincial party organization should consist of women.

"Similarly, Erdoğan always tries to designate more women candidates to municipalities and municipal assemblies in municipal elections. This could also be seen in the Parliament; AK Party has a higher percentage of women members of the Parliament than the parliamentary average of 17 percent. This average was around 14 percent and it was increased because of AK Party's initiatives and efforts. I believe it should be increased even more," he said.
Meanwhile, he signified that just talking about increasing women's participation in politics is not enough and that political parties should act on it.

Furthermore, he argued that women should be given the chance to express themselves in every aspect of life.

"Women should be more active in everyday life and business so that they can be more active in politics as well," he remarked.

According to Yavuz, the AK Party tries to increase women's participation in all aspects of life, including politics.

"Erdoğan advocates this cause. Turkish people may rest assured that we'll do our best to increase the number of women candidates in municipal elections," he added.
Electoral alliances
Yavuz expressed that before the most recent change in the election laws which allowed for the formation of alliances between parties – as seen during the June 24 presidential and parliamentary elections – most of the parties had to cooperate through loopholes.

He stressed that alliances between parties were made possible through the initiatives of the AK Party and MHP.

"CHP formed an alliance with various parties, while we formed the People's Alliance with the MHP. The law was intended for presidential and parliamentary elections; thus, it was implemented in such a way. The same isn't legally possible for municipal elections. We could change the law; however, it wouldn't come into effect for the upcoming municipal elections as the Constitution states a year should pass for such a law to come into effect," Yavuz explained.
Due to the impossibility of alliances, Yavuz stated that they are looking to maintain the "spirit" of the People's Alliance. He expressed that the continuation of the alliance is crucial but it should be done by minding the boundaries of the law.

Meanwhile, he underlined the intention to maintain the spirit of the alliance as affirmed by the leaders of the both parties.

"As the AK Party, we want to have candidates in every electoral district. In this respect, our leader President Erdoğan expressed that the AK Party not having candidates in certain districts due to an alliance could cause backlash from the constituents," he said.

"On the other hand, the MHP has announced some of its candidates; for instance, they won't appoint a candidate for Istanbul's mayorship and thus will support AK Party's candidate. The leaders of AK Party and MHP haven't organized a meeting yet. Even though AK Party's Vice President Mehmet Özhaseki, who is responsible for local administrations, met with his MHP counterpart Sadir Durmaz, a decision wasn't taken," he continued.
Yavuz added that ultimately all parties will appoint their own candidates; however, he also expressed that certain tactical or strategic moves could be realized during elections to manifest the spirit of the alliance and that this is precious as it is.

Lastly, he affirmed that all decisions regarding the municipal elections will be fleshed out when delegations and leaders of both the AK Party and MHP meet each other.