President Recep Tayyip Erdoğan on Tuesday announced 20 more candidates for city mayors for local elections slated for March 31, including for the capital Ankara and Turkey's third largest city of Izmir, at the ruling Justice and Development Party's (AK Party) parliamentary group meeting in Ankara.
Erdoğan, who is also AK Party chairman, announced the names of the candidates for 10 metropolitan municipalities and 10 city municipalities. Along with Ankara and Izmir, the candidates for Afyonkarahisar, Balıkesir, Bingöl, Çanakkale, Çankırı, Çorum, Eskişehir, Hatay, Karaman, Konya, Mardin, Muş, Sakarya, Sivas, Tokat, Trabzon, Uşak and Yozgat provinces were also announced.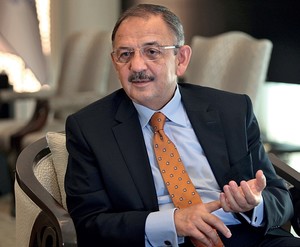 Former Environment and Urban Planning Minister Mehmet Özhaseki, who now serves as deputy from central Kayseri province and AK Party vice chairman in charge of local administrations, was nominated for the capital Ankara. Özhaseki, a businessman in the textile sector by profession, served as the mayor of Kayseri for nearly 17 years between June 1998 and February 2015, when he resigned ahead of the parliamentary elections in June. In November 2015, Özhaseki was appointed as the minister of environment and urban planning, a post he held until July 2018.
The Ankara electorate mostly consists of a conservative-nationalist voter base that has been pushing political parties to lean toward candidates on this end of the political spectrum. The AK Party has controlled Ankara since its candidate Melih Gökçek, a municipal-mogul who had been mayor of the province between 1994 and 2017, triumphed against the renowned social democratic politician Murat Karayalçın in 2004 with 55 percent of votes against 20.8 percent. The two competed in the 2009 local elections again and Gökçek clinched another victory with 38.5 percent votes while Karayalçın got 31.3 percent.
The 2014 election in Ankara was a tight race, with Gökçek emerging victorious with 44.9 percent of the votes, compared to 43.8 percent of main opposition Republican People's Party's (CHP) Mansur Yavaş, former mayor of Beypazarı district who was a member of the Nationalist Movement Party (MHP). Gökçek's extended grip on Ankara and sharp language was an important factor in driving center-right, conservative and nationalist votes to CHP's Yavaş, who is among the names rumored as a joint candidate of the CHP and the right wing Good Party (IYI Party - IP), which split from the MHP in late 2017.
With Özhaseki, who is regarded as a successful mayor due to his role in transforming Kayseri from a dormant Anatolian city into a vibrant economic hub, the AK Party is likely to have an easier race on March 31.
In the April 2017 referendum that saw Turkey shift to a new executive presidential system, "No" votes – spearheaded by the CHP – barely surpassed in Ankara and Istanbul against the "Yes" votes, advocated by the AK Party.
Gökçek resigned in October 2017 amid the AK Party's rejuvenation bid and the Ankara Municipal Council replaced by Mustafa Tuna, then mayor of Sincan district.
The referendum result gave hope to the CHP administration to break the center-right hegemony in the two most populous Turkish provinces since the early 90s. However, MHP leader Devlet Bahçeli's recent announcement on the continuation of the People's Alliance in Ankara, Istanbul and İzmir has likely secured the AK Party's victory, especially in the capital, according to pundits.
According to recent reports CHP Chairman Kemal Kılıçdaroğlu has considered re-nominating Yavaş or give a joint nominee with the right-wing IP, despite fierce opposition from the party organization. The CHP's former Ankara candidate and its current deputy Murat Karayalçın said last week that the CHP's candidate in Ankara "should be a party member, whereas Yavaş is not."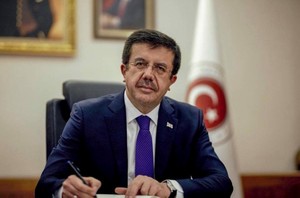 The AK Party's candidate for western Izmir province, which is a stronghold of the CHP, is former Economy Minister and Denizli deputy Nihat Zeybekci, who held the ministry post from December 2013 to November 2015 and from May 2016 to July 2018.
Like Özhaseki, Zeybekci was also a businessman involved in the textile sector and served as the mayor of the Aegean province of Denizli between 2004 and 2011.
Zeybekci's chances are thinner compared to Özhaseki since a center-left hegemony has reigned in Izmir since the late 1990s, unlike Ankara and Istanbul. The former mayor of the province, Ahmet Priştina, who was elected from the center-left Democratic Left Party (DSP), had shifted to the CHP in 2003. He but died just a year after his victory in the 2004 local elections. After him, Aziz Kocaoğlu, a businessman and then-mayor of Izmir's Bornova district, became mayor and has ruled the province since.
While the AK Party is looking for a victory in Izmir in the upcoming elections with the MHP's support, Kocaoğlu announced in October that he won't seek another term in the local elections, and the CHP is yet to announce their candidate.
Pundits have said that if the CHP fails to substitute Kocaoğlu with a proper candidate, a cutthroat competition could be seen in the province in March 2019.
Kocaoğlu got 56.1 percent of the votes and secured a landslide victory in the 2009 local elections against the AK Party's liberal-leaning candidate Taha Aksoy, who received 30.3 percent of the votes. In the last municipal elections in 2014, former Prime Minister Binali Yıldırım was the AK Party's mayoral candidate against Kocaoğlu. Even though AK Party votes increased to 35.92 percent, it was not enough to defeat the CHP that received 49.58 percent of the votes with Kocaoğlu. The MHP candidate came third with 8 percent of the votes.
Here are all 20 candidates announced by President Erdoğan:

Afyonkarahisar: Mehmet Zeybek (former province chairman)
Ankara: Mehmet Özhaseki
Balıkesir: Yücel Yılmaz (incumbent mayor of Karesi district)
Bingöl: Erdal Arıkan
Çanakkale: Ayhan Gider (former deputy)
Çankırı: Hüseyin Boz
Çorum: Halil İbrahim Aşgın
Eskişehir: Burhan Sakallı (former mayor of Odunpazarı district)
Hatay: Ibrahim Güler (province chairman)
Izmir: Nihat Zeybekci
Karaman: Mahmut Sami Şahin
Konya: Uğur İbrahim Altay (incumbent since May 2018)
Mardin: Mehmet Vejdi Kahraman
Muş: Feyat Asya (incumbent since 2014)
Sakarya: Ekrem Yüce (general director of national tea company Çaykur)
Sivas: Hilmi Bilgin (deputy justice minister)
Tokat: Eyüp Eroğlu (incumbent since 2014)
Trabzon: Murat Zorluoğlu (incumbent governor of Van province)
Uşak: Mehmet Çakın (province chairman)
Yozgat: Celal Köse (province chairman)
Out of the 20 municipalities, 15 are being administered by mayors from the AK Party. Four - Çanakkale, Eskişehir, Hatay and Izmir - was won by the CHP in 2014 and Mardin was won by independent former deputy Ahmet Türk backed by the Democratic Regions Party (DBP), the regional affiliate of the PKK-linked Peoples' Democratic Party (HDP). Türk was among the mayors removed from duty by the Ministry of Interior in Nov. 2016 for aiding the PKK terrorist group.
A tight race can be expected in Balıkesir, Eskişehir and Hatay provinces on March 31, with the tendency of nationalist voters being the main factor that would determine the winner. Like Gökçek, former Balıkesir Metropolitan Mayor Ahmet Edip Uğur was among the mayors who resigned in AK Party's rejuvenation bid and was replaced by then Altıeylül district Mayor Zekai Kafaoğlu.
Meanwhile, the AK Party and MHP have also voiced intentions to continue the People's Alliance, established for the June 24 parliamentary and presidential elections, for the upcoming municipal elections.
MHP Chairman Bahçeli announced Saturday that his party will not nominate candidates for Istanbul, Ankara and Izmir, and instead, the MHP will support AK Party candidates.
Regarding the continuation of the People's Alliance, Erdoğan said that technical discussions are ongoing with the MHP and he will conclude the process with Bahçeli. "Since we have mutual cooperation with MHP, there will be reciprocal gestures," Erdoğan added, referring to the recent reports suggesting that the AK Party may support the MHP's candidate in some western and southern provinces in exchange for MHP's backing in metropolitan municipalities.
The People's Alliance got the majority in Parliament with 52.6 percent of the votes in the general elections.
With the announcement of Özhaseki and Zeybekci, the ruling party seeks to sustain its long-running reign in Ankara, while it will toil to turn the tide by gaining its first municipal victory in the CHP stronghold.
Even though the candidate for Turkey's commercial and cultural capital Istanbul was not revealed at Tuesday's meeting, the current Parliament Speaker and the last Prime Minister of Turkey, Binali Yıldırım, is reported to be the top contender.
Previously on Saturday, Erdoğan announced the names of mayoral candidates for 40 provinces.
*Mustafa Kırıkçıoğlu contributed from Ankara