The theme of the 22nd WPC emphasizes a vision to build bridges between fossil fuel resources like oil and gas and alternative, cleaner energy types with a view to ensuring energy supply security in the future. "The objective of the 22nd WPC as a global energy event is to highlight a more sustainable and environment-friendly oil and gas industry through a convention with producers and consumers and representatives from the petroleum industry, other sectors and various countries," Kutluhan Olcay, member of the WPC, the Turkish National Committee and the chair of the 22nd WPC Organization Committee, told Daily Sabah.
In addition to its undertaking the mission to build bridges to a safer, cleaner and sustainable energy future, the fact that organizing the 22nd WPC in Turkey puts the country's role forward as a significant energy bridge by way of which massive amounts of oil and gas are transported from resource-rich energy producers and developed consumer markets relying on those resources.
Over the last three years, Turkey has hosted significant energy summits. In addition to the meetings organized by the International Association for Energy Economics in 2015, the 21st World Energy Congress was held in October 2016 and the 8th Atlantic Council Summit last April welcomed world energy leaders in Istanbul. The organization of such global energy events in Turkey becomes more important given the country's location on which the world's two important choke points – Istanbul and the Dardanelles Straits – and pipelines that ensure the secure delivery of oil and gas from producers to consumers are located as well as its aspiration to become an energy trade hub.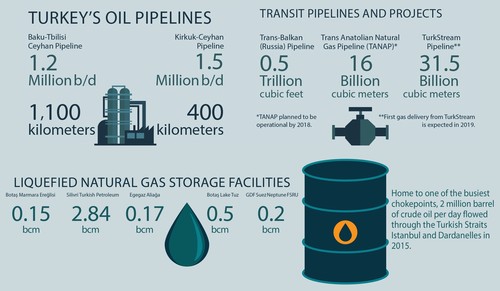 Drawing attention to the recently published international reports on Turkey's increasingly prominent position in oil and natural gas transportation, Kutluhan Olcay stressed the fact that more than 2 million barrels of crude oil passes through Turkish straits per day. Therefore, he says, TurKEY for energy is the most appropriate theme for the 22nd WPC.
The 22nd WPC Organization Committee Chair Olcay emphatically stated the necessity for Turkey to take more important actions in the energy sector as the investment environment in Turkey legally and politically facilitates every energy investment. "The fact that Turkey is conducting two and three dimensional surveys with two seismic vessels and has its own drilling vessel, is the proof of a strong will for developing energy investments. That strong will, exists, first of all, to cater to Turkey's domestic energy needs in conjunction with national and domestic energy policies and, second of all, to boost regional and global peace," Olcay remarked.
Pointing out the fact that cards in the game of energy are currently being dealt again, Olcay indicated that Turkey is set to become a driving force for the institution of regional and global allies for the production, distribution and share of energy as the country is a significant contact point between the Middle East, Caucasia, Caspian Sea, and Russia – a region with abundant oil and gas reserves covering three quarters of the world's reserves and developed Western countries.
In addition to its world-renowned status as one of the most vital chokepoints through which petroleum products are shipped to buyers, Turkey eyes to become an energy trade hub. In 2001, the country took concrete steps to create a liberalized, transparent and reliable energy market in natural gas, where reference prices are set for contracts in a stable environment.
As stipulated by the natural gas law enacted in 2001, the state-owned BOTAŞ Petroleum Pipeline Corporation, which still controls the 80 percent of the natural gas market, transferred 350 billion cubic feet (bcf) of its import contracts, equal to about 20 percent of Turkish natural gas consumption, to seven private companies.
A hub enables financial trading and the physical trading, which includes storage, liquefied natural gas (LNG) and pipelines, wrote John Roberts, a senior fellow at Atlantic Council's Dinu Patriciu Eurasia Center and Global Energy Center in his article titled, "Turkey as a Regional Energy Hub.""As governments start to deregulate their natural gas markets, they will embark on a complex process to meet their respective social, economic and supply security objectives for this sector and the energy supply as a whole," Roberts argued, emphasizing the necessity for pipelines in establishing an energy trade hub. For pipelines, competition is built by suppliers providing the necessary infrastructure and ensuring supply security. However, pipelines are not the only solution. A well-developed hub also requires storage and LNG, as Roberts put forward.
As the vital prerequisite for a hub is a competitive and liberalized retail market, Turkey works to establish one with diverse supply channels by engaging in various multinational natural gas pipeline projects such as the Trans Anatolian Natural Gas Pipeline Project (TANAP) with Azerbaijan and TurkStream with Russia. Moreover, the country also accomplishes projects to expand storage capacity. Additionally, while expanding the storage capacity of existing LNG storage facilities in Marmara Ereğlisi, Aliağa and Silivri, the country put floating LNG storage unit in December 2016 with 5.3 billion cubic meters of gas into service - an underground gas storage facility consisting of 12 caverns, each with a storage capacity of 630,000-750,000 cubic meters. As previously stated by the ministry, Turkey also plans to increase its current capacity from 223 million cubic meters (cmc) to 400 cmc by 2023.

TurKEY for energy addresses not only local, but also global energy issues

In its aspiration to utilize the energy resources surrounding its borders through cross border activities as well as the reserves mapped out in the mainland, Turkey's state-owned Turkish Petroleum (TP) has been working to invigorate the country's claim for energy. Founded in 1954 to conduct hydrocarbon exploration, drilling, production, refinery and marketing activities as Turkey's national company, the company has established many partnerships with other countries like Russia, Azerbaijan, Iraq, the Turkish Republic of Northern Cyprus (KKTC) and Afghanistan.

As the official sponsor of the 22nd WPC, TP will highlight Turkey's international partnerships and aim to build new ones to contribute to securing both Turkey's energy supply and enhance regional and global cooperation in energy security.

Speaking to Daily Sabah, Besim Şişman, TP CEO and chairman of the board and WPC Turkish National Committee chair, indicated that TP operates in six countries either through its own means or consortia. "Continuing its exploration and production operations, the primary goal of TP is to unleash the potential of Turkey in the most efficient way in line with national energy policies emphasizing the utilization of indigenous resources," Şişman noted. Yet, the company does not only conduct conventional surveys in mainland, he said, but it puts great effort into shale gas operations.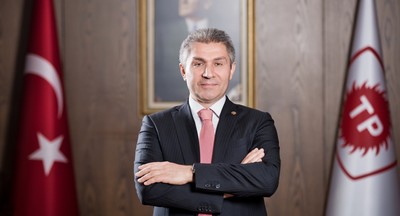 Turkish Petroleum CEO and Chairman of Board Besim Şişman

Turkey's seismic exploration vessel Barbaros Hayreddin Paşa has been conducting deep-sea exploration activities in offshore Cyprus while operations are well planned for drilling, and at the end of this year a national drilling vessel is to be bought, Şişman added. In addition to exploration and production with indigenous means, Turkey engages in energy projects abroad. For instance, the TP CEO informed that the company is the second shareholder in Shah Deniz, which is the second largest natural gas field in Azerbaijan. He opined that the engagement in overseas projects with multinational partnerships empower Turkey's position in the international energy arena.

TP regards the development of multinational energy cooperation in accordance with Turkey's national energy policies as the most important duty as part of the congress, the TP CEO noted. "The partnerships between companies do not only affect the corporations involved or even the countries of those entities. Any small step that will be taken today will unfold an open-door strategy in the political sense of the term in the long-run and contribute to the establishment of regional and global peace," Şişman said.

Citing one of TP's foundational purposes, Şişman pointed out that TP was established to accomplish the goal to sustain energy supply security as it is acknowledged as one of the most important objectives of every country. "TP's aspiration is to invigorate Turkey's key role in energy through emphasizing its geopolitical position and long-sustained stability policy while contributing to Turkey's energy supply security," he said.

Şişman further stressed the fact that the theme of the 22nd WPC - TurKEY for Energy - is not only developed to address Turkey's role in energy, but also for the global energy field, adding that both TP and all participants believe the long-term outcomes of the congress will prove efficient for the energy world.

SOCAR to support 22nd WPC's mission for sustainable energy

State Oil Company of Azerbaijan (SOCAR), which has been investing in Turkey since 2008, is the co-host sponsor of the 22nd WPC. In that capacity, the Azerbaijani energy giant aims to uphold one of the most emphasized missions of the congress: Sustainable management of energy resources for the future.

"Effective and efficient use of available energy resources is embedded in the genes of SOCAR Türkiye as a subsidiary of SOCAR, therefore, we believe that we will contribute to the congress," SOCAR Türkiye CEO Zaur Gahramanov told Daily Sabah, referring to two dimensions of ensuring sustainability: Efficient utilization of existing resources and deployment of alternative ones.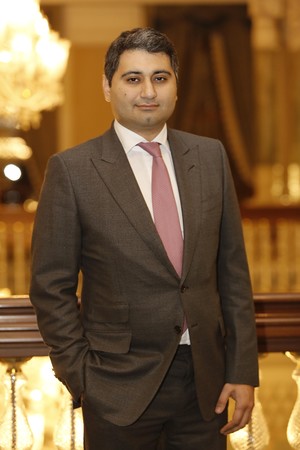 Characterizing the congressional theme of building bridges to the future as very significant and relevant for the current energy markets profoundly affected both by the outputs and political rifts, Gahramanov emphasized the theme of the congress addresses the current issues.

"I believe that we should immediately start building bridges between the petrol and gas industries, companies and their stakeholders, countries and corporations, production and environment and I reckon that the congress is a lodestar, a guiding spirit for that purpose," Gahramanov noted.

Elaborating on SOCAR's natural gas, refinery and wind power investment in Turkey, which began when the company acquired the country's leading petrochemical company PETKİM in 2008, Gahramanov emphasized that SOCAR's investment projects in Turkey address its future and energy security.
Reminding that SOCAR's investments in Turkey has reached $18 billion since 2008, Gahramanov highlighted the company's ambition to become the biggest energy-solution partner of Turkey.

One of the major investment projects the company conducts in line with that goal is the SOCAR Turkey Aegean Refinery (STAR) in PETKİM Peninsula in İzmir. "STAR, which has a capacity of 10 million tons of crude oil and has an investment of $6 billion, is 90 percent complete and we plan to put the refinery in to operation next year," Gahramanov said, adding that once the refinery is operational, it will compensate for 50 percent of Turkey's current energy deficit.