President Recep Tayyip Erdoğan addressed leaders of the global petroleum industry as well as lawmakers from the sector during the presidential ceremony of the 22nd World Petroleum Congress (WPC) that kicked off in Istanbul yesterday. Elaborating on issues regarding national and global energy during his speech, the president emphasized the issue of energy security, which is under threat from terrorist groups in energy hinterlands.
Erdoğan stressed that the government is doing its best to secure the regional energy supply while remaining keenly aware that Turkey is a key player of the Eurasian energy axis, emphasizing that the chaos and turmoil caused by terrorist organizations in the energy hinterlands compel all countries to collaborate to reach a solution. Noting that secure energy resources depend on the liquidation of terrorist organizations, President Erdoğan stated that Turkey has paid a "huge price" in its counterterrorism fight.
"The fight we are putting up is very closely related to the energy security of the world as well as to our own national security. No one should expect Turkey to remain unresponsive when faced with what is going on in our vicinity. We will not allow calls for attacks against our country to go unanswered," Erdoğan said, adding that the government remains determinedly committed to securing Turkey both within its borders and beyond. He also emphasized that the security of the nation's people does not depend on permission from anyone outside of Turkey's government.

"Our expectation from other states, especially our allies, is that they should support us instead of siding with terrorist organizations," he asserted.
President Erdoğan went on to say that dialogue is the best solution, suggesting that all parties need to keep the channels of dialogue open while pointing to the importance of common sense and adapting a realistic approach. Pointing out that the world and Turkey's surrounding region can no longer withstand conflict, Erdoğan emphasized the importance of peace, cooperation, unity and sovereignty, saying that the crises in Libya, Syria, Iraq, Ukraine and Yemen also pose serious threats to energy security, stressing that in order to be able to negotiate a political solution in Syria, conditions on the ground must first be corrected.
"For this purpose, we have played and will continue to play an active role in both the Geneva process and the Astana talks. We have made significant progress toward strengthening the cease-fire agreement during the Astana talks," he went on to say. "We see that a certain level of acceleration has been achieved in the Geneva process, as well. The conclusion and agreement reached by the U.S. and Russia at the G20 meeting in Germany is the continuation of this positive process."
Reemphasizing that having independent energy resources and dominance in the energy market are key to the success of a strong country, President Erdoğan said that efforts to dominate energy resources and routes at the center of global conflicts often result in internal conflicts, coups and occupations, noting that oil and natural gas, which should have been a source of wealth and prosperity in the geographical regions where they exist, are unfortunately associated with war, blood and tears.
"From the very beginning, we have argued that these resources should be used in a way that contributes to the peace and prosperity of mankind. On the other hand, Turkey, due to its geopolitical position, is a natural bridge between giant energy producers and consumers. We are along the 'supply-transit-consumer,' route," he said, adding that as a transit country, up to this point Turkey has consistently aimed to do its best, both as a hub of the energy hinterland and as an esteemed actor in the international energy arena with its political stability and economic development.
Erdoğan pointed out that the new oil and natural gas pipelines, which are currently under construction, have the potential to further strengthen Turkey's role as a global energy corridor and major hub, going on to say, "We have successfully completed the Baku-Tbilisi-Ceyhan Oil Pipeline project, which is carrying Azeri natural gas to the Mediterranean. On the other hand, the Baku-Tbilisi-Erzurum Natural Gas Pipeline project will make it possible to carry natural gas from Azerbaijan to Turkey and Europe."
According to the president, the Southern Gas Corridor (SGC) project is at the top of the agenda in terms of new projects. In the initial construction phase, a total of 6 billion cubic meters (bcms) of natural gas will be carried to Turkey while 10 bcm of natural gas will be carried to Europe via the Trans-Anatolian Natural Gas Pipeline project, also known as TANAP, which is the main element of the SGC. Underlining that the launching of the pipeline in mid-2018 will pave the way for the future transport of natural gas from Azerbaijan, the Caspian Sea and even the Middle East to Turkey and Europe, Erdoğan stated that the government expects the Trans Adriatic Pipeline (TAP) project, which is the continuation of the TANAP pipeline, to be completed in accordance with the schedule and to be put into service in 2020. "We are delighted to see the full commitment of my friend Mr. Aliyev, representatives from other countries and companies to join the SGC in this sense," Erdoğan expressed.
Speaking about the Turkish Stream, another important energy project that is being conducted with Russia, one of the largest natural gas suppliers in the world, President Erdoğan noted that Ankara and Moscow are ready to assess new projects, especially those regarding natural gas in the eastern Mediterranean Sea and Iraq, adding that new projects can be realized if all parties adopt a "win-win" approach. Referring to the fact that Turkey, which is the meeting point of civilizations thanks to centuries of history and connectivity, is now referred to as the "Energy Silk Road" by specialists in the energy sector, Erdoğan said, "Rich in potential, our country [Turkey] is striving to transform energy into a source of peace and prosperity rather than destruction, tension and conflict. I consider this congress to be highly significant because it is instrumental in expressing our country's perspective on energy at an international level."
Erdoğan further noted that demand for global energy is expected to double by 2050 in tandem with the accelerated growth of major world economies, rapid urbanization and population growth.
Stressing that demand for energy has begun to shift from the West to the East in tandem with economic growth, President Erdoğan stated that China, India, Africa and the major economies of Southeast Asia are focusing on diversified energy sources in tandem with economic growth and performance in terms of development.
'Introducing economy to domestic energy sources'
The president remarked that their primary objective is to introduce domestic energy sources to the economy, adding that this will be followed by the diversification of national energy sources; especially in terms of renewable and nuclear energy.
Emphasizing the crucial importance of prioritizing the promotion of energy efficiency, which is considered indispensable to Turkey, Erdoğan pointed out that the government is taking significant steps to increase the resources and route diversity in the field of energy. He went on to say, "We are well aware of the significant role of the Black Sea and the Mediterranean Sea in terms of the energy policies of the future; regarding both transitioning roles and potential roles. We remain keenly attuned to the encouragement of international investments in the fields of energy and various other areas. We have developed a transparent, predictable and target-oriented strategy that will pave the way for investors in this framework. Thus, we have ushered in a period of major breakthroughs in terms of both energy and mining investments."
According to Erdoğan's statements, a total of $6 billion was invested in the Turkish energy sector in the past year alone. Thanks to these investments, Turkey launched 6,500 megawatts (MWs) of installed power in the fields of solar energy, hydroelectric energy, wind energy, geothermal energy, biomass and thermal power plants.
Erdoğan went on to emphasize that the government reduced the national share of natural gas in electricity by 10 percent, reducing the demand for imported natural gas, which put pressure on Turkey's foreign trade market, going on to note: "Also, domestically produced electricity has reached 49.3 percent in a record-high increase. We also increased domestic coal shares in terms of electricity production to 23 percent."
Erdoğan concluded, "We have outperformed many countries; especially Europe, with a 31 percent increase in renewable energy sources. Today, Turkey leads many other European countries with up to 30 percent of all its electricity generated from renewable energy sources."

Turkey's gas storage to reach 11B cubic meters by 2023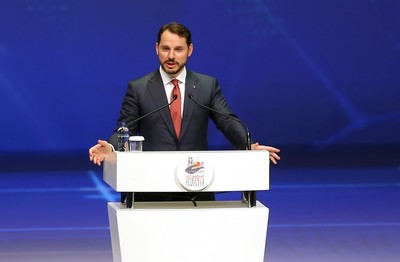 Turkey will increase its annual natural gas storage capacity to 11 billion cubic meters (bcm) by 2023, according to Energy and Natural Resources Minister Berat Albayrak who spoke Monday in Istanbul.
Speaking during the presidential session at the 22nd World Petroleum Congress (WPC), Albayrak said that Turkey's daily natural gas transmission system currently has the capacity to transmit 190 bcms daily.
"This daily capacity will initially increase to 300 million cubic meters and, in two years' time, we will increase that capacity up to 400 million cubic meters," the energy minister said.
He also stated that Turkey, with its increased storage capacity of 11 bcm per annum expected by 2023, promises to become one of the leaders in the sector regionally.
Albayrak stressed that Turkey is focusing on strengthening energy security as well as its domestic energy resources.
"Thus, we are focusing on seismic explorations both in the Mediterranean Sea and the Black Sea region of Turkey. We aim to reveal the potential for gas and oil found in these waters and we want this potential to contribute to the integrity of the region," he emphasized.
Turkey's first seismic vessel the Barbaros Hayrettin Paşa has already been engaged in ongoing operations in the Mediterranean since April 2017, while the second vessel, the MTA Oruc Reis, will soon be ready for exploration as well.
The 22nd WPC is the oil and gas industry's largest meeting and the World Petroleum Congress is considered a global communication partner of Anadolu Agency. The 22nd WPC began in Istanbul on Sunday, July 9.
High-level executives from leading energy companies and up to 50 energy ministers plan to attend the congress held under the theme, "Bridges to our Energy Future."

Turkey to protect Turkish Cypriots' rights to hydrocarbon reserves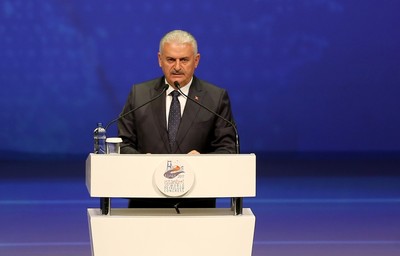 Speaking at the 22nd WPC held at the Istanbul Congress Center, Prime Minister Binali Yıldırım said that the eastern Mediterranean is an important region in terms of energy, emphasizing that Turkey is home to one of the most important natural transportation routes for the distribution of new resources from the region's energy fields to the largest markets in the world.
Yıldırım said that Turkey remains ready and determined to play a constructive role in the delivery of resources from the eastern Mediterranean to Europe, stressing that Turkey is going to great effort to contribute to a resolution to the political problems in the region.
The prime minister also said, "I would like to reiterate once again that hydrocarbon resources located around the island of Cyprus belong to both the Turkish-Cypriots and the Greek-Cypriots. We have been suggesting for a long time that Greek-Cypriot leaders refrain from unilateral activities in the eastern Mediterranean in the coming days."
Emphasizing that Turkey will protect its legal rights and the rights of the Turkish Cypriots on the island's reserves for good, Yıldırım said that it would be good for Greek-Cypriot leaders to adopt a constructive attitude rather than one that obstructs peace and encourages one-sided exploration activities.