A landmark project to cement Turkish-Russian energy cooperation and boost regional energy security, the TurkStream natural gas pipeline will start delivering gas to the Turkish market by the end of 2019 with the pipe-laying works of the project's sea section complete.
A ceremony on the occasion of completing the sea part of the project was held in Istanbul on Monday with the participation of President Recep Tayyip Erdoğan and Russian President Vladimir Putin. Beyond the bilateral energy partnership between Turkey and Russia, TurkStream also highlights Turkey's significant role as a gateway for European energy security, a position the country aims to secure in its ambition to establish an energy trading hub.
Consisting of two lines, the Turkstream project has an annual gas delivery capacity of 31.5 billion cubic meters, each with a capacity of 15.75 billion cubic meters. While the first line will provide natural gas for the Turkish market, the second line will deliver the commodity to European countries via a route passing through Balkan nations. The capacity of the first line will be enough to meet the demands of major Turkish cities, like Istanbul and other industrial cities. Therefore, it is considered an important contribution to Turkey's natural gas demand for industrial production.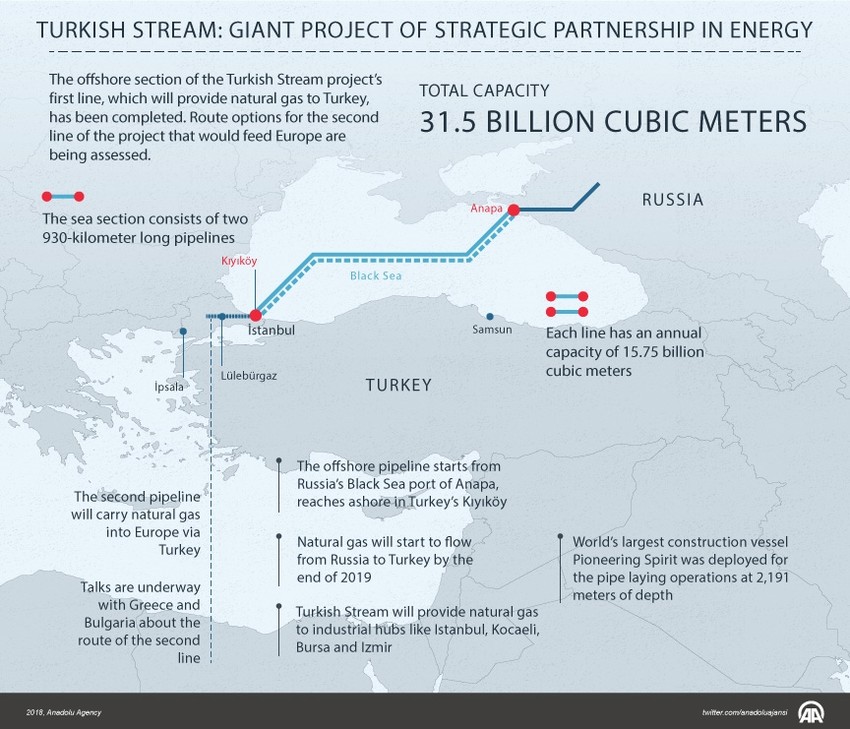 The TurkStream project is composed of an offshore segment of 930 kilometers and an onshore segment of 225 kilometers on Turkish land. The pipelines run between the Russian port of Anapa and Kıyıköy, in Turkish Thrace, and then as an underground pipe to the Turkish-European border.
In his address at the ceremony, President Recep Tayyip Erdoğan stressed the importance of Turkish-Russian energy cooperation. He said Turkish and Russian partners have accomplished a technically-challenging project on high reliability, security and sustainability standards.
"We are well aware of the growing importance of natural gas in global energy markets and the significance of energy supply security. What is important in ensuring supply security is the commercial viability of energy projects. Each country must respect [the] others' choice of supplier," the president said.
Erdoğan emphasized that trying to dictate countries on where and from whom to buy energy resources is a violation of their sovereign rights. Putting pressures on countries to prevent them from serving their citizens yields no good for anyone. "We have long-term cooperation with the Russian Federation. Turkey has imported 387 billion cubic meters of gas from Russia since 1987, this is a very significant figure," he added.
Last year, Turkey imported 28.6 billion cubic meters of gas from Russia, accounting for 51.9 percent of the country's total gas imports, according to the Energy Market Regulatory Authority (EMRA).
Russian President Putin said that Turkish-Russian energy cooperation has been continuing for many years on a very successful track. "Some 13 years ago, President Erdoğan and I launched the Blue Stream project, which operates very efficiently even under very hard circumstances," Putin said.
The TurkStream project, Putin added, will empower the growth of the Turkish economy and will maintain the country's energy security.
Turkey is becoming an important international energy hub as the TurkStream pipeline project becomes a reality, Putin noted. Becoming an energy hub will strengthen Turkey's geopolitical position, the Russian president added.
The first pipeline's capacity is sufficient to replace the current volume of Russian natural gas delivered to Turkey through the Trans-Balkan pipeline, which started transferring gas to Turkey 30 years ago if the transit agreement between Russia and Ukraine is not extended beyond 2019.
Russia exports 14 billion cubic meters of gas annually to Turkey through this line. TurkStream, therefore, is said to enable Russia to bypass Ukraine and redirect its export route via Turkey.
TurkStream will also help Russia maintain its share in European gas markets by being able to ship gas to Europe from the Turkish border. In that regard, the project positions Turkey at the front-end of a complex delivery system and facilitates natural gas delivery to Europe, potentially enhancing the strategic position of the country as a gateway for European energy security.
"Completion of the most difficult section of the gas pipeline is proof of effective cooperation between Turkey and Russia in very important and complex areas," Putin said. "The name 'TurkStream' was given to the project by President Erdoğan," he added.
He stressed that it is not possible to carry out such a project without political will and courage under conditions of increasing competition, the Russian president emphasized that realizing such a project would be impossible without trust between the two countries.
"I am sure that the TurkStream, as well as our other joint project – the Akkuyu nuclear power plant – will become a bright symbol of the development of a multifaceted Russian-Turkish partnership, and a symbol of friendship between our peoples," he said.
Energy and Natural Resources Minister Fatih Dönmez, speaking at the ceremony hailed the project as the opening of a new page for Turkey's energy market.
Dönmez said that Turkey's aim to become an energy hub is supported through strong political will and stability in the country. "Turkey aims to become an energy center, where buyers and sellers meet and where prices are determined," he said, adding that the country is taking important steps for this goal via the TurkStream project, which he said would be a uniting factor in countries where the gas is transferred.
The minister asserted that Turkey has acted as a good partner and neighbor in its immediate region in projects of mutual interest to provide secure energy supplies as in the TurkStream project.
Turkey is the fourth biggest natural gas market in Europe with an annual consumption of 55 billion cubic meters. The country also has a greater capacity for gas storage and liquefied natural gas (LNG) processing, which will help Europe's gas supply in the future, he said.
"The TurkStream natural gas pipeline project is the most vivid example of our vision [of Turkey's aim to become a gas hub]. Gas flow from TurkStream will start in 2019 and this will eliminate risks on transmission and transfer of natural gas," Dönmez said.