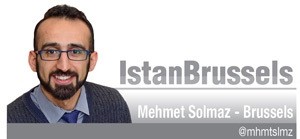 The European Parliament (EP) is one of the leading institutions in which the PKK terrorist organization is able to spread its propaganda. With an upcoming conference at the EP, in which PKK militants with red notices will also attend, it has been revealed once again whom the EP, lately requesting to freeze the negotiations with Turkey, has sided with.
Also endorsed by the Socialists and Democrats of the EP, the conference is to be held at the European Parliament on Dec. 7 and 8 in cooperation with the PKK-linked Kurdish Institute of Brussels. During the conference, Zübeyir Aydar, a high-ranking PKK figure with a red notice, is to make a speech, while Salih Muslim, the leader of the PKK's Syrian wing (the PYD), will also take the floor.
A red notice and a warrant had been issued for the PYD leader Muslim last week.
The Kurd-Akad Network Chair Dersim Dağdeviren, who pens articles for pro-PKK media outlets and manages a network between pro-PKK academics in Europe, is to make the closing speech, along with the academic Michael Gunter, who accuses Turkey of aiding extremist groups.
Also, Michael Rubin, who wrote detailing the probable success of a coup in Turkey four-months-prior to the July 15 coup attempt, is to make a speech titled, "What Role for Western Powers?"
Rubin not only inspired the coup plotters, but has also received the attention and interest of the Gülenist Terror Group's (FETÖ) members with his latest remarks.
Hatip Dicle and the Peoples' Democratic Party (HDP) Vice-President Pervin Buldan, who often appear in pro-PKK demonstrations organized across Europe, are among the speakers at the event.
Also, within the conference program, the letters written by the arrested HDP leaders Selahattin Demirtaş and Figen Yüksekdağ are to be read. Other familiar speakers at this anti-Turkey conference include pro-Assad journalists Fehim Taştekin and Cengiz Çandar.
EU Minister Çelik refuses to meet EU Commissioner Hahn
The European Commissioner for the European Neighborhood Policy and Enlargement Negotiations Johannes Hahn, who has been criticized for his anti-Turkey stance and regular meetings with pro-PKK figures, had reportedly requested a meeting with Turkey's EU Minister and Chief Negotiator Ömer Çelik.
Sources told Daily Sabah that Hahn had "called Çelik's office five or six times" to schedule a meeting while he was in Brussels on Tuesday and Wednesday; however, the meeting request was rejected by Çelik each time.
Çelik spoke to journalists before his departure to Turkey on Wednesday and said Hahn is misusing his seat.
"Although he is responsible for matters regarding the enlargement of the bloc, Hahn instead misuses his position and acts as an Austrian political figure looking to gain support with an anti-Turkey stance," Çelik said.
Recently, a group of PKK proponents organized a demonstration in front of the European Parliament with their placards and flags to protest the detainment of some HDP deputies.
Following this demonstration, EP President Martin Schulz and Enlargement Commissioner Hahn met with some pro-PKK figures including: Faysal Sarıyıldız, who is accused of supplying weapons to the PKK, Tuba Hezer, who once shouldered the coffin of a PKK militant, and Eyüp Doru, another name with a red notice who has been on active duty at the PKK's Qandil headquarters for five years.