The EU delegation head to Turkey, Ambassador Christian Berger, said Turkish-EU relations have entered a new period after President Recep Tayyip Erdoğan's visit to Brussels on May 25, where both sides have started to talk with each other with the aim of overcoming their differences.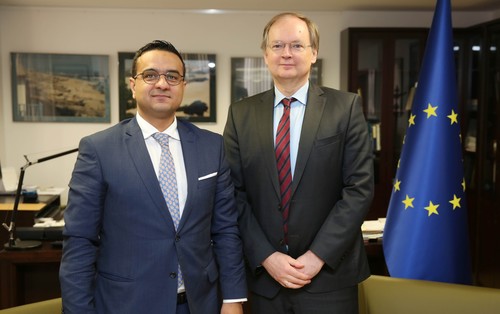 Providing details of a new 12-month timetable for renewing Turkish-EU relations, Ambassador Berger said starting from this week there will be a series of high level dialogue meetings that will continue throughout the summer where both sides will discuss the future of relations.
The Turkish side is expecting the EU to open new chapters to rejuvenate the relations. However, it does not seem possible considering the current level of relations and the European Commission's blockage on 14 chapters.
Commenting on this issue, Ambassador Berger said opening new chapters is among the measures that will need to be taken, while he also underlined his optimism that Turkey and the EU can "absolutely" find middle ground to move forward.
Regarding the Turkey-EU refugee agreement that came into effect on Mach 18, 2016, the ambassador said the deal is working well and efficiently for both sides.
Visa liberalization for Turkish citizens was indeed a part of the Turkish-EU agreement, however, negotiations could not produce results due to EU insisting to narrow the definition of terrorism.
Weighing in on the issue, Berger said the EU understands the problems Turkey is facing with serious terrorist threats from both outside and inside, while he also underlined that they do not want to weaken Turkey's capacity of fighting terrorism.
Daily Sabah: Following President Recep Tayyip Erdoğan's recent visit to Brussels, both Turkey and the EU announced that they will maintain dialogue. How would you evaluate the current level of EU-Turkish relations?
Christian Berger: We have been talking a lot about each other in the last 6-8 months, during this period many statements have been made and much has been written. Now we have entered a period where we are talking to each other and I think the Brussels meeting on May 25 was an important starting point. There is now a better understanding of our problems and misperceptions. We also have made very clear that the EU and Turkey can be stronger when we are together.
DS: Do you think that the current optimism will be long-lasting?
CB: When you look at the history of Turkish-EU relations there have been ups and downs. I think we are at the moment when we can try to re-engage and as Daily Sabah said in its headline on June 1, Turkey and the EU are destined to each other and we need to work together. I believe that after the May 25 meeting there is an opportunity to move forward and I'm quite optimistic in the long run.
DS: Turkish officials recently said the EU had presented them a new 12-month timetable for renewing their relations. Could you provide details of this road map please?
Yes, we have discussed a number of concrete steps. The European Commissioner for Humanitarian Aid and Crisis Management Christos Stylianides is scheduled to come to Ankara between June 7-9 to speak with ministers and colleagues in charge of humanitarian issues.
On June 13, the political directors, both from the Turkish and EU side, will meet in Brussels; during this meeting they will elaborate on issues of mutual concern and interest, and they will discuss the way to move forward. This meeting will be also used to discuss and prepare further meetings.
As you know there is a series of high level dialogue meetings normally taking place between Turkey and the EU, including a high level political dialogue. We have not yet discussed the date for that meeting, but I expect it to take place very soon.
There is also a need to talk about energy and economic issues, and in early July, we will have another important visit here in Ankara.
Violeta Bulc, the European commissioner for transport, will be coming and among other things, she will be discussing the date for high level dialogue on transportation. She will be talking about many other issues ranging from road transportation and rail links to aviation.
There are two issues on the agenda that we are currently working on: Preparation of negotiations for the upgrading of the custom union and the issue of visa liberalization. We are currently waiting for a proposal from the Turkish side to continue the process on visa liberalization.
As you can see there are many meetings and visits planned in the next couple of months to work on these issues.
DS: Previously, Turkish ministers mentioned that the EU-Turkish summit needs to gather with the participation of all member states to discuss the future of relations. When do you think this summit will take place?
CB: The concrete date of the next summit still has to be agreed between the EU and Turkey. Summits should become regular occurrences given the broad range of issues that need to be discussed between our respective leaders.
DS: As head of the EU delegation in Ankara do you believe that Turkey and the EU can find middle ground to move forward?
Absolutely, it has to be like this: there is no other choice when you look at the neighborhood we both are in. When you look at the long term relationship Turkey and the EU has had already, and particularly when you look at the substantive investment that has been made in this relationship, on both sides.
For instance, we were at a meat factory in Trabzon last Tuesday, which is supported by the EU. This is quite a telling example, because it shows you the work that has been done in terms of financial investments, but also the work done on the Turkish side to apply the health and hygienic standards in an effort to be able to export to the EU as well as to the international markets, but also to satisfy the needs of the Turkish market itself.
It is an example of the positive impact such a project can have on the immediate region, on the farmers and traders. We can build on these investments and show the positive impact of our relationship. It is, for me, a clear sign of optimism that we will get the relations back on track.
DS: Could you provide information on the latest accomplishments in the Turkey-EU refugee agreement? What is the significance of the March 18 agreement and is it still working effectively?
The significance of the March 18 statement is that we have agreed to monitor the movement of refugees. We have agreed on a number of concrete steps. Apart from that we have been very clear in acknowledging but also appreciating the hospitality and generosity of the Turkish state, Turkish people and civil society receiving refugees from a neighboring country.
I can relate to this because my own country [Austria] has seen several waves of refugees in the last few decades from neighboring countries. You want to help and you want to be there to assist your neighbors in need, and this is what is happening here. There are three aspects; one of them is the financial support; as you know the EU is providing 3 billion euros for refugees in Turkey to help cope with the impact.
Secondly, there are other issues like moving forward with the customs union and speeding up the visa-liberalization process. On top of that we have an agreement on the flow of people, either from Turkey to European member states.
Under this one-on-one return scheme for illegal migrant refugees returned to Turkey, refugees can be taken to Europe. There is also a part of the statement dealing with the return of illegal migrants from the Greek islands to Turkey. This agreement, in our view, and I think also in the view of our Turkish colleagues, is a working well and efficiently for both sides.
In my view there are some misperceptions on the 3 billion euros, how it is being provided. You have to look at what is actually happening: Out of the 3 billion euro, we have already a very clear view what we are doing with 2.9 billion euros and we have allocated the funds. Half of it, 1.5 billion euros, has already been contracted with the Turkish government, various U.N. organizations or NGOs, the Red Crescent or similar organizations.
Finally, 812 million euros have been paid out. But there is a misunderstanding here, when we implement projects and programs we pay normally when that program is up and running.
Very often the final payment comes once the project is finalized because there is a guarantee period to be respected and there are issues of financial verification. This may sound very technical but after all we are responsible to our parliaments that the money is spent correctly.
Refugees benefit from the projects before the final payment is made. Schools and clinics are good examples: We have agreed with the ministry of education that we will help build about 70 schools for Syrian refugees across the country and 210 clinics for primary health services across the country. The schools will be built and at the very end; the last money will be paid when the school is handed over and all of the financial aspects are checked.
This doesn't mean the kids will not be able to go to the school. Once the school is built the kids will attend classes even before the last funds are paid out. I think it is important to underline that within only one year and two months we have managed to sign contracts worth 1.5 billion euros. Now if you ask me, I think this is a tremendously speedy operation given the bureaucracy and checks involved.
DS: Turkey has been criticizing the EU for not fulfilling its commitments promised in the Turkey-EU refugee agreement. How would you respond to this criticism?
CB: The deal is working and the promises are being fulfilled in accordance with the agreement. It is a matter of perception. The procedures may sound bureaucratic and complicated but that's how it is.
Important work is underway like the two projects we signed in December with the Ministry of Health and Ministry of Education, 300 million euros each for schools and clinics; for training teachers, language courses and psychological support. You mentioned in your paper in last week the Kızılay Card that comes from that money.
We have reached 600.000 Syrians that are getting these cards. It will go up to 1.2 million Syrians. In June we will increase it from TL 100 to 120 per card and person. This is something that is working well.
DS: Visa liberalization for Turkish citizens was indeed a part of the Turkish-EU agreement however, negotiations could not produce results due to the EU insisting on narrowing the definition of terrorism in Turkey. Do you believe that both sides can still find middle ground to solve this problem?
Visa liberalization requires that a number of issues are dealt with. I have been involved in negotiating visa liberalization requirements with other countries, there are always criteria and benchmarks agreed and implemented before visa liberalization is reached.
Turkey has fulfilled 65 out of 72 benchmarks. That's why the European Commission was able to propose to move towards liberalization but there are still a few criteria unfulfilled. Some of them are easy and are being implemented with our help.
For example you will need biometric passports. We are helping getting such passports. But there are a couple of points that need legal adjustment. One is anti-terror laws and data protection laws. We do not want to hamper Turkey's capacity of fighting terrorism. It's far from that: We understand the problems Turkey is facing with serious terrorist threats from outside and inside. We do not want to weaken the Turkish capacity of fighting terrorism.
There are certain international understandings on this issue. The idea is to bring the current legislation in line with that understanding. There is nothing that will weaken the fight against terrorism. The next step is that the Turkish side will take the necessary steps to satisfy the remaining benchmarks and provide some ideas on how to do this.
It seems like Cyprus talks are on the edge of collapse. In this regard what would be the impact of the failure in Cyprus talks on Turkish-EU relations?
I see the positive impact of successful negotiations. It will allow us to cooperate on many other issues. From the perspective of the EU delegation in Ankara it is in the interest of both sides to ensure that the opportunity is not missed. Successful negotiations will enable the EU and Turkey to further deepen cooperation in a number of important issues.
I believe that Turkey has an interest that the negotiations are concluded successfully. Turkey supported the efforts of the U.N. in 2004. But due to the outcome of the referendum it did not work. Turkey still wants to end this issue successfully.
Recent polls indicate that majority of Turkish citizens do not believe in Turkey's EU membership any more. What's your thought on that and do you have any plans to change this perception?
This is an important point. We must not lose sight of the public opinion and explain better what we are doing. What is the ultimate purpose? A better life for our people, our families and our children. The ultimate purpose is prosperity, stability, and security, all valid reasons why my country joins the EU. We should work towards this end goal.

Since 2004, we have had in place a support program, which is offering Turkey to harmonize with the EU and us to prepare for accession. I think we should not be shy in showing the results and the success stories.

Your newspaper, today, has had three positive articles about the EU. We have to show the people what are the benefits of going through this process. Some of it may be painful because it needs adjustment. But for the majority it will be a success.

For those who are at risk of losing out we have to soften the impact of those changes. When I arrived last November the political discourse was very loud on both sides. But within the first 14 days I saw many successful projects and programs which have been running already for a while. This is what we have to tell the people. The more we do this the better is the understanding of this relationship.

There are similar polls in Europe. Recently 75 percent of the people in five or six member states say Turkey should not join the EU. These polls can change. What many of my friends say is that the political position is influenced by perception. We can help by showing what we are doing. There are many political issues in the region where our cooperation is essential. There are many foreign policy issues which we find us on the same page. There are some issues that we have to sort out. We are at the starting point now of a series of engagements that both sides need and want to move the relationship forward.
Regarding the customs union upgrade, how long do you think the negotiations will take? What would its impact on Turkish economy be?
We have undertaken an impact study on that which is quite positive. There will be an increase of 1.2-1.3 percent in the GDP of Turkey amounting to about 12 billion euros. Of course it is no secret that it will benefit also the EU. It is a win-win for both sides. The first step has been done. The [European] Commission has adopted a negotiating proposal. This was done on December 21. Now the Council has to work on the final version of that mandate and approve it. That process in underway right now. This will lead to a mandate.

How long it will last is difficult to say. There are three important issues of substance: agriculture, public procurement, and services. This needs to be discussed in substance with Turkey. There are also procedural issues. I really do not know how long it will last but the modernization of the EU-Turkey Customs Union should be treated as a political priority.

The EU-Turkey Customs Union has been quite a unique but also very successful arrangement that is now 20 years old and needs to be modernized, updated to take into account the rapid development of international trade relations, and to help us better cope with the impact of globalization.
After the Brexit process, many people have started to argue that the EU is on the verge of collapse. Do you think the EU is dying?
It is a painful process. We were all shocked by the outcome of the referendum. But there are procedures in place under Article 50 of the Lisbon Treaty which now need to be followed. Both sides will take this seriously. There is a decision in the UK to leave and this is being respected by the other member states. I don't think the EU is dying. The EU will deal with this challenge along [European Commission] President Jean-Claude Juncker's proposal of five scenarios for the EU's future.

In the meanwhile the economic figures are actually very good when it comes to employment, inflation and growth. In that sense the EU is moving forward. Politically there is a discussion in progress on several suggestions on how to strengthen the cohesion of the EU and the cooperation between the member states and the institutions. I don't see any deaths.