European Union Delegation Head to Turkey Ambassador Christian Berger said after turbulent times in recent months, the EU and Turkey are restoring confidence between each other and he underlined that Turkey's fulfillment of the remaining benchmarks in visa liberalization can be considered a good sign about the future of relations. The EU-Turkey High-Level Economic Dialogue took place in Brussels on Dec. 8. It was part of a series of meetings agreed between President Recep Tayyip Erdoğan and EU leaders on May 25. Speaking to Daily Sabah in Brussels after the meeting, Ambassador Berger said the meeting was proof of the vitality in Turkish-EU relations and closeness with key partner and candidate country Turkey.
The EU is expecting tomorrow to receive Turkey's position paper that includes Turkey's road map to fulfill the remaining benchmarks in visa liberalization narrowing that the definition of terrorism remains one of the most critical issues. Regarding this benchmark, Berger said the EU does not want Turkey to weaken its possibility in the fight against terrorism. That being said, Berger believes Brussels wants to see certain safeguards in the legislation.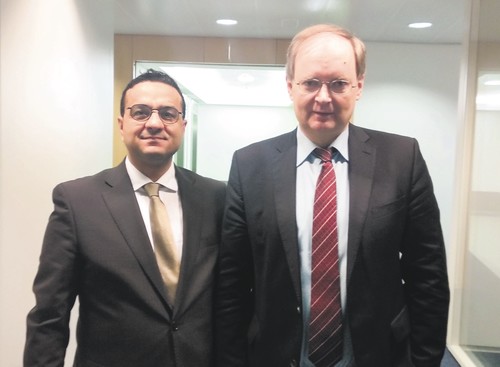 Berger (R) and Daily Sabah's Ali Ünal
Despite stressing that there is a strong will from the Turkish side to finalize the process by fulfilling the remaining benchmarks, Berger said the European Parliament can still block the process. There is always a political element in the decision of the EU Parliament, Berger contended, adding that a willingness exists in the European Commission to move forward.
The ambassador also stressed that taking a step forward on the issue would contribute to the bettering of the ties between the two sides.
Daily Sabah: You closely followed the EU-Turkey High-Level Economic Dialogue meeting that took place in Brussels on Dec. 8. From your perspective, what is the outcome of this meeting and what is its significance from the EU's perspective?
Christian Berger: First of all this was a very timely meeting. As you may know, Turkey and the EU do enjoy strong trade relations so it is important to regularly review progress; is good to exchange views and notes about the economic performance both in the EU and Turkey. We have had a comprehensive update on the Turkish economy from Deputy Prime Minister Mehmet Şimşek. But also the very strong reassurance from the Deputy prime minister and other ministers, who reaffirmed that the EU and the economic relations of Turkey with the EU are extremely important for Turkey's reform efforts. He also made the point that given Europe's good economic performance, a close relationship is becoming more and more important. The representatives of the business sector were there and made the same point from their perspective: A close relationship between the EU and Turkey is essential for their own business given how intertwined both economies are. Economic reforms on the basis of a close alignment and introducing EU standards not only helps to do business in the EU, but it is actually an advantage worldwide. It helps to be strong globally. This was a consistent message throughout the meeting.
Obviously everybody raised the importance of the preparation for the custom union modernization, which is a strong demand by the business community but also by the Turkish government. Both sides underlined the economic win-win situation and highlighted the benefits of the current customs union that has been in place now for 20 years. We also talked about the economic impact of the refugees in Turkey both in terms of the burden on Turkey and the necessity for the international community to share that burden but also in terms of an opportunity of having the possibility of training people, providing them a better livelihood, and making them part of the economic life in the country. We looked at it from both angles.
So it was an important meeting, proof of the vitality our relations and closeness with a key partner and candidate country. It was part of a series of meetings agreed between President Erdoğan and EU leaders during his visit to Brussels earlier this year. This was the fourth meeting in a row after high- level meetings on political issues, counterterrorism and transport dialogue. There is still one more important to come on energy issues, which is expected to take place early next year. As EU Commission Vice President Katainen put it, "the meeting was one of those strategic events that will pave the way for a much more constructive dialogue in the upcoming years."
DS: You have just mentioned that updating the customs union was one of the main topics that was discussed during the meeting. Is there any concrete result that you can share about this issue?
CB: EU Commission Vice President for Jobs, Growth, Investment and Competitiveness Jyrki Katainen summed it up in the meeting: He reaffirmed the EU Commission's position as prepared in the draft mandate that we need to add agricultural products, services and public procurement to our existing customs union, and we need to introduce dispute settlement rules. We are of course now waiting for the adoption of the mandate by the EU member states before we can start the negotiations. Bilateral ties will further improve once conditions are right also regarding the rule of law and fundamental rights. Everybody around the table expressed the wish and the hope that this will be done as quickly as possible. I cannot give you at this moment a concrete timeline because we don't have it. But I think this meeting was an important impetus or reminder that we need to move forward on this issue in the interest of both sides.
DS: Turkey's bilateral relations with member states are also affecting the upgrade of the customs union issue. As you know there is a positive momentum in German-Turkish relations and there is a backdoor policy between the Netherlands and Turkey. Do you think that this momentum will have an effect on the customs union issue?
I think I told you on a previous occasion that having good relationships with member states is important for the relationship with EU as a whole. If you have difficult relationship with one or two member states, of course it affects the overall atmosphere. I can only welcome this approach to have a better relationship with all member states, particularly those with whom relations have been tense. I am sure that this will have a positive impact on the overall EU approach and on all the projects that we have been talking about.
DS: Visa liberalization is another issue that Turkey has high expectations about. On Dec. 12, Foreign Minister Mevlüt Çavuşoğlu will present Turkey's position paper to the EU during his visit to the EU. So from your perspective what will happen regarding the visa liberalization? Do you think the Turkish side will accomplish all the remaining benchmarks?
Indeed, the next step has to come from Turkey. Turkey will have to say or explain how they want to address several outstanding benchmarks that were agreed when the whole visa liberalization discussion started. A small number of that benchmarks is still open. Commissioner Dimitris Avramopoulos made the point that Turkey was very quick in meeting the vast majority of the benchmarks so he hopes that the remaining ones will also be met. He mentioned to you that two of them may be more complicated than the others. In this regard we need to see what the paper says. What I understand, however, that there is a strong will from the Turkish side to fulfill the remaining benchmarks.
I am fully aware that narrowing down the definition of terrorism is a sensitive issue for Turkey. Again let me underline the EU position on this: We do not want Turkey to weaken its possibility and capacity in fighting terrorism, this is neither in Turkey's nor the EU's interest. But we would like to see certain safeguards being reflected in the legislation.
DS: Let's assume that Turkey fulfilled the remaining benchmarks and got a green light from the EU Commission. Do you think that some EU member states can block it in the EU Parliament?
From my experience with the visa liberalization processes of other countries I know that there can always be an issue that needs to be resolved before we can move on but there is always a way to solve problems. Obviously the agreement of the member states is needed as well as of the EU Parliament. There is of course a political element in that. I think on the side of the EU Commission there is a willingness to move forward and to see the recommendations that Turkey will provide.
DS: There is positive momentum in EU-Turkish relations. However, neither the Turkish nor the European sides are talking about opening new chapters and the full membership. So where are we now?
Where we are now is building confidence between each other, talking to each other. Everybody knows there are difficult issues that we need to discuss. These issues can be discussed in a frank and open manner and both sides can try to find solutions. These sectorial meetings, as I would call them, are a good example. We talk about transportation, counterterrorism, the economy, and we engage in regular contacts on foreign policy issues, exchanging views on what we are doing in Africa, Syria, the Middle East, and the Western Balkans or in Central Asia. These are important steps that help us to rebuild confidence between us so we can tackle maybe more difficult issues. We will continue with this engagement that we started in May.
DS: Are the EU and Turkey successful enough to build up confidence throughout this dialogue mechanism?
The rhetoric and perception between the two sides has certainly changed in last few months. There is a really great interest I can see here among my Commission colleagues and on the Turkish side to continue these good discussions. So yes I can see a positive momentum there.
DS: Do you think that Turkey's fulfillment of the remaining benchmarks in visa liberalization can be considered a good sign about the future of the relations?
By Turkey fulfilling the benchmarks under the anti-terror law, it will also address a number of concerns that we have had in the last few months. I think there is certainly a very positive element in that. I am sure many of these points can be covered. Some recommendations by other partners, like the Council of Europe, were addressed already earlier on, such as on detention periods, on access to lawyers and the establishment of the commission of inquiry. These aspects are part of the points on rule of law and fundamental freedoms President Juncker addressed in his speech in the EU Parliament in September.
DS: The fight against terrorism is a common issue that the EU and Turkey cooperate on. The EU counterterrorism coordinator was in Ankara recently. Is there any development in this field?
We held the dialogue on counterterrorism two weeks ago. It was a very good discussion with our counterparts in the foreign ministry, other ministries and also the security forces of Turkey. I think we have come away from that meeting with ideas where we want to increase our cooperation and at the moment we are developing concrete points as a follow up. I can tell you that on both sides we think that the meeting was a big step forward in the relationship on this issue. We already had a meeting last year but I think this time we have developed more concrete things we want to work on. Obviously both the EU and Turkey suffer from the same threats, with Daesh being defeated in Syria and Iraq and foreign fighters and other terrorists on the move we need to cooperate very closely. This is an important element of our cooperation. There is also the broad field of police cooperation that we want to enhance, for example, improve the exchange of information. Along those lines we will work in the next weeks with our foreign ministry and other ministries to see what we can do in concrete terms. I can only confirm what he said from our perspective this was a positive meeting. We also talked about the concerns on the Turkish side about the presence of certain organizations in Europe. I think we explained what we are doing in terms of national legislation and law enforcement to make sure that listed terrorist organizations cannot have a presence or cannot openly advertise for their own organizations, like showing flags or other symbols and having rallies. Member states are taking measures. Great attention was paid in Turkey to the steps the EU Parliament has taken to ban members of listed terrorist organizations from entering the building or having any other forms of presence in the EU Parliament. I think we have been carefully listening to Turkey's concerns and sensitivities in this respect.