As a result of the midterm elections in the United States last week, two Muslim politicians were elected to the House of Representatives for the first time in U.S. history. Along with Rep. Ilhan Omar and Rashida Tlaib, the first Native American and Latina female representatives were also elected. Ilhan Omar, who came to the U.S. as a refugee from Somali when she was 12, became the first hijabi representative in the House of Representatives.
This was realized in 2018 in the U.S., which in its founding philosophy deems religious and ethnic diversity as cultural richness, 242 years after its conception.
Meanwhile, to what extent does Europe accept members of different religions, socially and politically, considering that it is the cradle of democracy that inspired the U.S.?
Muslims are the largest non-Christian minority in most of the European countries. Between 4 and 10 percent of western European countries like Belgium, France, Germany and Netherlands are constituted by Muslims. Moreover, Muslims constitute at least 1 percent of the population in almost all Western European countries. Despite these numbers, Muslim minorities are severely underrepresented in Western European politics.
On the other hand, Muslims are expected to be secularized and to realize their religious practices only in their houses or mosques before being allowed to be represented socially and politically in Europe. Constituting 5 percent of continental Europe's population, over 26 million Muslims face challenges realizing their religious duties even outside the political and public spheres. For instance, sacrificing during one of Muslim's most prominent holidays, Eid al-Adha, has become a challenging practice in most European countries.
While there is increasing pressure to build mosques without minarets, some countries have decided that the religious personnel who are to work at these mosques should be elected by an Austrian or Belgian theologian.
Meanwhile, there is increasing violence toward Muslims that parallels the rate of Islamophobia in Europe. Women are the most frequent targets of this violence. A total 60 percent and 76 percent of Islamophobia victims in continental Europe in general and Belgium, respectively, are women.
Currently, there is only one hijabi deputy in all of continental Europe, and she is Mahinur Özdemir, a Belgian independent deputy of Turkish descent. Özdemir explains why Islamophobia in Europe targets women, "Because Muslim women are visible. A car might try to run you down. They're resorting to physical assaults now; we're way past discourses. They're filled with grudge and hate."
Today, there are no Muslim hijabi women that have been elected to a national parliament. While Europe lacks a hijabi deputy on a national level, Mahinur Özdemir is the first and currently the only hijabi deputy elected to a local parliament in continental Europe.
The first women deputy to enter a parliament in Europe with her hijab, Özdemir was born in Schaerbeek, Belgium in 1982. Also representing third generation Turks in the country, Özdemir received her bachelor's degree in industrial engineering and her master's in public administration at the Université libre de Bruxelles. She has also learned French, Dutch and English. She started to pursue politics in 2009 and was elected to the Brussels' parliament as a deputy of the Humanist Democratic Center (CDH). Özdemir was pressured to acknowledge the 1915 events as "genocide" but refused to bow down to this pressure in 2015. As a result, the convened CDH Ethics Committee expelled Özdemir from the party. Özdemir continues to act as an independent deputy in Brussels' parliament.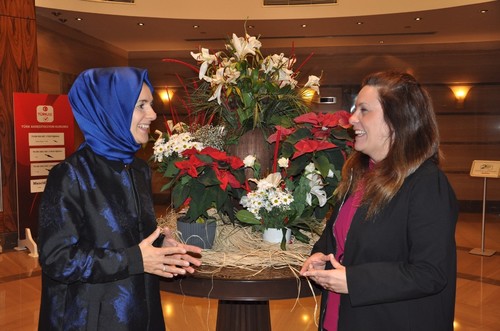 Daily Sabah spoke with Özdemir on the representation of Muslims, especially women, in European politics and the challenges Muslims face in the public sphere.
Hardships of being a Muslim women and politician
Talking about her personal experiences, Özdemir indicated that being a Muslim women and pursuing politics as a Muslim woman in Europe is challenging. She asserted that she has observed people trying to prevent her from becoming more visible. According to her, this kind of obstruction is observed more in conservative countries in the West rather than just in Anglo-Saxon countries. Özdemir provided an example from France, one of the most conservative countries in the West in her opinion.
"A hijabi girl named Mennel Ibtissem of north African and Syrian descent participated in 'The Voice' in France. She had sung 'Hallelujah.' They found a tweet she published when she was 19. They crucified her in the public sphere and told her that 'The Voice' was not the place to sing in Arabic. She was almost deemed a terrorist," she said.
Özdemir also gave a similar example from the United Kingdom, talking about one of the faces of L'Oreal whose past tweets on the Palestinian-Israeli conflict caused her dismissal from the firm. Özdemir underscored that thorough searches of past activities and actions has become a normal procedure for Muslim women: "Their lives are pulled apart and demonstrated in front of the general public. Meanwhile, Theo Fracken, a minister in Belgium, was found to have active relations with far-right movements. His homophobic correspondence was also revealed. He has also made racist remarks about those of Moroccan descent. The leader of his party has photos together with Jean-Marie Le Pen. Yet, these people continue to govern the country. On the other hand, if you're a Muslim, you don't have the luxury to make any 'mistakes.' They crucify you without letting you speak."
An increasingly Islamophobic and populist Europe
Özdemir asserted that Europe is becoming increasingly populist and is seeking scapegoats for its own issues rather than resolving them.
She also stated that a perception of threat is created and mobbing is employed through populism.
"Normally, a hijabi woman is allowed to work in a work place in Belgium. However, despite religious freedoms, most work places don't allow hijabi women to work. Sometimes, hijabi women's right to education is taken away from them; certain universities don't allow hijabi women to be educated in their facilities. Many don't talk about this. If you go on trial about these issues, your chances of winning are pretty slim. The secular structure deadlocks the system. For this reason, many educated women face discrimination in employment."
Özdemir added that attacks on mosques are not condemned politically. According to her, attacks are normalized, and racist groups are allowed to attack because of the lack of severe punishment.
On the other hand, Özdemir asserted that the supposedly unbiased state is biased against Muslims. In her opinion, 9/11, terrorist attacks in Europe and refugees from Syria have had a large impact on the rise of Islamophobia. "European leaders, who publish messages on important religious holidays of different religious groups, never say anything positive about Muslims," she remarked.
Özdemir indicated that countries are now opposing immigration, immigrants and refugees. She claimed that new governments in Europe are founded on the ideas of anti-immigration, anti-Islam and security.
"Europe is having an identity crisis; as it's unable to find a resolution to some of its problems, they see cohabitation as a threat. Currently, Muslims are targets, which is shown by attacks on mosques and Muslim individuals. There are certain groups that are trying to forge a new national identity. Recently, a right-wing conservative white supremacist group was formed in Belgium. All of its members are in their 20s. People were unaware of this formation. A journalist revealed its extent and their ties with Belgium's most powerful party," she said.

Özdemir added that the journalist was put under protection by the Belgian government because of his findings. Meanwhile, regarding this development, she indicated that politicians should prevent these kinds of discourses as the general public will not be able to do so. She also asserted that populist parties are gaining power in Europe and are targeting Muslims.
"This includes countries with very small Muslim populations. Even in such places, these parties are able to secure an increased number of votes by instilling fear in the public," she continued.
European politics creating Islamophobia
Regarding the increasing Islamophobia in Europe, Özdemir stated that European politics created it and that it is used as a means to manage the public. She asserted that Islamophobia was also used to divert people's attention from unresolved issues. "In an environment with increased diversity, Muslims were accused of isolating themselves. Meanwhile, governments didn't provide equal rights and freedoms to all. Along with poverty and exclusion, Muslims were cut from social rights," Özdemir commented.
On the other hand, Özdemir indicated that Europe is experiencing the most severe recession today since the 1930s and that Muslims are being used as a scapegoat. She added that the European public was being frightened with Islamization in which the media played a prominent part.
Özdemir stated that Merkel had expressed her opposition to a multicultural structure eight years ago and that central parties were eventually drawn into this discourse.
"This increased during Sarkozy's term. Sarkozy built his discourse on opposing northern Africans and Turkey's EU bid. Now he's gone. Merkel is saying that she will go. They have gone but their discourses are still out there. The public has become accustomed to this perception in the last 5 years and it's almost impossible to change or alter this perception. We're forced to persuade these people that everybody can cohabitate, Muslims are part of Europe and have become citizens who have equal rights and freedoms," she said.
In terms of a solution to these issues, Özdemir asserted that racism, populism and discriminatory discourses should be eliminated first by politicians. She said that Islamophobia is not included in most reports unlike racism or anti-Semitism.
"According to them, Islamophobia is actually freedom of speech; they don't want to have a Christian backlash," Özdemir added.
'Localized' Islam
Stating that certain countries are trying to implement "localized" variants of Islam, Özdemir defined these as attempts to show Islam is a local part of the culture there and to put Islam under state control.
"For instance, Belgium wants imams to be trained and appointed by its own state. However, this practice isn't employed for other religions. Countries like Belgium and Austria are trying to train their own imams. It's definite that there's a need for imams or religious scholars who know that society and its realities. The Turkish Presidency of Religious Affairs is addressing this need through its training programs. Meanwhile, these countries deliberately deny the visa applications of imams who are trained and appointed by Turkey."
Human rights in Europe
Özdemir indicated that EU was founded on the values of justice, equality and human rights; however, she believes that all of these values are now being infringed.
"Unfortunately, first generation Muslims didn't demand justice. Yet, third and fourth generations are seeking their rights by appealing to courts. Meanwhile, the court process takes a long time. When you appeal to the European Court of Human Rights (ECtHR), it takes almost 10 years for the case to be resolved. For instance, a case about working at kindergarten with hijab and attending court sessions with hijab were recently concluded by ECtHR. It took 10 years to reach this decision. Think about not being able to attend a court hearing due to your hijab!"
Asserting that Muslim identity is being deliberately made invisible in the public sphere, Özdemir said that political will avoids any manner of resolution. She said that hijabi women have the right to work per ECtHR decision. "The ECtHR foresees that hijabi women have the right to work at a firm; however, if the firm has a bylaw that prevents hijabi women from working there, the ECtHR can't do anything about it. This was a scandalous decision that infringes human rights. Moreover, it showed how these firms could discriminate against hijabi women," Özdemir commented.
Regarding being the only hijabi deputy in Europe, Özdemir indicated that there were attempts to deprive her of her rights.
"They worked hard to ban hijabis from becoming deputies; however, due to the constitution, they were unable to," she said. 
In terms of representation, she asserted that political parties do not allow hijabi candidates onto their electoral lists. Underscoring the conundrum of not being able to participate in both politics and economic life, Özdemir said educated and skilled women were especially being excluded from employment. She asserted that this was also the case for public offices.
"Public offices are excluding hijabi women despite the lack of laws. They have attempted to pass such laws; however, to not be seen as prohibitive, these laws were not passed. Nevertheless, even the attempt to pass this kind of law infringes two principles of Europe: religious freedom and equality. This kind of general prohibition prevents Muslim women from working, attaining an education and participating in cultural and social activities."
Rising secularism in Europe
Indicating that Europe was built on Christian values, Özdemir asserted that there is an increasing secular trend on the continent. According to her, she was elected during a time of conflict between Christianity and secularism. "When I was elected, they told me that they were hiding their crosses in their pockets and that I was imposing my outlook because I was wearing hijab," she remarked, while adding that her visibility caused more obstructions to her.
In terms of religiosity in Europe, Özdemir commented that churches were losing their popularity by the day. She asserted that Europe was trying to make Muslims pay the price for the increasing secular trends.
"Of course, immigration, 9/11 trauma and terrorist attacks were detrimental to this process. Especially after the attack on Charlie Hebdo, they expected all Muslims to apologize. We're against all kinds of terrorism; however, I didn't have anything to do that attack. Why should I apologize for an action I haven't committed on behalf of another? Similarly, the Belgian interior minister held Muslims responsible after the attacks in Brussels and Paris. We asked why he held Muslims responsible. He claimed that he relied on intelligence reports and testimonies of some Muslims. The intelligence rejected this claim. In short, he marked Muslims and made it worse for us."
Regarding violence toward Muslims, Özdemir said that Muslims face an increased number of individual attacks. Talking about her own experience, she stated that she was threatened by a businessman with death over Facebook following the Paris attacks.
"I sued him. For the first time, a person who threatened another with death over Facebook was imprisoned. He was in prison for six months," she said.
Özdemir indicated that these legal processes require a certain economic level and for that reason platforms to fight against such attacks must be established.
"We have founded an association fighting against Islamophobia. We have collected data since 2014 and compiled them into a report. According to our data, 76 percent of Islamophobia victims in Belgium are women. It's around 60 percent in all of Europe. Because Muslim women are visible. A car might try to run you down. They're resorting to physical assaults now; we're way past discourses. They're filled with grudge and hate. There should be a concern about Muslims' security. Moreover, other citizens who aren't Muslim but look like us, such as the Romani people, suffer from this discrimination as well."
Özdemir announced that they were starting to see support from feminists in terms of women's rights and that they were focusing on an intersectional approach to address the issues.
Meanwhile, she asserted that visible or successful Muslims in Europe and the U.S. are accused of being a member of Muslim Brotherhood. She stated that such claims were not easy to get rid of and have far-reaching consequences. 

"Your name appears in a report, even though you don't have any connections with the said organization. Such obstructions are actually exhausting Muslims," she commented.
Özdemir suggested that Europe should focus on how to integrate Muslims, who have been a part of the continent for three generations and become citizens, to the society and benefit from them rather than obstructing them as in the case of Mehmet Kaplan. 

"Instead of an individual life, benefiting the society, using electoral rights, being part of various NGOs and creating alternative media using the vernacular of the country are important," she concluded.

 Sweden's former housing minister, Turkish-born Mehmet Kaplan was forced to resign in 2016, following accusations from Swedish political parties and media over his contacts with the Muslim community and Turkish organizations.