Negotiating its membership for over half a century, Turkey's relations with the European Union have been checkered especially in recent years. Criticized for treating Turkey unjustly and pursuing a biased policy against the country, it is acknowledged that the EU is leaning toward rapprochement with Turkey in the light of the political issues experienced with the U.S.
On the other hand, the associations of terrorist organizations like the PKK and the Revolutionary People's Liberation Party/Front (DHKP-C) having free reign in EU countries in terms of propaganda, along with Gülenist Terror Group (FETÖ) members being granted asylum is seen as a lack of support to Turkey in the field of counterterrorism.
This being the case, President Recep Tayyip Erdoğan criticized the European Court of Human Rights (ECtHR) last week for its ruling on Selahattin Demirtaş, the jailed former leader of the pro-PKK Peoples' Democratic Party (HDP), for ignoring his role in riots that resulted in the killing of 50 people in southeastern Turkey.
The president was referring to the riots on Oct. 6-7, 2014 in southeastern provinces and several cities in the west including Istanbul. Demirtaş is accused of inciting hatred in the unrest, which erupted at the height of Daesh terrorist attacks on northern Syria's predominantly Kurdish border town of Ayn al-Arab, also known as Kobani, which is now controlled by the PKK's Syrian offshoot the People's Protection Units (YPG).
Erdoğan also criticized the EU's indifference on the free roaming of FETÖ and PKK suspects in member states.
In the context of half a century relations between Turkey and EU, Ankara reiterates its message that it expects EU member states to provide solid support in the country's fight against various terrorist groups.
During a joint press conference held after the Turkey-EU High-Level Political Dialogue Meeting in Ankara last week, Foreign Minister Mevlüt Çavuşoğlu said, "It is our natural right to expect solid support from the EU, particularly in the fight against terrorism." The conference was held along with Federica Mogherini, the EU high representative for foreign affairs and security, and Johannes Hahn, EU Commission vice president and commissioner for European Neighborhood Policy and Enlargement Negotiations.
Welcoming the recent decision of the European Court of Justice to keep the PKK on the EU's terror list, Çavuşoğlu also said it was a significant decision and the PKK should continue to be on the list. Yet, he underlined that it is unacceptable that the PKK continues its activities in European countries by carrying flags or symbols of the terror group.
Also reiterating Turkey's expectations and the EU's need to fulfill its promises, Çavuşoğlu criticized the EU's decision against opening new chapters.

"We made an agreement for migration. We signed to open five chapters [of the acquis communitaire], then a decision comes out. This is hypocrisy, there's no explanation for this," he said.
Çavuşoğlu also said that there are six criteria left out of 72 for visa liberalization. He also stressed that the customs union should be updated as it would benefit both sides.
In the face of the criticism, Mogherini said the EU has "no double standards" but "high standards" and stressed that "in the world today, it is hard to find any partner that is more reliable and predictable than the EU."

She pointed out that the EU expects concrete progress in the "rule of law, fundamental freedoms and human rights" in line with European Council standards, which are shared by Turkey as it is a founding member.
Daily Sabah spoke with Justice and Development Party (AK Party) Istanbul Deputy Markar Esayan, who is the deputy chair of EU Harmonization Commission in Parliament and a member of the Turkey-EU Joint Parliamentary Assembly, about Turkey's EU bid.
Current state of relations with EU
Regarding the continuation of Turkey's EU bid, Esayan stated that it has been a lengthy, challenging road but also a positive process. He expressed that both the EU Harmonization Committee and the Joint Parliamentary Committee (JPC) was unable to realize their general assembly due to several factors, one being the EU delegation having a dominant number of Greek Cypriots and Greeks who try to impose policies on Turkey.

Talking about the recent activities of JPC along with the assembly that is to take place in early December, Esayan indicated that there is resurgence in the relations between Turkey and EU.
"As you know, the JPC is a prominent commission which evaluates Turkey's EU bid. We will assemble in early December. In this respect, we can say there is renewed activity. The process which was challenging in the recent years and was affected by elections in both Turkey and EU is leaning toward improved relations between the parties. EU Commissioner Johannes Hahn and High Representative Federica Mogherini's visits also consolidate this positive trend."
Esayan asserted that Turkey does not perceive EU membership as an eclectic process and truly aims to achieve full membership.

"We are a country which has been tested for more than half a century and which has successfully passed these tests," he said.

He underscored the double standards of EU in terms of Turkey's membership bid and affirmed that certain European officials acknowledged this situation.
"We have expressed that we have been sincere about our membership and we have been facing obstructions especially since the Annan Plan. Even though we fulfilled their demands, they aren't opening any chapters; we pointed out the contradiction here. For instance, the judiciary. If you believe there are issues in Turkey's judiciary, you should open the respective chapter and proceed within the framework of the said chapter. Yet, they don't open it."
Reiterating Erdoğan's statement, Esayan asserted that a new form and structure is needed in Turkey's relations with the EU.
"The old structure of relations has become obsolete; we need a resurgence, a new understanding, a spirit that will shape the future of relations. Turkey won't relocate to another region; EU will continue to be Turkey's neighbor. There is a mutual interdependence especially in trade. Moreover, Turkey is like EU's circuit breaker in terms of security. For this reason, relations between Turkey and EU should have common sense at the core. Turkey already has a bid for membership; so, why not use this process to achieve it? Why shouldn't we mend it? Turkey will continue to fulfill its duties; however, it also has the right to demand being evaluated in its own special conditions."
ECtHR's rulings over Turkey
Talking about the latest ruling of the European Court of Human Rights (ECtHR) about Selahattin Demirtaş, Esayan asserted that Turkey was unable to appoint a new judge to the ECtHR for three years as the court continuously denies their designated candidates. He affirmed that the ECtHR and EU were treating Turkey unjustly.
"The co-chair of a party calls for a revolt during their central executive board meeting. As a result of this call, more than a dozen citizens were violently killed. This is why Selahattin Demirtaş was arrested in the first place. This is a grievous charge and an issue Turkey has paid dearly for it. While there were ongoing legal processes, the ECtHR makes such a ruling without even going into details. It's obviously a political decision. They have to be fair toward Turkey and respect our country's judiciary and legislative. As long as they fail to do so, Turkey won't compromise. We're fighting against 11-12 terrorist organizations; we aren't a country like Norway that could implement all their demands regarding the counterterrorism law."

Double standards toward Turkey
Esayan responded to criticisms toward the state of emergency previously implemented in Turkey and stressed that France still has an ongoing state of emergency in Paris which was made permanent. He asserted that implementing a state of emergency when necessary is a legal and legitimate right in democracies.

"Of course, we condemn all terror and respect their right to self-defense; however, Turkey is in an incomparable region shouldering incomparable burdens," he said.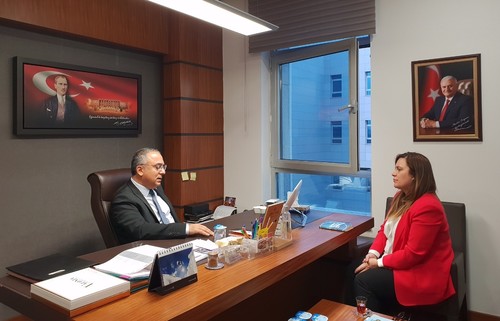 Esayan also said that Turkey has been performing extremely well especially considering the current state of the region.
"Almost miraculously, we have handled all matters within the boundaries of the constitution and law. Turkey should have been honored. Turkey never strayed from the law despite facing terrorism, the strife in both Syria and Iraq, 4 million refugees entering the country, fighting against Daesh and the PKK single-handedly. When we experienced the July 15 coup attempt, we resorted to using the state of emergency which was well within our rights. Just like France. We have also established new entities like the State of Emergency Supervision Committee which oversaw the process. This committee ruled over 44,000 cases; only 7 percent of them were falsely accused. Considering there are hundreds of thousands of FETÖ members in the country, 7 percent is an acceptable margin. Nevertheless, we established a committee to not victimize innocents. Some 200 judges are working at this committee," he said.
"Unfortunately, this has become a part of the politics in Europe. U.S. President Donald Trump acknowledges that Crown Prince Mohammed bin Salman was probably in the know of the Khashoggi murder while underscoring Saudi Arabia's importance for the U.S., downplaying the murder. Law, morality and human rights become invalid with this kind of approach. Similarly, members of the EU raced each other to congratulate Abdel-Fattah al-Sissi after his coup which left the elected president Mohammed Morsi in jail and 10,000 dead. This is the world we're living in. Meanwhile, certain people can't understand Turkey, as they have been living on a relatively sterile continent; they didn't face a menace like FETÖ for a long time," he added.
He stressed that Europe had similar experiences in the recent past.

"When East and West Germany united, 600,000 East German bureaucrats were dismissed; no one questioned why they were dismissed," he remarked.

Esayan added that Turkey is continuing to fight terrorist organizations like FETÖ within the boundaries of law. He also asserted that there were improvements in the legal processes concerning FETÖ and that all will see that Turkey has handled the situation well and correctly in a few years.

"I've always claimed at the council that Europe will eventually seek Turkey's aid in dealing with FETÖ," he added.
Using Turkey to gain popular support
Esayan stated that Turkey and Erdoğan were used as a part of political discourses during the recent elections in Europe.

"It was unclear whether these were elections or a referendum on President Erdoğan. The main subject of the elections in France was Erdoğan. This was also the case in Germany. Similarly, the Netherlands barred our ministers from entering the country," he commented.
Talking more on this subject matter, Esayan also expressed that Turkish citizens living in Europe were subjected to oppression.

"The PKK threatened them with death. German police didn't protect our citizens in their country," he said.
Giving examples from Europe, Esayan stated that the Batasuna Party in Spain was closed down due to its ideological discourse despite never committing violence. He also affirmed that Puigdemont, a proponent of the Catalan independence, left Spain after the independence referendum and was arrested in Belgium. He compared and contrasted the EU's approaches to its members and Turkey in similar events.
"The EU decided that Puigdemont's actions were against the law and democracy; however, they don't see a separatist party's co-president [Demirtaş] guilty despite his call leading to riots and deaths. It's not possible to maintain healthy relations with such double standards. We're trying to be sincere in our relations; however, we demand equality, symmetry in our relations with all countries and international organizations."
He asserted that the EU's approach toward Turkey's membership is problematic. Esayan claimed that Turkey being a dominantly Muslim country is an issue for the union.

"Turkey is an opportunity for Europe. It's the only secular and democratic Muslim country. Moreover, Turkey is a bastion of stability located between Europe and the Middle East," he affirmed.

Claiming that making Turkey a member would turn the EU into a true world power, he stated that the EU has to decide whether it will remain as an organization consisting of and limited to certain ethnicities and a singular religion.
The EU's identity crisis
Esayan asserted that Europe is in a dispute and has been going through an identity crisis for years.

"They're still discussing whether the EU is a Christian union or a union for universal democratic rights," he said.

Touching upon the waning political centrism in Europe, he affirmed that extremist parties and movements were on the rise.

"In this respect, the double standards we're facing are due to the declining centrist policies, thus the decline of political parties which advocate common sense and universality," he explained.
Esayan also elaborated on the rise of extremist groups and parties in Europe along with their impact on European politics.
"When they failed to protect their own values, extremist parties started to gain power. Extremist parties rise to power caused a panic among centrist parties and led them to adopt extremist discourses. Therefore, they resorted to right-wing populism and tried to be successful in elections by bashing Turkey. Yet, it didn't help them much; look at [German Chancellor Angela] Merkel and Italy. In this sense, I believe the issue is more about European identity than what Turkey does. Unfortunately, this issue might get out of hand and lead to more issues. Even though the recent developments with the EU give us hope, the political conundrum within the EU concerns us."
He expressed that this was the reason behind Erdoğan's call to the EU to resolve their identity crisis before discussing Turkey's progress.

"However, they wanted to perceive this as Turkey abandoning the membership process," Esayan asserted.

He stated that Turkey is sincere in its membership bid but is frustrated with delays and double standards.
"We want the EU to be clear with Turkey. Relations will be maintained either way. We want the EU to resolve immigration and integration issues through democracy and human rights and we don't want the union to surrender to racism. We desire the EU to remain as a model of democracy and we desire Turkey to be a part of it. We won't sever ties."
Talking about the rapprochement, Esayan signified the importance of improving relations between Turkey and the EU.

"I believe Europe needs Turkey. Similarly, Europe is important for Turkey. Thus, it's for the best interest to maintain these relations no matter what happens," he said.
He added that regardless of the success of the EU harmonization process Turkey will continue to do its best to further its democracy.

"The EU is an important project but it doesn't decide the fate of our democracy. I believe we're better in terms of many fields ranging from counterterrorism to integration of immigrants," he claimed.
EU chapters and reforms
Talking about the most recent Reform Action Group (RAG) meeting, Esayan stated that significant progress was made in many subjects including the customs union, readmission agreement and visa-free travel.

"As far as I know, there are ongoing negotiations about six-seven articles. There are subjects that are almost resolved; meanwhile, other issues like counterterrorism law causes concerns. Nevertheless, we're well-intentioned about it all," he commented.
He claimed that psychology is the determining element in all processes, including opening chapters, with the EU.
"This is the political psychology of Europe. They continuously bash Turkey and agitate their public against Turkey while the extreme right-wing movements are on the rise. Then, they realize that they need Turkey when their designs are unsuccessful. They understand that they have to work with the current Turkish government. We may at least understand some of these; however, this has to change. We need to have a certain level of sustainability and predictability. Turkey expects a more serious manner from the EU in this respect."
Esayan also expressed that Turkey is not shying away from opening new chapters.

"We're ready to open chapters on many subjects. When the EU opens new chapters, we're obliged to realize it. In fact, we've completed many of the chapters beforehand," he added.