Hundreds of asylum seekers feel threatened after violent protests by neo-Nazis in the eastern German city of Dresden.
Around 200 supporters of the right-wing party NPD violently protested refugees on Friday night as they were brought by buses to the recently established tent city in an industrial area, around five kilometers away from the city center.
Shouting racist slogans, neo-Nazis threw stones and bottles, and set off firecrackers.
More than 350 people gathered in the area for a counter-demonstration and to show solidarity with the refugees. Police said, three people were wounded and one person arrested in Dresden, when the far-right extremists had an altercation with opponents.
22-year old Syrian refugee Abdullah told Anadolu Agency that they had deep disappointment upon arrival, with seeing dozens of far-right extremists flipping them the bird and swearing at them.
"I have lost all my family, my girlfriend due to the war in Syria. I took many risks and came to Germany with the hope of beginning a new life. But what I came across here has been a big disappointment," he said.
Abdullah said when he went out on Saturday to make some shopping at the supermarket, he again came across with a group who swore at him.
"I was upset and returned to our camp without shopping," he said.
Tensions remained high also on Saturday, as authorities were bringing new refugees to the tent city, which is expected to house 1,000 people.
Around 20 far-right extremists continued protests in front of the camp.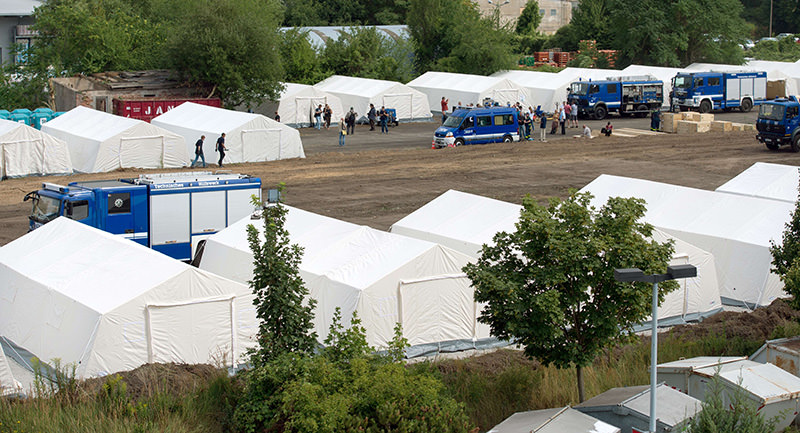 Also, two people were wounded when far-right protesters against the expansion of refugee accommodation in the east German city of Frankfurt an der Oder, about 190 km (118 miles) away, clashed with counter-demonstrators on Saturday, police said.
Ali, an asylum seeker who fled Libya, said they were facing difficult conditions both inside the camp and outside in Dresden.
"I am deeply saddened by hearing that they do not want us here. I have made a three week long dangerous boat ride. I was not sure whether I would survive. Now I am here but I see that I am not wanted. That makes me really sad," he said.
The police announced that it will step up security around the tent city throughout the weekend by deploying additional personnel.
Germany received 202,834 asylum applications last year -- an increase of almost 60 percent compared with 2013. Almost 47,000 of the asylum seekers were Syrians.
This year, the government estimates double the 2014 figures at 450 thousand.
The surge in asylum applications has been exploited by far-right and populist parties recent months, which organized weekly rallies against immigration and refugees across Germany.
Far-right extremists carried out 202 attacks against asylum seekers and their houses in the first six months of 2015, according to police records.
There were 162 such attacks in 2014, and 58 in 2013.