Hungarian police on Wednesday fired tear gas at its main processing center as the government announced it was sending 2,000 "border hunters" in efforts to stem the flow of the record numbers of people entering from Serbia. A police spokesman said that police used the teargas to disperse around 200 migrants who had refused to be fingerprinted and tried to leave the processing center at Roszke near the border with non-EU Serbia, along which Hungary is erecting a fence. An AFP correspondent at the scene said the situation has since calmed down.
Police said meanwhile that more than 2,500 people, the highest ever daily-total, poured across Hungary's southern border with Serbia near the town of Roszke on Tuesday, even though a barbed-wire barrier is nearly complete. The majorities of people were from Syria, Afghanistan and Pakistan, and included more than 500 children. "We left because we were scared, we had fear, bombs, war, killing, death... That's why we left Syria," one Syrian man heading for the Hungarian border told AFP on Tuesday. "If I go to Europe, I think it's going to be better... better than my life in Syria."
A summit of western Balkan leaders, plus German Chancellor Angela Merkel, is set to dominate the crisis, which takes place in Vienna on Thursday. So far this year, 140,630 migrants have been intercepted crossing into Hungary, the vast majority coming over from Serbia. The daily number has leaped from 150 in early 2015 to more than 2,000 this month.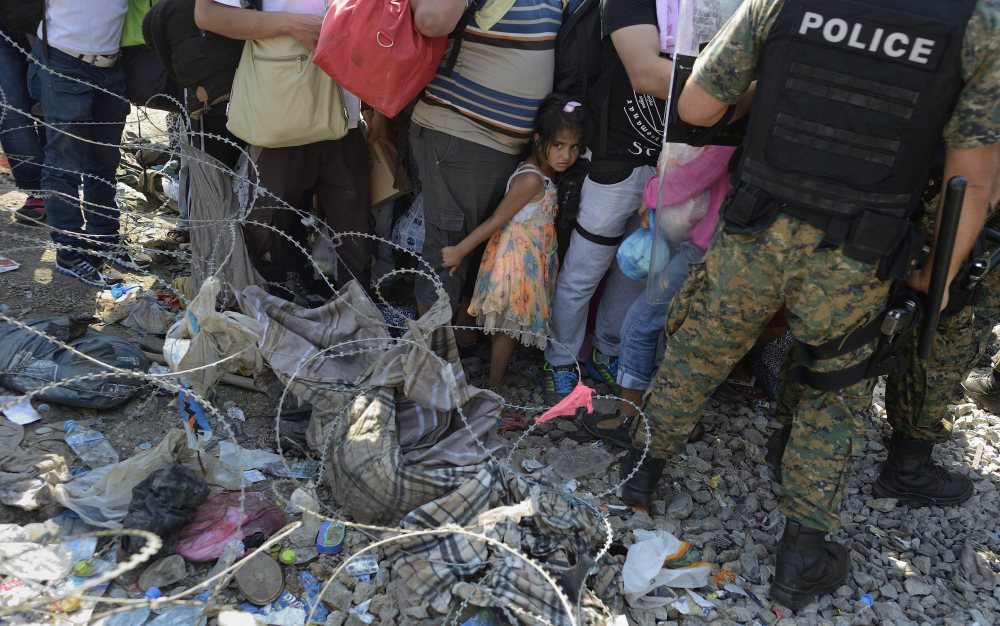 Hungary is attractive to the migrants because unlike other EU members in southeastern Europe like Croatia, Bulgaria and Romania it is in the passport-free Schengen zone, making onwards travel much easier. Hungary's right-wing government under Prime Minister Viktor Orban is attempting to stem the flow by erecting a barrier along its border with Serbia. A roll of barbed wire running along the entire length is due to be completed by Monday, followed by a four-meter-high fence. Orban's government is staunchly opposed to immigration from outside Europe, and he has said that Europe's Christian identity is at risk from the large number of migrants. On Wednesday, Hungary's police chief Karoly Papp said more than 2,000 police would be operational along the Serbian border from September. The reinforcements, called "border hunters," will patrol the length of the border, supporting the more than 1,000 regular police already working around the clock to intercept illegal immigrants, Papp said.
Some of the refugees arriving in Hungary count among the 7,000, whose grueling journey to the EU was temporarily blocked last week when Macedonia declared a state of emergency and ramped up security on its border with Greece, leading to desperate scenes of crowds wrestling to board packed trains at a nearby railway station, and children being squeezed through open carriage windows. Macedonian special police forces fired stun grenades and tear gas to disperse thousands of migrants. According to a Reuters reporter, there were at least four bloodied migrants taken for treatment on the Greek side of the border. Many rights groups called the conditions of refugees in Europe as dreadful. As criticism mounts on the EU for failing to find a response to the crisis, Italy hit back at Germany and France over their claims that it was moving too slowly on the pressing issue. "Italy is doing what it has to do ... and even much more by saving thousands of lives and by taking in refugees," Foreign Minister Paolo Gentiloni said in an interview, describing his country as "a positive model on the international stage." "Europe needs to go in exactly the opposite direction from attacking the countries situated on its external borders," Gentiloni said.
The turmoil in the Middle East and the five-year war in Syria have led many people to flee the conflict in an attempt to seek security and shelter in a more prosperous and peaceful country, such as in Europe. The European Union's border control agency Frontex said that it had detected some 107,500 people arriving outside regular channels in July, a sharp increase on the previous record set in June of over 70,000, and more than three times as many as it registered in the same month last year. The U.N. refugee agency also said it expected the number of refugees moving through Macedonia to double to 3,000 a day, many of them children. It warned that the situation was also worsening in Greece and Italy, where the number of people arriving after crossing the Mediterranean this year is approaching 300,000. The western Balkans has now become one of the main routes into the EU. About 4,000 migrants were massed at a camp in Presevo in Serbia, waiting to be registered before they attempt to cross into Hungary and onward to more prosperous EU countries like Germany or Sweden.