French satirical magazine Charlie Hebdo drew ire from many social media users after the pages of its latest issue, which feature the cartoons depicting the Syrian toddler Aylan Kurdi who was washed ashore in the southwestern Turkish city of Bodrum two weeks ago, started circulating on the internet.
In a drawing entitled "Si près du but…" (So close to his goal) by which the magazine mocked the death of the toddler, Kurdi is depicted as lying on the beach with a McDonald's ad in background, which reads "Two kids meals for the price of one."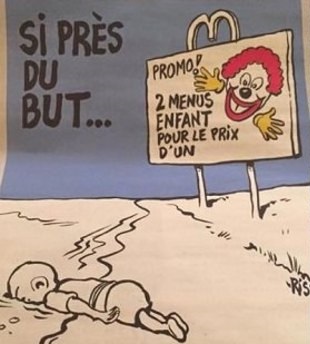 The second drawing again features the dead body of Kurdi lying on the beach in front of a strange animal who physically looks like an alligator but with colorful skin, which says "Welcome… to the island of children."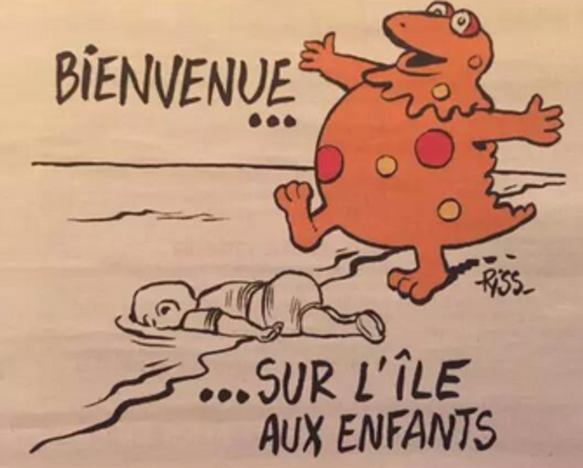 The latest issue of the magazine also features another controversial cartoon deemed "unacceptable" by many Twitter users, a drawing with the title "The proof that Europe is Christian," in which a man, apparently Jesus Christ, standing on water and saying "Christians walk on water" and a toddler sinking into the sea, saying "Muslim children sink" are depicted.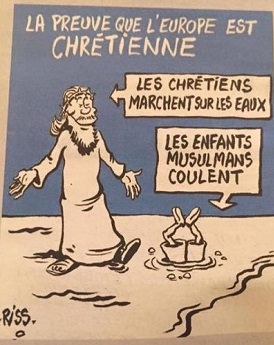 The magazine received harsh public reaction by Twitter users after the pages started to circulate on social media as many Twitter users described the cartoons as "disrespectful".