The bloody civil war in Syria was considered a regional problem until the worst refugee crisis since World War II reached the gates of wealthy European countries, which had an impact on the war and determined policy towards Syria, the Islamic State of Iraq and al-Sham (ISIS) and the region but had not thought about the movement of millions of displaced people. Syria's neighbors have taken in millions of refugees, built camps and accommodated people in its cities. Turkey is now home to more than 2 million refugees while the tiniest country in the region, Lebanon, has accommodated more than 1.5 million Syrians. Even conflict-torn Iraq, which is tackling ISIS and has had to deal with its own internally displaced people, has accepted hundreds of thousands of refugees.
Since almost every part of Syria, except the regime-held cities, has become a battlefield in the deadly war between the regime, the rebels, the extremists and militant Shiite groups, the number of refugees has dramatically increased. While statements regarding the number of refugees that would be taken in by the wealthiest countries in the world, like EU members, the U.S., Canada or Australia, weren't close to adequate, refugees started crossing the Mediterranean Sea by boat, claiming thousands of lives, and walking to Europe. The first EU member to welcome them was Hungary, which has been playing the role of gateway. Amid the ardent discussions among EU countries on how many people to take in, refugees started crossing the borders illegally.
Daily Sabah visited Budapest and held meetings with Hungarian officials both from the government and the opposition to elaborate on this relatively weak country's position and the reasons behind the harsh stance on the refugee crisis that has forced Hungarian Prime Minister Viktor Orban to explicitly state that Hungary had no intention of accommodating refugees and considered them a threat to Europe's Christian roots. Moreover, hundreds of refugees are being held in closely guarded camps that police do not allow journalists to enter. Several rights groups, including Human Rights Watch and Amnesty International, condemned Hungary for beating and humiliating the refugees.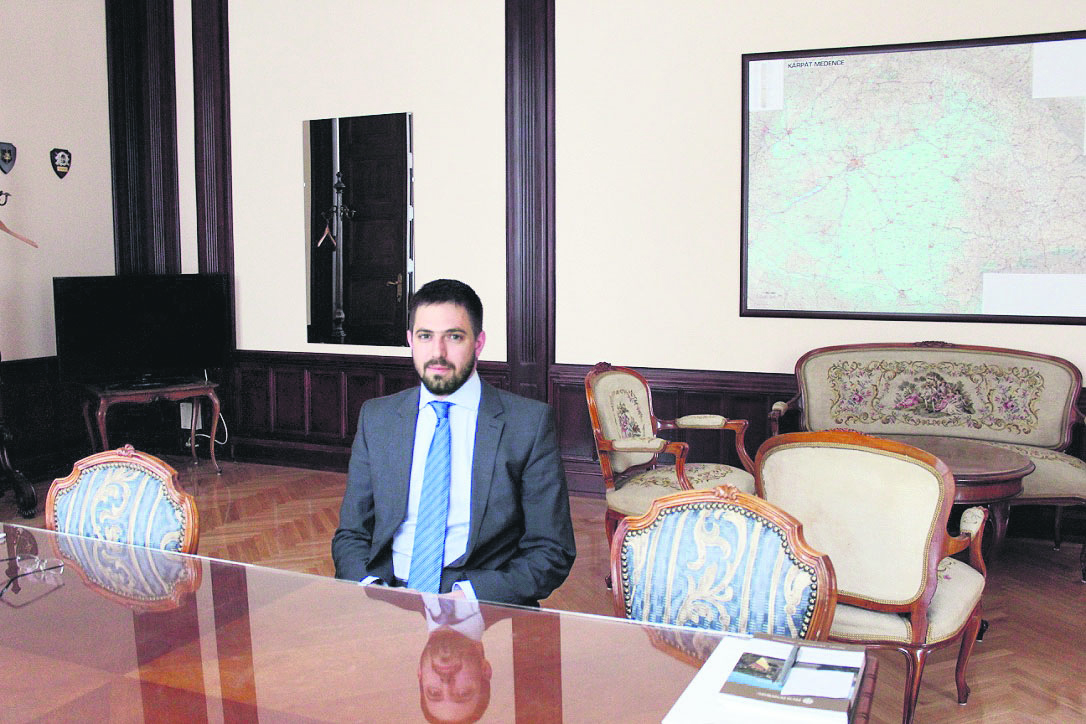 Hungarian State Secretary Levente Magyar

Hungarian State Secretary Levente Magyar defended the government's actions in an interview with Daily Sabah. "Hungary has been the cross point for Western Christians, Eastern Christians and Muslims through its history, and we have accepted everybody regardless of ethnicity and religion," Magyar said. "However, what we witness now is unprecedented. We have to tackle this crisis before other EU members due to our geographical situation."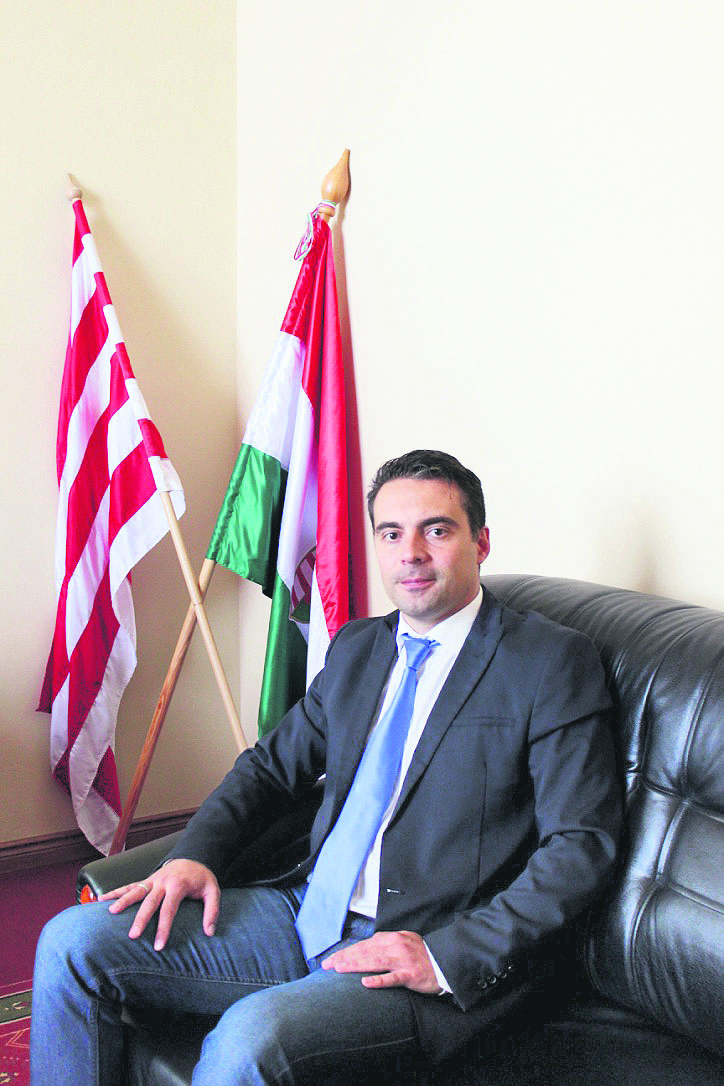 Jobbik Party leader, Gabor Vona

Both the government and opposition think that Hungary's economy and capacity is not capable of coping with the situation. Gabor Vona, the leader of the Jobbik Party, which holds the second largest majority in parliament, said: "Hungary is a small country for this big problem. We are suffering from disputes among the big powers."
Magyar also underlined the religious and cultural difference, saying: "We cannot integrate these people into our society. Hundreds of thousands of people from a different culture and religion attempted to come to our country. We had to make a decision as to whether we would accommodate them or not or integrate them. Hungary said it was unable to integrate these people."
Vona's thoughts were similar as he said: "I suggested the government build a fence immediately and take action to stop these people as soon as possible. Because Hungary does not have the ability to look after them." Yet he pointed out that he knew that those people would not have left their homes if there wasn't a war in their home country and underlined that the spotlighting of religion was pointless. "Christianity is not alive in Europe but remains as rhetoric. The EU has nothing to do with Christianity but does not want to share the wealth and prosperity with refugees."
Magyar's suggestion for the crisis was to assist Turkey, Lebanon and Jordan in keeping the refugees there. When asked how Turkey, which is already home to more than 2 million refugees, can accommodate more people who are reluctant to stay there, Magyar said: "We know it is very difficult. We appreciate Turkey. All the world powers must thank Turkey. They took millions and did not even ask for help." However, in his mind the refugees who are knocking on Hungary's doors are different from others who left their homes for neighboring countries.
According to Magyar, the refugees are "economic migrants," as they seek a better life. "The migration is illegal. We have the legal obligation to defend the Schengen borders. If someone comes and they want asylum, it is ok. Taking them is not a fundamental humanitarian obligation. Since neighboring countries like Turkey have been carrying the burden, they have been unable to create optimal conditions. We understand that any of us would not want to live in a refugee camp. But if a refugee wants to go to Germany or somewhere else, we say these are economic migrants. They should be judged differently."
The Hungarian government felt alone when the crisis emerged, as Germany said it would take a million refugees, but changed its mind soon after and reduced the number to a few hundred thousand. Several EU leaders as well as the UN accused Hungary of violating universal humanitarian values. The tiny country has suddenly become the "bad boy" of Europe. The Hungarian government defends itself by referring to the Dublin Agreement. According to the Dublin Agreement, if a refugee is refused asylum, he or she is sent back to the country where he or she came from. Germany and Austria are able to send some of the refugees back to Hungary, but Hungary cannot send them to Serbia as it is not an EU member and did not sign the agreement. Magyar said Budapest's priority is to have good relations with Germany. But Berlin's political approach and the reality are different, and Europe is not that unified. "We are not defending only our borders. The borders are also the Europe Union's borders. We have to remain unified. Otherwise if nations states take action on their own interests, this will threaten the unity of the EU."
Vona highlighted that there is a bigger crisis in the world, and he said the system has to change. "Since World War II, the world has been ruled according to the U.S.'s interests. The UN, the World Bank, the International Monetary Fund and other international organizations serve the U.S. This system does not bring peace. A new system must be established, and Turkey should be the key player," Vona said, adding that Turkey was among the best partners for Hungary and is an important actor in the region.
Both the opposition and the government accept that it seems almost impossible to create a permanent solution for the refugee crisis as long as the war continues in Syria. However they think Hungary has no role in the solution of the Syrian crisis. According to police figures, Hungary has seen almost 300,000 migrants enter the country this year, traveling up from Greece through the western Balkans and hoping to make it to northern Europe, particularly Germany. Last Friday alone, more than 8,000 entered the country from Croatia.