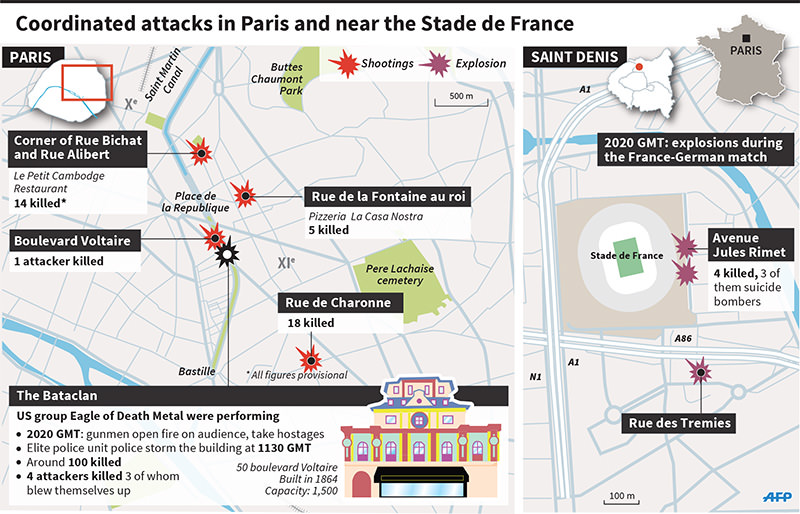 The death toll from Paris terrorist attacks increased 132 after France was rocked by multiple, near simultaneous attacks on seven different entertainment sites around Paris on Friday night.
Paris Prosecutor, Francois Molins, held a press conference on Saturday evening, announcing that the death toll had risen to 129 and 352 were wounded, including 99 which are in critical condition.
It was reported that Turkish-origin Belgian national Elif Doğan was among those who have died in the terror attacks.
The prosecutor said it is likely that three teams of terrorists organized the attacks and added that one hostage-taker was born in France. He also added that one French national and two Belgian citizens have been arrested.
Belgium's federal prosecutor's office said authorities have so far made three arrests linked to the deadly attacks in Paris.
Spokesman Jean-Pascal Thoreau says the arrests at the Belgian border came after a car with Belgian license plates was seen close to the Bataclan theater in Paris on Friday night, one of the places where victims were killed.
Most casualties came from the Bataclan concert hall in central Paris, where more than 100 people were taken hostage, while many others have died in other locations in and around Paris.
So far, seven terrorists were killed as they blew themselves up, while another was shot by security forces.
352 people were hospitalized following the deadly attacks in Paris of whom 99 are in "critical" condition, the city's hospital authority said Saturday. Fifty-three people have already been discharged, the authority said in a statement, adding that the city's hospital system had the "necessary capacity" to handle the influx of patients from Friday's attacks.
In an adress on Friday night, French President François Hollande said he is closing the country's borders and declaring a state of emergency after the attacks. Hollande, in a televised address to his nation, said the nation would stand firm and united against the attackers. He said security forces are assaulting one of the sites hit by Friday's attacks, without elaborating. "It's a horror," he said.
Later on Saturday, Hollande said that ISIS militants are to blame for this "act of war" which was organized "from abroad" with help from "inside France." France also declared three days of national mourning.
The ISIS terror organization claimed responsibility for the attacks on Saturday with an official statement in which the group said its fighters strapped with suicide bombing belts and carrying machine guns carried out the attacks in various locations in the heart of the capital which were carefully studied. The group previously released an undated video threatening France and urging Muslims to carry out attacks.
The attack was the deadliest terror attack in Europe's recent history and the highest death toll in France in an incident since 1945, end of World War II.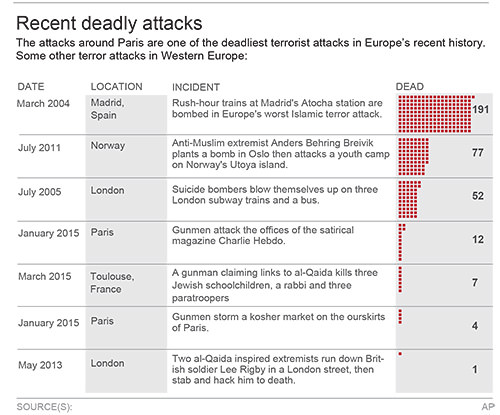 Hollande also cancelled his planned trip to Turkey for the G20 summit after the attacks, presidency announced.
At least two explosions were heard near the Stade de France national stadium where a France-Germany friendly soccer match was being played, attended by Hollande, who was escorted out to safety by his guards.
The match continued until the end but panic broke out in the crowd as rumours of the attack spread, and spectators were held in the stadium and assembled spontaneously on the pitch.
A police union official says there were two suicide attacks and a bombing near the national stadium where France and Germany were playing a friendly match.
There were reports of possibly as many as four shootings in central Paris, one of which turned into a hostage taking at a popular rock music venue, witnessses said.
TF1 television said up to 35 people were dead near the soccer stadium, including two suspected suicide bombers in the attack in the neighbourhood of Saint Denis, north of central Paris.
Police helicopters circled the stadium as Hollande was rushed back to the interior ministry to deal with the situation. The president's office said he had called an emergency cabinet meeting for midnight (2300 GMT) to manage the crisis.
Police confirmed there had been shootings and explosions at the stadium, but not the number of casualties.
In central Paris, shooting erupted in mid-evening outside a Cambodian restaurant in the capital's 10th district and the Bataclan music hall, where bystanders were evacuated as elite police commandos took up position.
Several witnesses told television stations that up to 60 hostages were being held inside the popular concert venue.
"There are lots of people here. I don't know what's happening, a sobbing witness who gave her name only as Anna told BFM TV outside the Bataclan hall. "It's horrible. There's a body over there. It's horrible."
Elsewhere, police cordoned off a wide area around the Petit Cambodge restaurant where witnesses said gunmen armed with Kalashnikov assault rifles had fired at diners through the plate-glass windows, causing multiple casualties.
"I was on my way to my sister's when I heard shots being fired. Then I saw three people dead on the ground, I know they were dead because they were being wrapped up in plastic bags," student Fabien Baron told Reuters.
There were also reports of shootings in rue de Charonne in the 11th district and at the central Les Halles shoping centre.
Friday's deadly attacks in Paris show it is more necessary than ever to coordinate the fight against terrorism, French Foreign Minister Laurent Fabius said on Saturday before international talks aimed at finding a political solution to the war in Syria.
"One of the objectives of the Vienna meeting is to see concretely how we can strengthen the international fight against Daesh," Fabius told reporters in Vienna, using an Arabic acronym for the ISIS terrorist group.
Regarding the attacks, Daily Sabah's Editor in Chief Serdar Karagöz said: "Turkey and France are two countries that want a lasting solution in Syria. France and Turkey say that the problem in Syria is connected with Assad.
For the solution of the problem, both countries put forward policies that a safe zone should be established first, and then an international move against the Assad regime should be made.
In the end, both countries were targeted by terror originated from Syria. These attacks are targeting the theses of Turkey and France. This is an attack that wants to prolong the chaos in Syria.
This attack aims to carry the chaos in Syria to neighboring countries and to Europe.
What needs to be done is to back the theses of France and Turkey more and support the strategies which will permanently solve the problem in Syria."