French satirical magazine Charlie Hebdo has sparked new controversy with a cartoon in its latest edition depicting Syrian Kurdish toddler Aylan Kurdi carrying out sexual assaults in Cologne on New Year's Eve.
The cartoon contains a drawing of the toddler's drowned body in one corner; below it is a depiction of two men chasing women.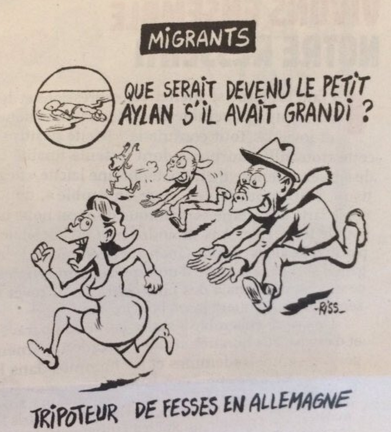 A caption reads: "What would little Aylan have grown up to be? A bum groper in Germany."
The controversial caricature has sparked a harsh reaction on social media.
The magazine's current publishing director, Laurent Sourisseau, nicknamed Riss, is the author of the cartoon. Sourisseau was present when terrorists attacked the magazine's offices in January. He was shot in the shoulder.
On Jan. 7 last year, two brothers -- Said and Cherif Kouachi -- targeted the offices of Charlie Hebdo, murdering 12 people.
Among the murdered were the magazine's editor Stephane Charbonnier, AKA 'Charb', a number of prominent cartoonists and journalists, a building maintenance worker and two police officers.
Images of the body of Aylan Kurdi-a Syrian child washed ashore on a Turkish beach last September-prompted an international outcry about the refugee crisis in Europe.