A man dressed as a clown disrupted a meeting of Germany's nationalist party on Sunday and hit one of its leading members in the face with a cream pie.
The right-wing Alternative for Germany (AfD) was conducting a closed-doors meeting in the central German city of Kassel when two men dressed as clowns entered the room singing Happy Birthday.
The men proceeded to the front of the room, where one hit Beatrix von Storch - one of the AfD's most prominent members and a lawmaker in the European parliament, who suggested on social media that police should be allowed to shoot at migrant women with children in cases of emergency to stop them entering Germany illegally- square in the face with a pie.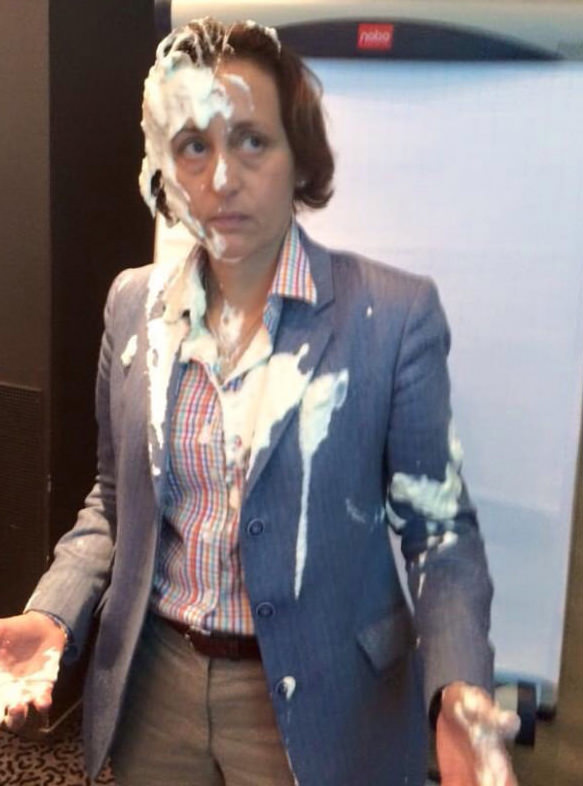 The AfD members present immediately grabbed hold of the men and called the police.
"People with no arguments tear down posters, burn cars and disrupt meetings with pies," von Storch - covered from head to toe in pie - said after the incident.
The men were protesting controversial comments von Storch and fellow party member Frauke Petry made several weeks ago in which they suggested police should have the right to shoot refugees trying to enter Germany illegally.
"If you want to prevent the crossing of moral boundaries, you may have to resort to throwing cream pies," the activists responsible for the stunt said on their website.
The AfD has made gains across Germany on the back of popular discontent with Chancellor Angela Merkel's decision to allow 1.1 million migrants to enter the country in 2015. It is set to enter three state parliaments in regional elections in March.