German authorities on Saturday reported an increase in the number of arsons at shelters for refugees who arrived in Germany last year, raising concerns about anti-migrant violence.
"This year, there have already been 45 arsons," said Holger Muench, head of the Federal Criminal Police Office (BKA). "What is particularly worrisome is the increasing scale of the violence," he said in an interview with the Funke newspaper group.
In 2015, when Germany opened its doors to 1.1 million migrants mostly from war-torn Syria, 92 arsons at centers for asylum seekers were reported, compared with only six in 2014, according to BKA statistics published in late January. Muench said he did not have any knowledge of large-scale far-right groups being behind the fires, adding the majority were set by men from the areas near the torched shelters.
He did however say he was worried about rising hate speech on the Internet about refugees, which could be a trigger for arson.
Several major German media outlets, including the online edition of the Der Spiegel magazine, have closed down their discussion forums related to the influx of refugees due to the flood of insults posted. The mass influx of migrants last year sparked a backlash in Germany, including the rise of the xenophobic and anti-Islam Patriotic Europeans Against the Islamization of the West (PEGIDA) movement, which bitterly opposes Chancellor Angela Merkel's liberal migration policy.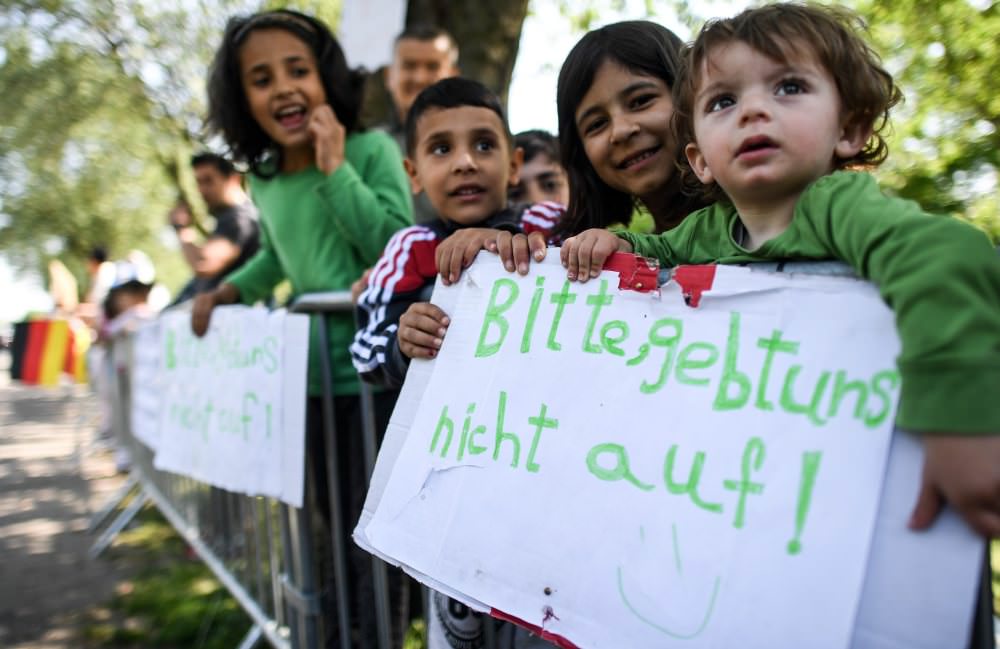 Refugee children hold up a sign that reads: 'Please don't give up on us!' as they protest against being housed in tent in Duesseldorf, Germany, on May 12.
This year Germany has seen a sharp drop in arrivals of new refugees since it reintroduced temporary border controls and took other steps to reduce numbers. The EU has also since agreed on a deal with Turkey to stop refugees crossing to Greece by boat.
Arsons at refugee shelters and xenophobic sentiment in the country are not new phenomena. According to government data released last summer, 150 arsons or other attacks have been recorded in the first six months of 2015, damaging or destroying newly renovated shelters for refugees, who are mostly from Syria and Iraq. The attacks, often erupting from local protests against the shelters before refugees arrive, have tarnished the image of a country that has done so much to atone for its Nazi past. They have also caused tensions as many Germans support the refugees.
In February, a former hotel, which was being modified to be used as an accommodation for refugees, caught fire as a result of a suspected arson in the eastern German town of Bautzen in Saxony. A crowd reportedly cheered as the hotel was burning and the work of the fire brigade was massively hindered by a few, mostly drunk, onlookers. The officials said that they had to expel three people from the scene of the fire because of this. "Some people reacted to the arson with derogatory comments and undisguised joy," police said in a statement.
Despite warnings from political figures against xenophobia, the trend continues across the country. Critics assailed the government for failing to move quickly and decisively enough to counter the violence and of indirectly encouraging attacks through inaction or, worse, populist comments against foreigners who abuse asylum policies.
In April, a German anti-terror unit carried out dawn raids to capture five far-right extremist suspects accused of attacking refugee shelters and political opponents, federal prosecutors said. The suspects, four men and a woman, are accused of belonging to a far-right terrorist organization called the Freital Group, named after an eastern town that has seen a rash of racist protests that have shocked the country. "According to preliminary investigations, the aim of the group was to carry out explosive attacks on homes for asylum seekers and political enemies," the federal prosecutor's office said in a statement. It said the suspects stockpiled hundreds of fireworks from the Czech Republic to use in attacks. The assaults included using fireworks to blow out the windows of the kitchen of a refugee shelter in Freital in September 2015.
The far-right has benefited greatly from public discourse with a slant against Muslims. In recent days, support for the far-right Alternative for Germany (AfD) party as well as the xenophobic and PEGIDA movement has surged. Anti-immigration and xenophobic sentiments have become more visible in the country as a result of this. These sentiments have increased across Europe as well. There has been a shift toward right-wing parties, which have been gaining popularity amid rising public fears regarding the refugee influx. Recently, polls indicate a rise in support for right-wing populist parties in France, Austria, Poland and Switzerland.