An attacker stabbed two police officers in Brussels on Wednesday in a possible terror incident, the latest attack in a city still reeling from bombings by Daish that killed 32 people in March.
Prosecutors identified the man, who was later shot in the leg, as 43-year-old Belgian national Hicham D. but gave no further details about him or why they were linking the attack in the Schaerbeek area to terrorism.
One of the two plainclothes officers was stabbed in the neck and the other in the stomach, police said. A third, uniformed officer reportedly suffered a broken nose while trying to stop the attacker.
The incident came shortly after one of the main train stations in Brussels and the city's prosecutor's office were shut by a bomb scare which later turned out to be a false alarm.
"We have elements to believe that the (stabbing) incident was a terrorist attack," Eric Van Der Sypt, a spokesman for the Belgian federal prosecutor's office, told AFP.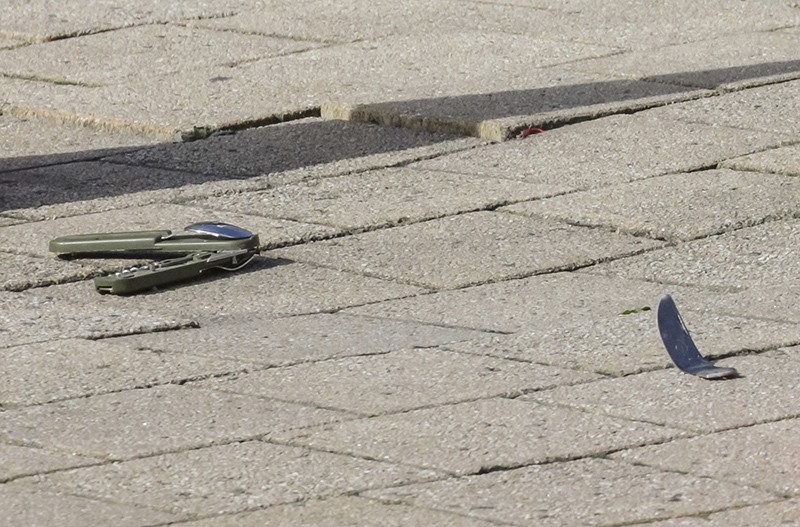 A knife lies on the ground at the scene where an unidentified man stabbed two police officers, in the Schaerbeek neighborhood in Brussels, Wednesday, Oct. 5, 2016. (AP Photo)
The prosecutor's statement said: "At noon two police officers were attacked by a man with a knife on the Boulevard Lambermont in Schaerbeek. Their life is not in danger.
"Another police patrol was able to overpower the offender who was shot in the leg. His life is also not in danger."
The suspect was in police custody, Van Der Sypt said, adding that a judge specialising in terrorism cases would decide "later" on his possible further detention.
Police sources said there was no connection between the stabbing and the bomb scares.
The incident also took place on the same day that Brussels hosted a major conference of international donors to raise billions of dollars in aid for Afghanistan.
Security was tight for the conference in the EU's headquarters, about four kilometres (two and a half miles) from the scene of the knife attack.
The attack comes two months after two policewomen were wounded in the southern Belgian city of Charleroi by a machete-wielding man.
That attack was claimed by the Daish terrorist group.
Daish suicide bombings at the city's airport and a metro station in March killed 32 people.
Schaerbeek, much like the nearby district of Molenbeek, was deeply connected to those attacks.
A bomb-making factory for the Brussels bombings and the November 2015 attacks in Paris was located in Schaerbeek.
The neighbourhood was also the home of Najim Laachraoui, one of the three suicide bombers at Brussels airport.
The three suicide bombers also left for the airport from a hideout apartment located in Schaerbeek.