Raşit Bal has been living Holland since 1979 and is the head of Contactorgaan Moslims en Overheid (the Islamic Council of Holland). He teaches Islamic theology, thought and history at Inholland University. He has been tackling Islamophobia and seeking ways to prevent the rise of anti-Muslim sentiment in Dutch society by meeting with government officials and representatives of Muslim communities. He believes that both Muslims and Dutch people are responsible for the increase in Islamophobia. Salafi movements that aim to impose a strict version of religious jurisprudence and extremist right groups are rising in parallel to each other. However, he concludes that ordinary Muslims both become victims of Islamophobic attacks and face several accusations. He believes dialogue must be developed between Muslims and the government to cope with the problems or Europe will be dealing with racism as it did prior to World War II.
Daily Sabah: Can you tell us about the activities of the council?
Raşit Bal:
The council was established in 2011 and was recognized by the concerned Dutch minister in 2014. There are 450 mosques in Holland. A total of 380 of these mosques are operating under this council. We try to bring different peoples together. Holland traditionally does not recognize religion, unlike Austria, Belgium or Germany. However, the state contacts religious organizations to deal with religion-based demands. For instance, in the Dutch army or prisons there are imams who are trained and inspected occasionally by the council. We also have the responsibility of talking on behalf of Muslims about issues concerning Muslims.
DS: What are the council's works concerning Islamophobia?
RB:
Islamophobia is a new subject. Therefore, the protective laws are generally about anti-Semitism and hate crimes. There is no law or court jurisdiction on this issue yet. We make pressure for a law. We try to prevent Islamophobic attacks from being categorized as hate crimes, as we demand the government recognizes Islamophobia like anti-Semitism. For instance, when an incident is reported, thanks to our efforts, the incidents have been recorded with the name Islamophobic attack since Labor and Internal Affairs ministers were convinced. We have signed protocols with the concerning government institutions and human rights groups. On the one hand, we try to decrease the number of attacks. We also try to increase the awareness of Muslims on the other. One of the biggest problems is that Muslims do not report the discriminatory behaviors against them and therefore people are ambiguous as to whether Islamophobia is a serious threat or not, and some people even say Muslims exaggerate the issue. We are also accused of blocking criticism against Islam. Many say that Muslims consider criticizing Islam is also Islamophobic. However, Muslims reveal how they face discrimination in their daily lives, while chatting with each other.
DS: How does Islamophobia appear in daily life?
Islamic institutions, including mosques, are targeted frequently. Besides the concrete attacks, hundreds of letters are sent to mosques, writing discriminatory words. It has been a major problem for people with Muslim names to get positions in the workplace. Therefore, Den Haag municipality decided people's names have to be concealed while sending their CVs. There are some specific incidents when a veiled Muslim woman or bearded Muslim man has been attacked in the street. It can be easily understood that Muslims live with the fear of being attacked. In sum, Muslims do not feel safe.
DS: What is the main reason for Islamophobia?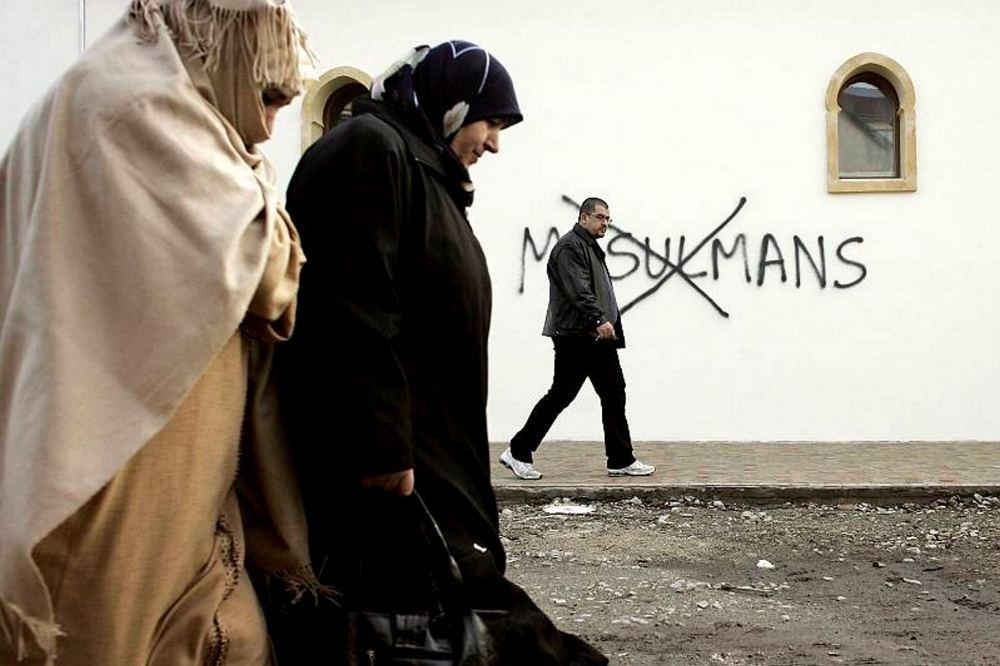 It is very complicated. In the 1980s, the 1990s and even before 9/11 we did not have this problem. We must say that Holland is extremely secular. Christianity is very marginal here. Religious Christians are a very small portion of society and located in certain towns. But Muslims living in Holland have become more religious in the last decade. The first generation of Muslim migrants was not that religious. But the second and especially the third generation are more religious. The new generation practices the religion publicly. Normally, Europeans believe that the more a person is modernized, the more he or she becomes secular. But it does not happen like that in the most secular and modern society in Europe. The contrast threatens Dutch people. In particular, the rightists believe Muslims are becoming a bigger threat.
DS: What makes the new generations more religious?
It is a fact that Dutch society has been discriminating against Muslims. The new generation has become more religious as a reaction against the discrimination. The first generation was in Holland just to work and make money. But the new generation wants to get an education, get better positions and reach better life standards. However this piety suffers from the lack of strong traditions, traditional institutions and therefore is reactionary and strategic. At this point, the new piety creates tension with families as Salafi understanding emerges. Salafism fits what young people seek since it is superficial and reactionary.
DS: Is Salafism common in Holland?
There are several Salafi communities in Holland. But they cannot cooperate with each other and refuse to work with us. They are not part of the council. Our council consists of several Muslim communities that have inherited ancient traditions. Our approach to religious jurisprudence and to Dutch society is not compatible with Salafis. We are really disturbed by the Salafi movements since they alienate our youth from our traditions and keep them away from the society. They even trigger our young people to challenge their own communities and Dutch society. But we, as the council and the Muslim communities, believe that a challenge against society with a religious argument is not correct, and this situation disturbs us deeply.
DS: Do you think the rise of Salafism and Islamophobia are in parallel to each other?
Yes. The reactionary structure of Salafism directly triggers Islamophobia. Islamophobic arguments are based on anti-Salafism. We can say that Salafism is the concrete reason for Islamophobia.
DS: How do you see the rise of the far right in Holland?
Muslims are concerned, fear and believe that Holland will fall into the hands of the far right. The presence of Islam and Muslims are problematized under a higher tension. Two decades ago, Islam as a lifestyle or worldview was problematized in Holland, but now being Muslim is becoming a problem for far right defenders. In this way, the threat becomes very close to Muslims. If the far right was against Islam, it would be discussed, but they are directly against Muslims. The polls for the upcoming elections in March indicate that the far right party will receive the most votes.
DS: Do you think the rise of the far right will lead to a breaking point in European politics?
Modern West European societies and the enlightenment culture are tested again over Muslims. The enlightenment culture that prioritizes multiculturalism and allows the co-existence of different religions, seemingly, will fail. Fascism may take the lead. The racism problem has not been solved permanently by the enlightenment. The society that exterminated Jews in World War II is returning to that point over Muslims. Preventing this is the responsibility of every part of society in Europe. We are ready to undertake a role to cope with the problem. But it must be noted that Muslims are victims of Islamophobia and also are facing several accusations.