Political centrist Emmanuel Macron, leader of the independent ''En Marche!'' [Forward] movement, has risen as the frontrunner for the upcoming French presidential elections due to be held in two rounds, on April 23, and May 7 respectively.
Macron became the favorite in the upcoming election following a fake job scandal that shook François Fillon, the center-right The Republicans (LR) presidential nominee. Fillon allegedly described his British wife as his parliamentary assistant and paid her using public funds. He lost his comfortable lead in the polls when it was revealed that the job was fake, and his wife had collected some 500,000 euros over a period of eight years.
Election surveys and forecasts for the second round of elections show that Macron is now the frontrunner to become the eighth president of the fifth French republic.
According to a recent survey organized by OpinionWay/Orpi, on behalf Les Echos and Radio classique, far-right National Front (FN) Party candidate Marine Le Pen leads the poll in the first round of elections, with an expected 27 percent. Macron comes in second with 22 percent, ahead of scandal-hit Fillon who scores around 20 percent of the vote and whose popularity decreases day by day.
However, forecasts for the second round of voting show that French constituents tend to gather around Macron, when pinned against the FN leader Le Pen. Projections indicate that Macron would most likely be elected the president of France with 64 percent of votes, compared to 36 percent for Le Pen.
Early life and career
39-year-old Macron is the son of a doctor and a neurology professor. He is originally from the northern French city of Amiens, famed for its gothic architecture.
He studied philosophy at Paris Nanterre University, before beginning his career as a civil servant in 2004.
In 2007, Macron entered the financial word, and began working as an investment banker at Rothschild & Cie Banque.
Incumbent socialist French president François Hollande appointed Macron as his senior adviser in 2012. Macron rose to political fame in 2014, when Hollande promoted him to minister of economy.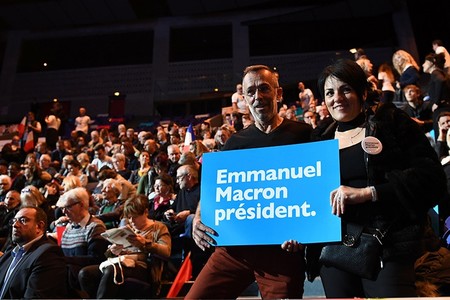 Two years later, in August 2016, Macron ditched the French Socialist Party and established his independent movement, En Marche!
Ever since, his popularity has been growing both in the French political circles and among the French electorate.
Politics and campaign
Macron vows to uphold centrist politics, and En Marche! emphasizes that it is neither a right-wing, nor a left-wing political party.
By January 2017, En Marche! had already gained over 135,000 adherents, in addition to 3,145 local committees. Macron has earned support from people stemming from a wide range of socio-political backgrounds, including leftist, employers, intellectuals, and experts.
When it comes to social issues, Macron adopts policies that tend to ease the conditions of the average worker, student, or retiree. He pledges to decrease working time for those who are over 50, to drop the 35-hour compulsory minimum weekly working time for the young, and to offer employers various incentive packages in an effort to promote state-sponsored hiring programs.
En Marche! has also vowed not to hike tax rates for employers several times, and promotes fiscal stability in France. Investments in healthcare, including the uniformization of both public and private hospitals, security and education are also part of Macron's program.
Macron, in stark contrast with U.S. President Trump, appears to grant more attention to environment-related issues. His campaign program promises to take steps to promote eco-friendly policies, including gradually eliminating the advantages enjoyed by diesel-based industries, and moving away from nuclear technology in the production of energy.
In a video on Twitter, Macron urged researchers, entrepreneurs and engineers working on climate change and environmental projects in the U.S. to come to France. "You are welcome ... we like innovation, we want innovative people!" he said in English, in a bid to capitalize on U.S. President Donald Trump's doubts about global warming.
Macron promotes France's E.U. membership and calls for a higher level of integration among the members of the Union. En Marche! calls for maintaining the Schengen agreements that regulate the visa-free-travel of citizens from member states, and for the strengthening of Frontex, the agency that guards the borders and coasts of the E.U.
In regards to E.U.-Russia relations, Macron adopts a harder line compared to his main rivals, Le Pen and Fillon.
En Marche! adherents have even blamed Russian media outlets for producing and propagating fake news to harm Macron's campaign.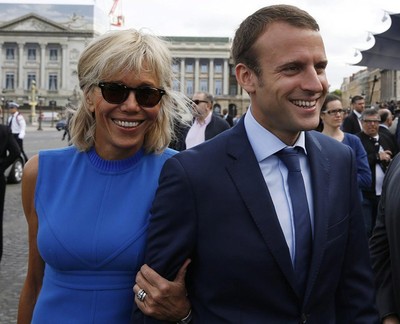 Contrary to Trump's protectionist and isolationist policies, Macron has called on Europe not to shut borders with the rest of the world.
On the other hand, Macron has criticized Germany's March 2016 refugee deal with Turkey. He said that E.U. member states should find solutions to their own problems by acting together, not by making deals with external forces.
Criticism and challenges
Macron's political rivals, namely Les Républicains candidate Fillon and FN representatives called him a guru, alleging that he is a big-head who portrays himself as a mystical person.
He coped with the challenges to his image and the interference in his private life after he dismissed all allegations that he had a decade long extra-marital homosexual relationship outside his marriage to Mrs. Brigitte Trogneux.
Emmanuel Macron called on the E.U. to stand firm against Russia as he claimed that computer hackers had targeted his French election campaign.
However, Macron was forced to take a step back last week when his rivals strongly condemned his criticism of France's colonial past, after he said that French history in Algeria was a crime against humanity during his trip to the North African country.
"I am sorry to have offended you, to have hurt you," Macron said last Saturday, in an effort to address the most serious backlash he has coped with so far.
Despite the recent backlash, the centrist leader of En Marche! currently remains the favorite to be the next president of France, two months ahead of the elections.
'We do not know Macron in details yet'
Menent Savaş Cazala, an assistant professor at the International Relations Department at Galatasaray University, told Daily Sabah that despite the current success Macron is enjoying in polls and the mainstream French media, center-right Fillon's candidacy remains a serious challenge for the independent centrist candidate.
''Ahead of the presidential primaries of his party [Les Républicains], Fillon was not portrayed among the frontrunners; yet, he succeeded in winning his party's primaries to everyone's surprise,'' Ms. Cazala said, noting that Fillon remains a serious challenge to Macron's presidential bid.
Cazala said the fact that Macron's presidential campaign being targeted by Russian sabotage attempts makes sense considering that Russia prefers, as a policy, the success of far-right politicians [i.e. Le Pen].
''Just like we have seen in the example of the U.S. presidential elections last year, Russians view far-right politicians' success in Western countries as an opportunity as they are more likely to cooperate with Russians compared to left-wing or centrist politicians,'' Ms. Cazala also noted.
In regards to Macron's stance on Turkey-France, and Turkey-EU relations, Cazala said that the leader of En Marche! did not give a very positive impression, while also noting that Macron has not yet unveiled all the details of his program and position on these matters.
''What we have seen so far is that Macron has strongly condemned the refugee deal between Turkey and Germany, blaming Germany for acting on its own and not asking the opinions of other EU member states. During an interview, he compared Turkey to Iran and Saudi Arabia, insinuating that Turkey is an authoritarian state as well,'' Cazala added.
''If Macron is elected French president, it is highly likely that his politics and the vision of Europe and the EU will be based on the traditional European identity and values, which would not help Turkey's EU accession bid.''