Amid heightened security, French voters began casting ballots for their next president Sunday in a first-round poll that's seen as a litmus test for the spread of populism around the world.
More than 50,000 police and gendarmes were deployed to the 66,000 polling stations for Sunday's election, which comes after Thursday's deadly attack on the Champs-Elysees in which a police officer and a gunman were slain. The presidential poll is the first to be held during a state of emergency, put in place since the Paris attacks of November 2015.
Voters are choosing between 11 candidates in the most unpredictable contest in decades.
The vote "is really important, mainly because we really need a change in this country with all the difficulties we are facing and terrorism," said Paris resident Alain Richaud, who was waiting to cast his vote.
Opinion polls point to a tight race among the four leading contenders vying to advance to the May 7 presidential runoff, when the top two candidates face off.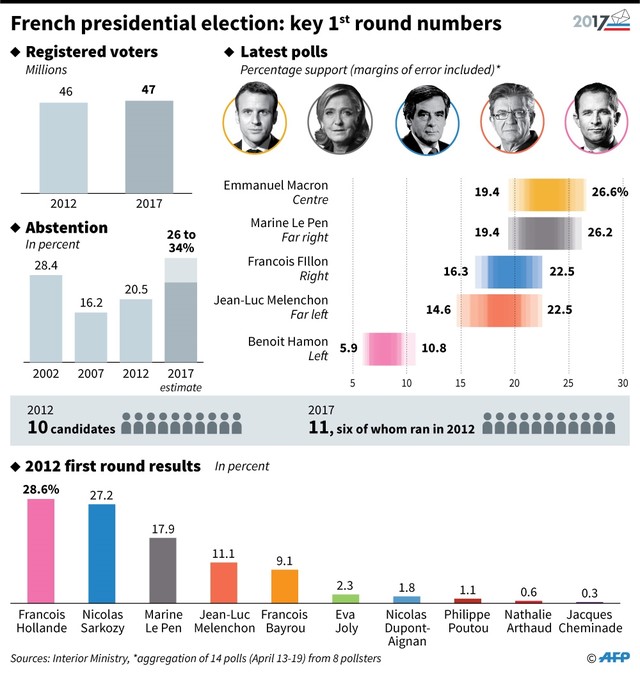 Polls suggest far-right nationalist Marine Le Pen and Emmanuel Macron, an independent centrist and former economy minister, were in the lead. But conservative Francois Fillon, a former prime minister, who was embroiled in a scandal over alleged fake jobs appeared to be closing the gap, as was far-left candidate Jean-Luc Melenchon.
France's 10 percent unemployment, its lackluster economy and security were issues that top concerns for the 47 million eligible voters.
The 11 candidates are voting throughout the day.
Several Femen activists were arrested after staging a topless protest against Le Pen meters from the polling station where the far-right leader was heading to vote. Police intervened and stopped the commotion minutes before Le Pen arrived to cast her ballot in the northern town of Henin-Beaumont. No one was hurt.
Macron, meanwhile, was the image of serenity as he posed for selfies with voters after casting his ballot in the coastal town of Le Touquet in northern France alongside his wife, Brigitte Macron.
Fillon will vote in Paris, but his wife who's been handed preliminary charges for her role in the fake jobs scandal that rocked her husband's campaign voted 250 kilometers (155 miles) away near their 14th century manor house in Sarthe.
Unpopular incumbent President Francois Hollande, who made the unusual move last year of pledging to not stand for re-election, voted in his political fiefdom of Tulle in Correze, southwestern France. The Socialist party's current presidential candidate Benoit Hamon cast his ballot in Trappes, a Paris suburb.
If Le Pen or Melenchon win a spot in the runoff, it will be seen as a victory for the rising wave of populism reflected by the votes for Donald Trump and Brexit the British departure from the European Union.
"It's definitely risky, but I have faith in the result even if an extreme candidate qualifies for the second round," said Beatrice Schopflin, who was queuing to vote in Paris.
Macron and Fillon are committed to European unity and would reform labor rules.
Political campaigning was banned from midnight Friday hours ahead of polls opening in France's far-flung overseas territories such as Guadeloupe, French Polynesia and French Guiana, which all voted a day early Saturday.