British street artist Banksy has taken on Brexit with a mural of a workman chipping away one of the 12 gold stars on the flag of the European Union on a wall in Dover, the ferry port that connects England with Calais in France.
Banksy has created a large mural in the British port of Dover showing a workman chipping away one of the 12 stars on the EU flag. His representatives Monday confirmed the work is genuine.
Dover and its white cliffs, which are seen by many people arriving in and departing from Britain every year, have loomed large in media coverage of Brexit.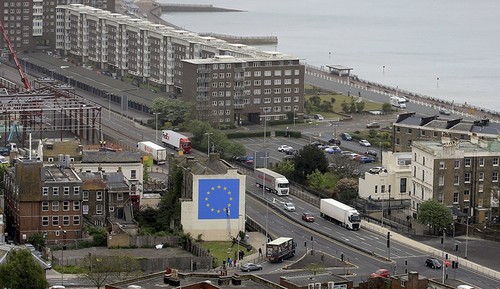 A general view of Dover England with a mural by artist Banksy, at centre, showing a workman removing a star from the EU flag in Dover England on Monday May 8, 2017 (AP Photo)
The Sun newspaper, which campaigned for "leave," projected the message "Dover & out" on the cliffs on March 24, the day that British Prime Minister Theresa May triggered the start of Britain's exit from the EU.
In 2015, Banksy created four artworks at the Jungle migrant camp in Calais, including one featuring Apple founder Steve Jobs, in a reference to his background as the son of a Syrian migrant.
British voters decided last year to leave the 28-nation EU. The new mural is in the city that's the main British gateway for traffic to continental Europe. It also appeared as the U.K. is holding an early election.
Banksy's satirical stencils — rats, kissing policemen, riot police with smiley faces — first appeared on walls in Bristol before spreading to London and then to cities around the world. His artworks have fetched as much as $1.8 million.