A Turkish hospital says Azerbaijan's energy minister has died in Istanbul while receiving treatment following a heart attack.
Istanbul's Florence Nightingale Hospital said Friday that Natig Aliyev, 69, died at the hospital a day earlier.
It said the cause of death was a brain hemorrhage that developed suddenly.
He had been flown to Istanbul for treatment on June 5, two days after suffering a heart attack in Baku, the hospital said.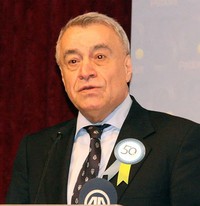 Aliyev was the president of the State Oil Company of the Azerbaijan Republic (SOCAR).
He also chaired the company's board of directors from 1993 to 2005.
He was appointed energy and industry minister in 2005 and became energy minister in 2013.
Aliyev represented Azerbaijan in its negotiations with foreign companies over major energy contracts and took part in talks with OPEC members on global oil production cuts.