European leaders have launched a contest between member states to host two EU agencies that must leave the U.K. by March 2019 as part of the Brexit timetable.
The EU members agreed to hold the contest after U.K. Prime Minister Theresa May left the Brussels summit Thursday. It was also agreed that the U.K., as the party responsible for Brexit, would pay the costs of relocating the agencies.
The new host countries of the European Medicines Agency (EMA) and the European Banking Authority (EBA) will be decided by a vote in November.
Once the European Commission has made assessments and recommendations relating to bids from EU states, the EU foreign ministers will vote to choose the winning countries.
Criteria for the winning countries include accessibility, infrastructure, schooling and job opportunities for the families of agency staff.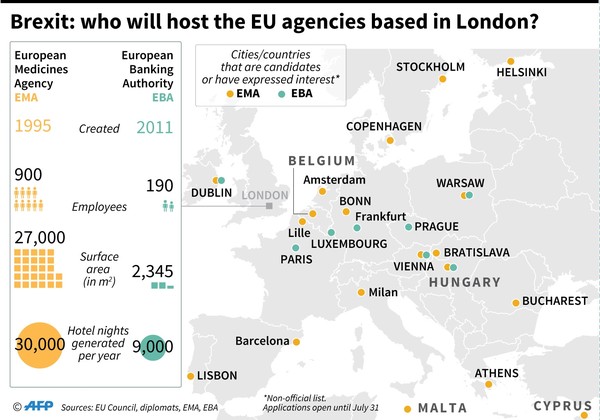 Hundreds of jobs will be lost in London when the agencies move, with 890 employees currently working at the EMA and 189 working at the EBA.
London hotels also expect losses from the relocation, as 30,000 visitors booked nights at hotels while visiting the EMA in 2015.
Austria has tried to promote itself as a top candidate for the agencies, with Foreign Minister Sebastian Kurz saying, "We have wonderful general conditions in Vienna, and that's why I consider that we are a very attractive location."
The EU has said that it is eager to locate some agencies in the newer members states in Central and Eastern Europe, but tensions over several of those member states' refusal to take their quota of refugees as laid out in a prior agreement may influence other EU states to vote against them.