Britain on Wednesday scrambled RAF Typhoon fighter jets to escort a Ryanair flight from Lithuania to Britain after a hoax security alert, the defense ministry and airline said, adding that the flight landed safely.
The flight from Kaunas to London Luton was diverted to London's Stansted airport, the British airport designated to deal with major incidents, and there were reports of a sonic boom over eastern England when the fighter jets were deployed.
@BBCEngland Not a sight you see everyday. Ryanair flight being tailed by a fighter plane. Something going on? Hope all is well over Suffolk pic.twitter.com/4yFTom2lMF

— Andy Longhurst (@AndyLonghurstUK) October 4, 2017
"The RAF can confirm Quick Reaction Alert Typhoon aircraft were launched this morning from RAF Coningsby to intercept a civilian aircraft. The aircraft was safely escorted to Stansted airport," a spokesman for the Royal Air Force said.
He added the planes had been "authorized to transit at supersonic speed for operational reasons".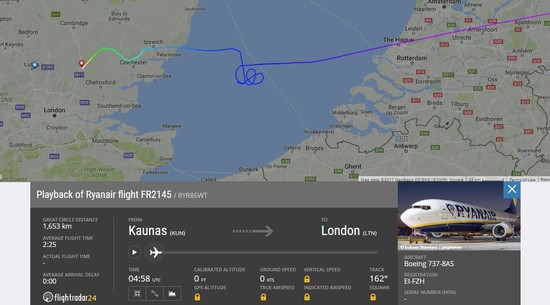 Police said passengers were being safely taken off the plane and Stansted Airport said the runway was briefly closed while the aircraft landed but flights were arriving and departing normally again.
"This flight from Kaunas to London Luton diverted to London Stansted in line with procedures after Lithuanian authorities received a suspected hoax security alert," Ryanair said in a statement.