Time is ticking fast for Spain and its prosperous region Catalonia to try to avoid a much-feared head-on collision that would pose the most serious threat to Spain's national unity in decades.
Attention is focused on whether Catalonia will make good on its promise to declare independence, and what form that declaration may take.
Catalonian President Carles Puigdemont's highly anticipated speech, which was delayed by an hour late Tuesday, will address the region's bid to secede from Spain, but it's not known exactly what he will say.
According to government officials, Puigdemont requested the delay because a parliamentary group needed to hold a meeting on opposition lawmakers' request to cancel the session.
The speech will likely set up a clash with the Spanish government, which has said any independence declaration would be illegal and void.
The central government is also backed by the European Union.
Here's look at what might come next in the standoff:
ALL EYES ON CATALAN LEADER
Puigdemont is expected to use the results of a banned Oct. 1 referendum to justify a declaration of independence from Spain. Catalan officials claim 90 percent of those who voted favored independence, and that result gave them a mandate to create a new country — even though less than half of the region's electorate voted. Spain insists the vote was illegal.
The much anticipated evening session Tuesday may see Puigdemont trying to go for a watered-down version of independence — proclaiming it but postponing its implementation in the hope mediation takes place and a full confrontation is averted.
Regional police have cordoned off the area outside parliament and thousands of pro-secession supporters are expected to gather to put pressure on Puigdemont to go all the way.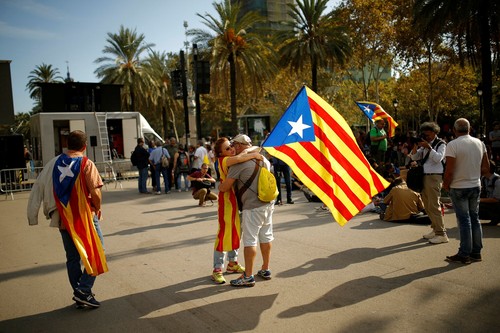 SPAIN WAITS IN THE BACKGROUND
Spanish Prime Minister Mariano Rajoy is not due to address the national parliament in Madrid until Wednesday. His ministers, meanwhile, have been making last-minute calls for Puigdemont to step back before it's too late.
Economy Minister Luis de Guindos says that he hopes "common sense" prevails, adding that the issue was not about independence but rather one of a rebellion against the rule of law that affects both Spain and Europe.
WHAT COULD SPAIN DO?
It's not clear what might happen if Catalonia does actually try to secede. Rajoy has vowed that Spain will not be divided and says he will use all lawful measures at his disposal to stop the separatists.
The most talked about is activating Article 155 of the Spanish Constitution, which would allow the central government to take control of any of its 17 regions that don't comply with their legal obligations.
Rajoy could also ask the national parliament to declare a state of emergency in Catalonia, suspend civil rights and even impose martial law. The courts could also order the arrest of Puigdemont and his key supporters.
A NATION — WITHIN SPAIN?
Dialogue is another option — and one urged by EU officials and other bodies. But Spain demands Catalonia drops the independence declaration first and Catalonia insists self-determination has to be on the table.
Some years ago, it was thought that devolution of more self-governing powers to Catalonia might be enough to make the problem go away. But it seems unimaginable that Catalonia would accept anything now that does not include the right to vote on its future.
One possible outcome would be recognition of the region as a nation, albeit within Spain.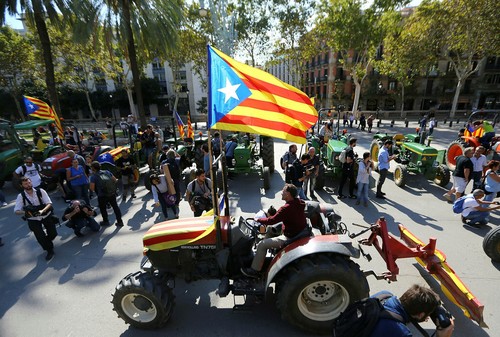 Another key carrot could be to give it the same deal that Spain's Basque Country region currently enjoys — managing its own taxes while contributing to Spain. Catalans frequently complain they contribute more in taxes to the Spanish treasury than they get back.
The Catalan government has also regularly demanded greater control of Barcelona's airport and the region's rail systems — but leaders have given no details so far on how they plan to seize back power on the region's infrastructure, as well as areas like defense and foreign affairs which are now managed by Spain.
So far, no government outside Spain seems eager to recognize Catalonia as a separate country.
THE ECONOMIC FALLOUT
The European Union has already said Catalonia would be expelled from the bloc and its shared currency, the euro, if it declared independence and would have to reapply to rejoin, a lengthy, uncertain process.
The tension has impacted the economy, with dozens of companies already relocating their corporate address away from the troubled region to remain under Spanish and European laws if Catalonia manages to secede. The moves of the firms' bases do not so far affect jobs or investments — but they don't send a message of confidence in the Puigdemont government.
Catalonia denies there is any rush among companies to leave and says its economy is fine.
WHY INDEPENDENCE NOW?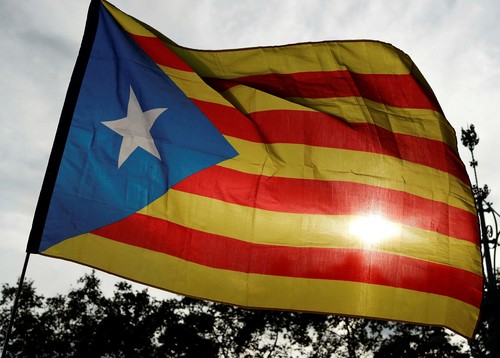 Many Catalans have long highlighted the region's differences from the rest of Spain but the latest push for secession began in 2010, when Spain's top court struck down key parts of a charter that would have granted Catalonia greater autonomy and recognized it as a nation within Spain.
Since then, hundreds of thousands of residents have thronged onto the streets every Sept. 11, a Catalan holiday, to demand independence. Spain's recent financial crisis and the tough austerity measures that roused more support for secession.