One of Prague's major tourist attractions, its medieval astronomical clock, was stopped Monday and is to be taken away for months for major repairs.
The clock last performed its hourly show of the 12 apostles and other figures for crowds of visitors to the Czech capital on Monday at 9 a.m.
Prague officials say the clock that was installed on the City Hall's tower in 1410 will be completely disassembled and its parts taken for restoration, the first complex fix since World War II.
The entire City Hall with the clock were badly damaged in the war and the some of the postwar restoration works were not done properly and need to be fixed.
"It's a necessary and responsible move to preserve it for the generations to come," city councilman Jan Wolf said.
The clock is expected to be back in its place in the late summer.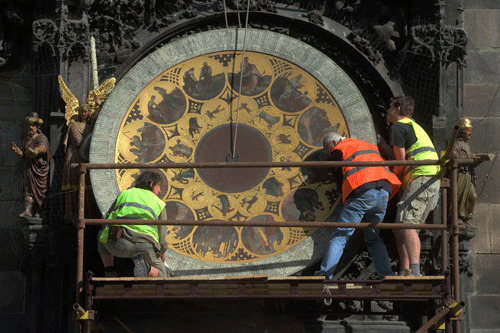 There are a number of legends linked to the clock. One of them says the entire nation will suffer when it stops running. Record flooding hit Prague and large parts of the Czech Republic in 2002, causing the clock to stop.
In 2011, it was shut down for a three-week repair, and again later that year for five minutes when Vaclav Havel died, to honor the former president.