Oxfam's chief executive apologized on Tuesday for saying a wave of condemnation over sex abuse by the charity's staff was disproportionate as it had not "murdered babies in their cots" in a scandal that has prompted new reports of abuse.
Mark Goldring said Oxfam was investigating 26 cases of misconduct reported since the scandal broke earlier this month over the alleged use of prostitutes in Haiti in the aftermath of the island's earthquake in 2010.
Oxfam has battled to contain the fall-out from the scandal, and senior officials from the charity apologized over and again for the scandal and how it was handled during a hearing with lawmakers that lasted nearly two hours.
Goldring has faced personal criticism after he was quoted in Saturday's Guardian newspaper as saying: "The intensity and ferocity of the attacks makes you wonder, what did we do? We murdered babies in their cots? ... (it) feels out of proportion to the level of culpability."
Opposition Labour politician and International Development committee chair Stephen Twigg said Goldring's comments in a newspaper interview were regarded by many as "grossly inappropriate", and on Tuesday Goldring apologized.
"I should not have said those things. It is not for Oxfam to judge issues of proportionality or motivation," Goldring, who became CEO of Oxfam GB in 2013, told the committee. "I wholeheartedly apologize for those comments."
Allegations of sexual misconduct have shaken the aid sector, with Haiti's president calling for investigations of other groups.
Twigg said the Committee, a parliamentary body that monitors the government's aid ministry, would conduct a full inquiry into the issue of sexual exploitation in the aid sector.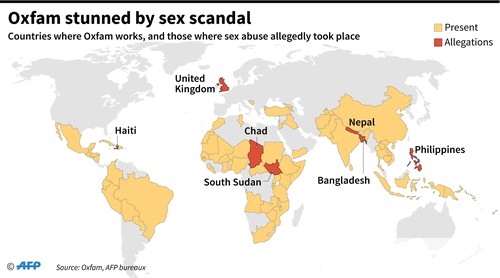 BETRAYAL OF TRUST
The funding of Oxfam, one of the world's biggest disaster relief charities, has been thrown into question by the scandal.
Britain and the European Union are both reviewing the money they give, while Goldring said that 7,000 individuals had canceled regular donations to Oxfam over the last 10 days.
On Monday, the charity released the findings of an internal investigation that found the country director in Haiti, Roland Van Hauwermeiren, had admitted using prostitutes at his residence during a relief mission before resigning in 2011.
Britain's International Development Secretary Penny Mordaunt said that Oxfam GB's then-chief executive, Barbara Stocking, and program director Penny Lawrence, at the time misled regulators and the charity's donors over the case, "quite possibly deliberately."
"I believe their motivation appears to be the protection of their organization's reputation. They put that before those they were there to help and protect, in complete betrayal of trust," she told parliament.
Lawrence last week resigned as deputy head of Oxfam over the scandal.
Senior Oxfam officials told the committee that the internal investigation into what happened in Haiti was mishandled at the time.
Goldring said that, with hindsight, his predecessors "made the wrong call as to how public to be."
"If we were culpable, which we were, they should have been completely transparent," he told the committee. "What Oxfam did in 2011 in Haiti was wrong. I wasn't in post but I apologize for that."
Oxfam International Executive Director Winnie Byanyima, who like Goldring took her current role after the abuse in Haiti occurred, said "hideous men" had abused the trust of the public and were not aligned with the charity's principles.
"The use of prostitutes in conditions of poverty and helplessness and conflict, is exploitation, it is abuse, and it's intolerable in our organization," she told the committee.
"I'm ashamed. I've spent my life trying to stand up for women's rights, and to fight for people living in poverty. So this is painful for me."