The far-right Alternative for Germany (AfD) party's Berlin branch deleted a poll on Twitter after getting an unexpected result.
AfD Berlin started a survey on its page, asking, "Is Islam part of Germany?"
The result, however, surprised the organizers as 85 percent of the voters said "yes" and only 15 voted "no." More than 40,000 users participated in the survey.
Seeing the result, AfD Berlin's social media moderators deleted the poll, but not before screenshots of it went viral in German media.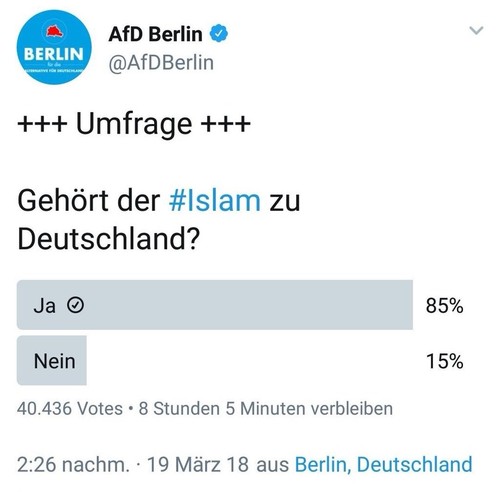 The survey comes after Germany's new interior minister said he does not consider Islam to be a part of Germany, a position that puts him at odds with Chancellor Angela Merkel on the central question of migration.
Horst Seehofer, the country's top security official, told the Bild newspaper that "Islam doesn't belong to Germany," but added that "the Muslims who live with us are, of course, part of Germany."
Chancellor Angela Merkel immediately rebuffed Seehofer's comments, saying Islam — the religion of 4 million of German citizens — was part of the country just like Christianity and Judaism.
The AfD won nearly 13 percent of the vote in September's general election, becoming the first far-right nationalist party to enter Germany's parliament since the defeat of the Nazis in World War II.