The Armenian parliament elected Tuesday opposition figure and protest leader Nikol Pashinian as the new prime minister after spearheading weeks of mass protests against the ruling party.
The vote was Pashinian's second attempt to get elected as premier after the ruling Republican Party narrowly blocked his first bid on May 1, despite initially promising not to stand in the way. That led to a crippling general strike in the capital Yerevan and other cities.
Pashinian called for an end to the protests after the Republicans -- who have 58 MPs in the 105-seat legislature -- issued assurances they would back his candidacy on a second attempt. He has also secured the support of two other major political parties -- Prosperous Armenia and the Armenian Revolutionary Federation (Dashnaktsutyun) -- who nominated him for the post together with his opposition Elk coalition. Pashinian was the only candidate for the top job.
His election by a 59-42 vote overcomes one hurdle in resolving the crisis, but the Republican party that he opposed retains a majority in parliament.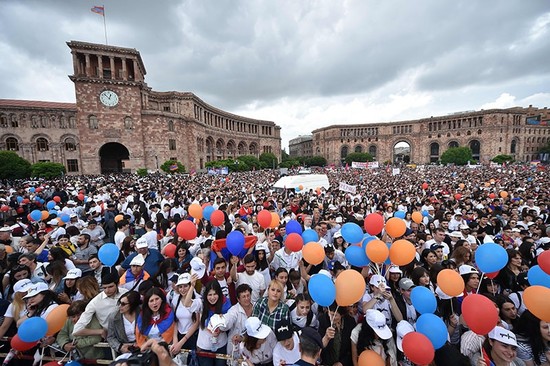 Supporters of Pashinian gather on May 8, 2018 in Yerevan's central Republic Square as the parliament votes for a second time to elect a new prime minister. (AFP Photo)
Tens of thousands of supporters of Nikol Pashinian are celebrating on the central square of Armenia's capital after the protest leader was elected the country's prime minister.
Many of the supporters are wearing white clothes, symbolizing their hopes that Pashinian's election will bring a new page in Armenia.
"We chose a new road in Armenia where the driver will be the people and not clans. Jobs will appear, people will return, corruption will disappear," demonstrator Tigran Azizian, a 42-year-old worker in the city's subway, told Associated Press.
In a speech to parliament on Tuesday preceding his election as premier, Pashinian said that his "revolution will lead to the de-jure recognition of realizing the rights of Karabakh to self-determination."
The Nagorno-Karabakh region in Azerbaijan has been under the control of ethnic Armenian forces backed by Armenia since the end of a separatist war in 1994. Fighting periodically breaks out between those forces and Azerbaijani troops stationed on the other side of a demilitarized zone.
Any move to advance the region's sovereignty would likely be met with considerable hostility from Azerbaijan and its ally Turkey. Both those countries closed their borders with Armenia over the conflict, leaving Armenia with direct land access only to Georgia and Iran.
"My first work after my election will be ensuring a normal life in the country," Pashinyan said ahead of the vote. "There will be no corruption in Armenia. Armenia will once and for all turn the page of political persecutions."
He added that Armenia's relations with Russia will "remain a priority." "Military cooperation with Russia is an important factor in ensuring our country's security," Pashinian said, referring to the two-decade conflict his country has been locked in with neighboring Azerbaijan.
Russian President Vladimir Putin congratulated the Armenian protest leader on his election as the country's new prime minister. Putin said in a message to Pashinyan after his election that he counts on him to "aid the further strengthening of bilateral, allied relations between our countries." Russia has strong strategic interests in Armenia, including a military base, and had been watching the country's political turmoil closely.
On Monday evening thousands of Pashinian supporters rallied in Yerevan's central square, waving tricolor national flags and chanting his name. "I am 95 percent sure that your candidate will be elected as prime minister tomorrow," Pashinian told the cheering crowd. Analysts have said it appeared the ruling party had changed position in a bid to retain control of the legislature.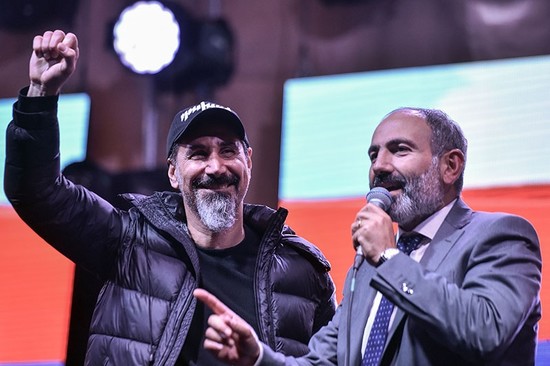 Pashinian (R), accompanied by Serj Tankian, the Armenian-American leader of the band System of a Down, addresses the crowd gathered at Yerevan's Republic Square on May 7, 2018. (AFP Photo)

'Period of disequilibrium'
Pashinian's election as prime minister would not necessarily end the political crisis as the ruling party will retain a majority in parliament and is likely to block his initiatives.
If lawmakers had failed to elect a prime minister a second time, parliament would have been dissolved and early elections would have taken place. In such an event, the deeply unpopular Republicans would have little chance of retaining their parliamentary majority.
Analyst Vigen Akopyan said snap elections are certain even if Pashinian is chosen prime minister.
Another analyst, Stepan Safaryan, warned that Pashinian would be caught between a rock and a hard place.
"Armenia is entering an interesting period of disequilibrium. Before the early elections Pashinian must maneuver between the will of the people and the parliamentary ruling party that he does not belong to and which cannot begin supporting him," he said.
Corruption and poverty
The hugely popular Pashinian has in recent weeks piled pressure on the ruling party through an unprecedented campaign of civil disobedience that plunged the Moscow-allied nation into its most serious political crisis in years. It led to the shock resignation of veteran leader Serzh Sargsyan, a week after he shifted to the newly-empowered role of prime minister after having served ten years as president. Observers have expressed concern that the turmoil could destabilize the country locked in a decades-long territorial dispute with Azerbaijan.
Pashinian's protest movement had accused Sargsyan of a blatant power grab, saying he wanted to extend his grip on power by becoming premier after serving two consecutive terms as president. In December 2015, controversial constitutional amendments initiated by Sargsyan were passed after a referendum that saw some 63 percent of the voters backing the country's transformation into a parliamentary republic with executive powers fully concentrated in the hands of a prime minister. After the plebiscite, thousands of opposition supporters rallied against alleged mass violations at polling stations.
Council of Europe observers have said the referendum was marred by allegations of large-scale vote-buying and multiple voting, among other irregularities.
Critics accuse Sargsyan and his Republicans of corruption and failure to tackle widespread poverty and the influence of powerful oligarchs in the tiny South Caucasus nation of 2.9 million people.
Pashinian: Armenia's maverick street leader
Just three weeks ago, few would have thought that Pashinian, a 42-year-old former newspaper editor who served time in jail, would transform Armenia's political landscape and become its next leader.
Sporting a salt and pepper beard, a tan and a baseball cap, Armenia's rising political star channeled widespread desire for change into a broad protest movement.
The father-of-four has earned a reputation as a man of the people, wearing his trademark camouflage T-shirt during protests and carrying a massive rucksack which he says contains "everything I need" -- including a chocolate bar and a laptop.
After Sargsyan's resignation last month following ten days of peaceful protests, the opposition lawmaker said only he could be the next prime minister.
Crowds of villagers poured onto the streets to greet Pashinian, offering him fresh bread and berries, as he travelled to rallies across the country.
Before the start of the protests last month, he walked some 200 kilometers (125 miles) from Gyumri -- Armenia's second city -- to Yerevan with his supporters, often sleeping in the open.
His creativity was visible during a parliamentary election campaign last year, when he went into courtyards, clambered onto the roofs of garages and stood on benches to deliver speeches.
Ahead of Tuesday's vote, however, he swapped his street attire for a sleek suit, transforming himself into a polished politician with a soft handshake and a bashful smile.
Before the current rallies some have called a "revolution of love", Pashinian was mostly associated with the tragic events following the 2008 presidential vote that first brought Sargsyan to power, when 10 people died in clashes between police and supporters of the defeated opposition candidate.
Authorities at the time accused Pashinian of seeking to seize power and provoking mass riots, claims he has denied.
He went into hiding but surrendered in 2009. He was released from jail in 2011 under a prisoner amnesty scheme and elected to parliament the next year.
Analyst Vigen Hakobyan called Pashinian a "classic revolutionary" who is ready to act decisively without hesitation.
"On the other hand, as the protest movement has shown, he can be flexible," he said. "In recent days he wanted to show the world he is capable of compromise."
David Alaverdyan, chief editor of a local news agency who studied with Pashinian, praised his "quick wit, rich language and humor".
"He's got a certain charm that attracts people," he told AFP.
Opponents from the ruling Republican Party have accused Pashinian -- who says he wants good relations with both Russia and the West -- of being unpredictable and lacking a clear program and ideology.
Pashinyan was born in 1975 in the small resort town of Ijevan in northern Armenia during the Soviet era. He studied journalism at Yerevan State University but was expelled in 1995.
He worked as a reporter and newspaper editor before getting involved in politics.
Pashinian set up the Civil Contract party, which entered parliament in 2017 as part of the opposition coalition.
With his fiery rhetoric and penchant for asking awkward questions, Pashinian quickly became a thorn in the side of the ruling party.
Pashinian said the protest movement empowered ordinary Armenians, showing them they could determine the future of their country.
"Prime ministers will come and go," he told a rally in Yerevan.
"But they will know that if they grow impudent, there are people who will say: 'We are the masters of our country.'"