German newspaper Sueddeutsche Zeitung said it had ended its decades-long collaboration with cartoonist Dieter Hanitzsch after he depicted Israeli Prime Minister Benjamin Netanyahu dressed as the Israeli singer at the Eurovision song contest, which the paper claimed used "anti-Semitic cliches."
Editor-in-chief Wolfgang Krach said publishing the cartoon, carried in the May 15 issue of the daily, was a mistake and he apologized to readers.
Krach later said the cartoon used "anti-Semitic cliches" when it showed Netanyahu in the attire of Israeli Eurovision entrant Netta Barzilai, who won the 2018 contest on Saturday.
Holding a rocket with the Star of David on it in one hand and a microphone in the other, Netanyahu is shown in the cartoon saying: "Next year in Jerusalem."​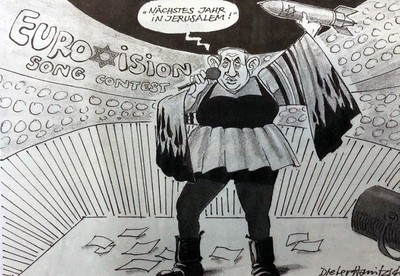 The 85-year-old cartoonist said he wanted to criticize Netanyahu's exploitation of the Eurovision contest for his own purposes and accused Netanyahu of abusing the singer's victory.
Netanyahu used the phrase, the toast traditionally given each year during the Jewish festival of Passover, in a congratulatory tweet. "You brought a lot of respect to the State of Israel," he wrote. "Next year in Jerusalem!"
It attracted even greater attention in the context of the relocation of the U.S. Embassy from Tel Aviv to Jerusalem that weekend. Many of Netanyahu's supporters celebrated the move, a break with decades of U.S. Middle East policy, as a triumph for the right-winger.
Publication of the cartoon also came just a day after Israeli troops shot dead dozens of Palestinians during protests on the Gaza border, drawing strong criticism from many countries.
Hanitzsch told German broadcaster RND on Thursday that he found Netanyahu's phrase "problematic ... It really does not help to pour even more oil onto the fire."
But Sueddeutsche Zeitung editor-in-chief Krach told the same broadcaster that he saw the cartoon as anti-Semitic and that the newspaper had ended its relationship with the cartoonist.
The cartoonist reportedly said that he does not regret drawing and publishing the piece.
Hanitzsch had previously drawn offensive cartoons criticizing — and even insulting— President Recep Tayyip Erdoğan but did not get fired, as those cartoons were defended on the basis of freedom of the press and expression.