A passionately pro-European Briton has quit his job to drive around the continent for months spelling out "stop Brexit" on maps depicting his circuitous route.
Andy Pardy, 28, from the southwest English city of Exeter, resigned from a consultancy job in June to embark on the 30,000-kilometer, 32-country "farewell tour" before Britain leaves the European Union next March.
The U.K. voted to quit the bloc in a divisive 2016 referendum, with 52 percent backing Leave and 48 percent voting Remain.
"I genuinely want to make the most of our last summer inside the EU," Pardy told AFP from the Arctic Circle in Finland as he completed the "P" in his "stop Brexit" pilgrimage.
"I just intend to show the best of what the continent has to offer and share a positive message."
The arch-Remainer is chronicling the adventure on his website and on Twitter, under the name "The Rogue Consultant", using a location-tracking app to document his progress -- and his emerging mantra.
He anticipates the journey, which will take him through 26 of the union's 28 member states, will entail 335 driving hours.
After growing up partly in Germany and previously living in Spain, Pardy wants to highlight the freedom of movement benefits that EU membership brings.
"The right to explore as well as live and work in Europe without tiresome red tape is an immense privilege," he said.
"It would be such a shame to make it more difficult."
The future of such visa-free arrangements for Britons is unclear amid stalled Brexit negotiations between London and Brussels.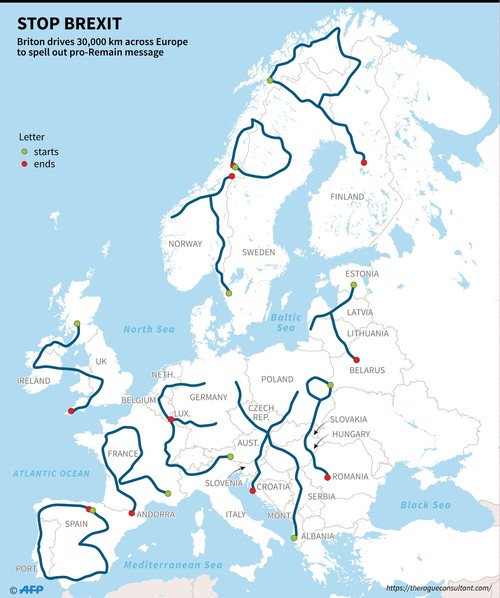 'Personal statement'
Pardy conjured up his politically-driven escapade while tracking himself jogging on a fitness app, realising he could use the tool to map out words.
"It just popped into my head," he recalled. "(I) thought I might be able to do something on a bigger scale."
A recent moped accident and death in the family also nudged him towards "re-evaluating" life.
So the digital consultant quit his job of five years, purchased a camper van for £6,000 ($7,650, 6,680 euros) and spent weeks painstakingly plotting his all-important route.
The roaming Remainer expects his expenses to cost a further £5,000 -- including off-setting the trip's carbon output -- cutting into savings originally earmarked to get a mortgage.
"It was a difficult decision," he said, of splashing out instead on an epic road trip.
"But it's a different experience and I just decided to go for it.
"I appreciate how fortunate I have been to be able to do this."
Pardy began his European odyssey solo in mid-July, mapping out the letter "S" over several days travelling through the British Isles and Ireland.
Joined by his girlfriend, he next navigated Norway and Sweden -- camping inside the Arctic Circle and spotting a rare white reindeer -- before crossing into Finland to complete the word "stop" this week.
The subsequent stages of the road trip will see him spell out "Brexit" backwards, finishing the "B" in the Spanish city of Bilbao in late October.
"The journey has been incredible so far. I've met loads of wonderful people along the way, all of whom have been supportive," Pardy said.
The 28-year-old added he had been flooded with offers of accommodation, dinner and drinks meet-ups from supporters across Europe after his mission garnered media attention.
Pardy, a supporter of holding a second referendum on Brexit, is nonetheless content that his stunt's stated aim will likely remain unfulfilled.
"I've been frustrated with the debate and how Brexit has been progressing," he said.
"So I just wanted to do something positive and make a personal statement at the same time."