Footage captures confrontations between activists and German police over the expansion of a coal mine turning violent, as officers beat, push and drag protesters who try to enter Hambach Forest https://t.co/6KOOGwlC58 pic.twitter.com/tCXcnFCIHr

— DAILY SABAH (@DailySabah) September 18, 2018
Tensions between police and environmental activists reached new highs on Monday, as German police resumed forced evictions from the centuries-old Hambach Forest.
Footage by video news agency Ruptly showed police engaging in violent confrontations with activists, with those who refused to leave the forest being hit, pushed and dragged down a hill.
"The police are attacking and people are defending themselves," retorted Karolina Drzewo, a member of anti-strip-mining group Ende Gelaende.
Regional broadcaster WDR reported that between 3,500 and 4,000 police were on the scene to clear some 60 treehouses, some as high as 25 meters (82 feet) off the ground, where dozens of protesters are holed up.
Pictures shared on social media showed police riot vehicles and a water cannon also heading to the area.
The clashes come after an estimated 4,000 people organized a mass protest against the expansion of a coal strip mine in western Germany, and marched towards the woodland between Cologne and Aachen.
German police have so far arrested 34 activists who had hidden themselves in trees and tunnels in the Forest in an attempt to stop energy giant RWE from clearing the woods so it can start mining coal, authorities said late Saturday.
Nine of those removed suffered injuries during the operation in Hambach Forest. Additionally, 62 people were ordered to leave the area, according to a police spokesperson from the nearby city of Aachen.
Early Sunday, two activists who had refused to leave a tunnel beneath the trees were also convinced to come out, the fire department said.
Rescue workers had discovered the protesters on Saturday in a tunnel at least 5 meters below ground using telescopic cameras, a spokesman told dpa. Fresh air was pumped into the shaft to counteract declining air quality as the fire crews tried to get them out.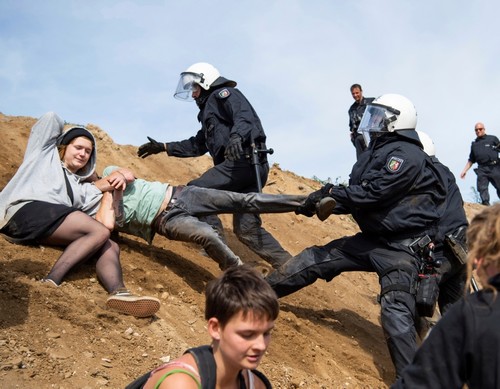 As dawn broke on Sunday, rescue workers said they had sighted the tunnelers. But work was slow because rescuers wanted to secure the tunnel before venturing too far in. Other protesters were also made it hard to access the tunnel.
Police began clearing the camp on Thursday and have so far destroyed 13 of the approximately 50 dwellings built by the protesters on the site.
Separately on Saturday, about 300 protesters gathered on a nearby street to demonstrate, though their number had dwindled to 15 as Sunday started.
RWE, the German energy company that owns the area, wants to cut down large swathes of Hambach Forest, located to the south-east of the colossal Hambach opencast mine in the state of North Rhine Westphalia, to mine brown coal.
The company says doing so is unavoidable to guarantee production in coal-powered energy plants.
But the woods contain centuries-old beech and oak trees and are home to a protected species of bat. As such, environmental activists occupied the forest six years ago, according to the Hambi Bleibt (Hambis stays!) campaign group, building treehouses and tunnels.
Mine rescue experts were consulted to determine whether the tunnels were dangerous and declared them to be at risk of collapse.
Environmental groups argue that Hambach Forest should be spared while Germany mulls ending the extraction and burning of coal as part of the country's effort to reduce its emissions of greenhouse gases.
News weekly Der Spiegel reported Saturday that a government-appointed commission examining options for the future of Germany's coal industry is discussing a phase-out of the fossil fuel by 2038.
RWE is legally allowed to cut down trees to access the brown coal, or lignite, in the ground during the annual logging season.