Home rental website Airbnb said Wednesday it decided to ban a host after she rejected a hijab-wearing Muslim woman saying she would not fit into the neighborhood.
A 25-year-old British student, Nurjahan Saleque, decided to rent a home through Airbnb for her stay in Hamburg, Germany and found one that she was interested in.
However, after submitting a request to rent the house, she was promptly denied by the host, Claudia.

Saleque contacted Claudia via private message and asked for a clarification as to why she was rejected.
"I'm sorry Nurjahan but as I saw you were wearing a veil I don't think you'd fit into our neighborhood," Claudia replied.
The host tried to downplay the situation in a follow-up by saying that the decision was not personal.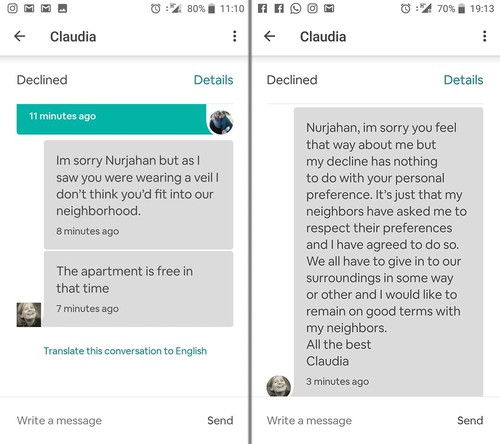 "My decline has nothing to do with your personal preference. It's just that my neighbors have asked me to respect their preferences, and I have agreed to do so. We all have to give in to our surroundings in some way or other, and I would like to remain on good terms with my neighbors," Claudia said.

Facing discrimination, Saleque contacted Airbnb and launched a campaign on her Facebook page to have the host's listing removed.
Airbnb confirmed to Buzzfeed that they have banned the host from their platform and removed the property listing.
"As soon as we learned about this terrible incident, we removed the host from our community and offered the guest our full support. All Airbnb users must sign on to our Community Commitment and treat everyone in the Airbnb community with respect and without judgment or bias," a spokesperson for Airbnb said.