At the entrance of Istanbul's Kuad gallery, two works by the Georgian artist Tamuna Chabashvili welcome the visitor to a very interesting show. Curated by the Austrian writer and curator Georg Schoellhammer, this is one of significant exhibitions of this season, showing subtle parallels with the concept of the Istanbul Biennial, "A Theory of Thought Forms." The editor-in-chief of Vienna-based art magazine Springerin, Schoellhammer is among the most productive figures in Europe's arts scene where he has numerous roles as lecturer, art historian and initiator of artistic festivals.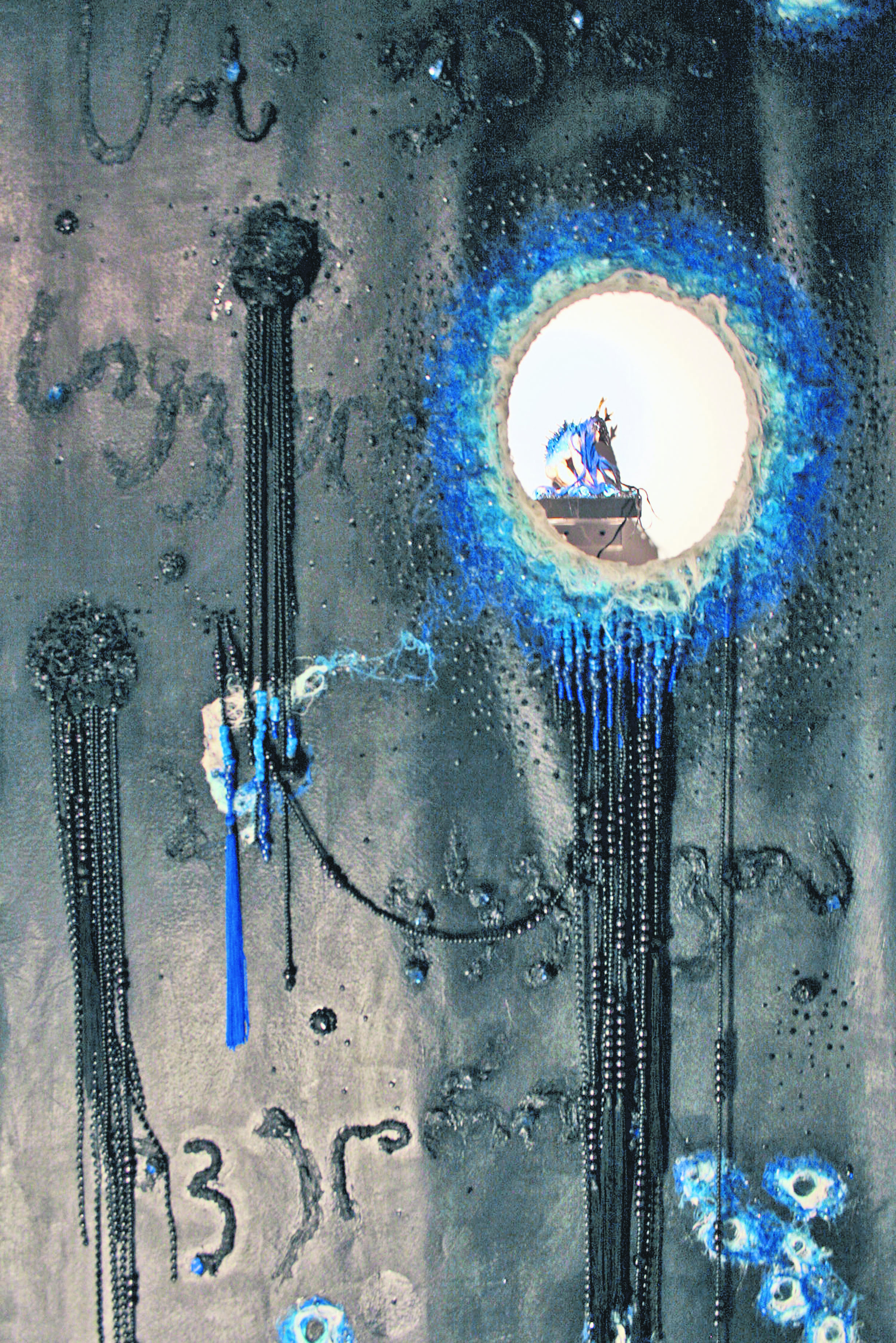 Here Schoellhammer exhibits works from two European capitals, Kiev and Tbilisi, emphasizing how both cities are located on geographical fault lines. "The wide-branching pathways, influences and conflicts marking the realities of these cities and the common heritage they share reverberate in the works of the five artists presented, all born in Georgia or Ukraine," Schoellhammer explains. "They depart from local narratives and traditions, constellations and memories that shed light on the important role played by both countries as a relay between various European and Asian zones of influence, shaped by multiple projections from the outside."
Chabashvili's work for this exhibition consists of stained tablecloths she had acquired from different Georgian families. The artist was inspired by British writer Virginia Woolf's observations about the way a woman spends her day: "Often nothing tangible remains of woman's day," Woolf wrote. "The food that has been cooked is eaten; the children that have been nursed have gone out into the world. Where does the accent fall? It is difficult to say. Her life has an anonymous character which is baffling and puzzling in the extreme."
Chabashvili's work, "Supra of Her Own," is part of a bigger installation the artist has "devoted to the problem of the invisibility of women's painful experiences." Chabashvili's Georgian tablecloths are part of everyday Georgian culture. After all, the supper table provides the setting where gender politics plays an important role. This is a place Chabashvili memorably defines as "a semi-public, semi-private space where reality is presented as it should be and not as it is."
"The word supra also means a tablecloth. Tablecloths are decorated by women and kept in the family often for decades, despite the stains and mends they accumulate," Chabashvili explains. "These family treasures contain personal memories that are somehow inscribed on the supra even though they remain invisible. I collected stained tablecloths from various families. Each supra was decorated individually, letting the content define the technique and the medium in which the fragments from interviews with women who experienced domestic violence are presented. My aim is to make public something that most people would prefer or are forced to keep silent. I want to speak about violence against women by displaying violent and painful characters of all these tiny, everyday situations that are so well embedded in highly valued traditions, romantic behaviors, or simply habits."
Just behind her tablecloths Schoellhammer has placed Ana Chaduneli's impressive "Route of Evanescence," a tennis table covered with different objects and elements. Born in 1990 in Georgia, Chaduneli's work seems to have been moved here from a laboratory. It is a playful work that seems to instruct the viewer do scientific experiments on it.
"My work is circulating around the notions of instability and transition," Chaduneli's explains. "Both cities, Tbilisi and Kiev, had to negotiate their realities in an environment that had dramatically and continuously changed from 1990's on. How could we get a new perception and an understanding of a life without being part of the Soviet Union? How to express our gaze? A working table which I'm transforming into a tennis table where I'm putting objects made with different materials, that represent different cultural understandings is an image of this utopias and traps. It is in relation to the idea of the contemporary city how it transforms, how it is governing us, and how we are losing our freedom, not just of motion."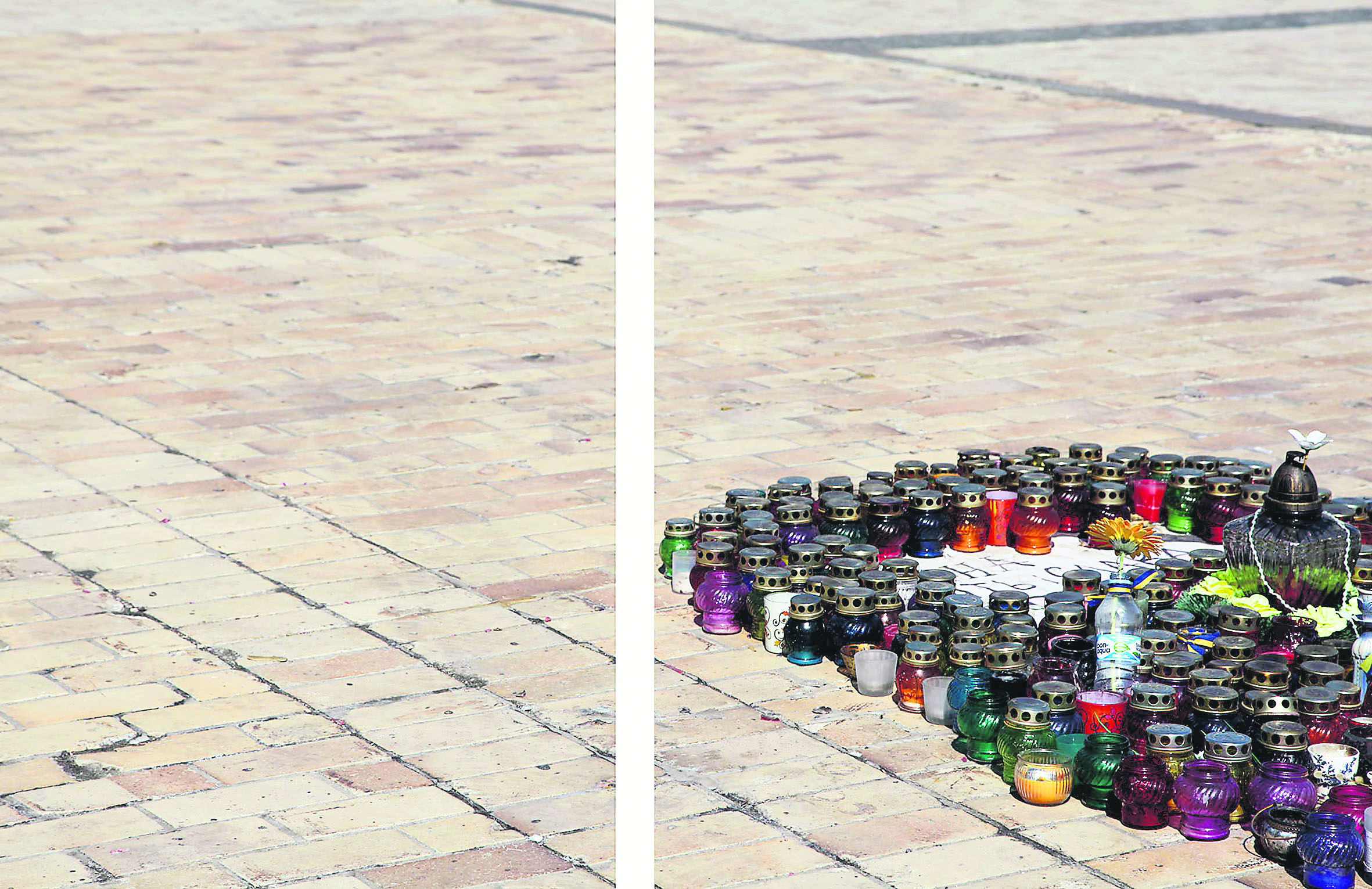 Another work where the post-Soviet condition reveals itself is Anna Zvyagintseva's "Event (gap)." Born in 1986 in Ukraine, Zvyagintseva has produced a group of uncanny photographs depicting cobble stones, cracks on concrete surfaces and different facets of a city that seems to undergo social upheaval. "The struggle: history, blood on one hand - and the space of the everyday: non-historical life routine on the other," Zvyagintseva explains. "I'm trying to stitch these parts, these territories together with my comments. Alas these comments come abrupt, spontaneous. And ultimately they are addressed to the void. In the end, they are useful only to fix this void, to archive it. This archive has no index. It can be only read through the form of a suture."
According to the artist, historical events touch us during our daily lives. When history penetrated our daily lives, we suddenly miss the feeling of reality. "The event absorbs you. And the scariest part is, when you realize that the event has its limits. Missing reality makes you feel that everything that happens is a theatre performance and the suspicion arises, that someone directs it. Reality seems somewhere nearby, and you can reach its borders. In both camps of the struggle you and people around you desperately try to rush out towards reality. But one only gets more enchained in the stage plot." Organized by the Ministry of Culture and Monument Protection of Georgia, "Manifest Thought Form: A Route of Evanescence" exhibition is part of "The School of Kyiv" and is on display at Kuad Gallery until Oct. 31.