You don't realize how noisy Istanbul's İstiklal Avenue is until you find a silent refuge away from its noises. Taksim's galleries and museums are not exactly silent places but on a recent day, the Research Center for Anatolian Civilizations (better known with its Turkish acronym ANAMED) seemed like a noise-free space where all sounds of Istanbul were happily muted. I stood in front of "Inaudible," one of the three main works on display at ANAMED's new "Everyday Sounds" exhibition, which lets visitors control the sounds of the city. Designed by Ateş Erkoç and realized by PATTU (Cem Kozar, Işıl Ünal) the installation consists of numerous switches that turn on or mute Istanbul's daily sounds. From car horns to sounds of printers, phones, coffee machines and car engines, the city's sounds are finally under the control of Istanbul citizens.
The "Everyday Sounds: Exploring Sound Through Daily Life" exhibition, which continues until March 20, offers soundscape experiences in single spaces and streets and starts with a question: "How do people perceive the sounds in the environments in which they exist?" The Soundscape Of Istanbul, an interactive installation that explores sounds lost in the daily pace of Istanbul life, tries to find an answer to the question.
In an interview with Daily Sabah, Pınar Çevikayak Yelmi and Hüseyin Kuşcu described the aim of their The Soundscape of Istanbul project. They want to protect daily urban sounds and cultural sounds and create public awareness of cultural soundscapes.
"First, we conducted an online survey and interviews to determine the most characteristic sounds of Istanbul by public involvement," they said. "With these surveys, we came up with a list of collection content, sound categories, timeline, tags and locations. Following this research, we have conducted field recordings together with supplementary photography. We recorded and documented more than 200 sounds on site throughout the year 2015."
The Soundscape of Istanbul collection is now accessible at Koç University Suna Kıraç Library (http://digitalcollections.library.ku.edu.tr/cdm/landingpage/collection/SOI). With the Soundsslike project (http://soundsslike.com/), Çevikayak Yelmi and Kuşcu want to turn this collection into a collective work that expands with contributions from the public. "For this, we encourage visitors to contribute to the sound collection with their own recordings," they said.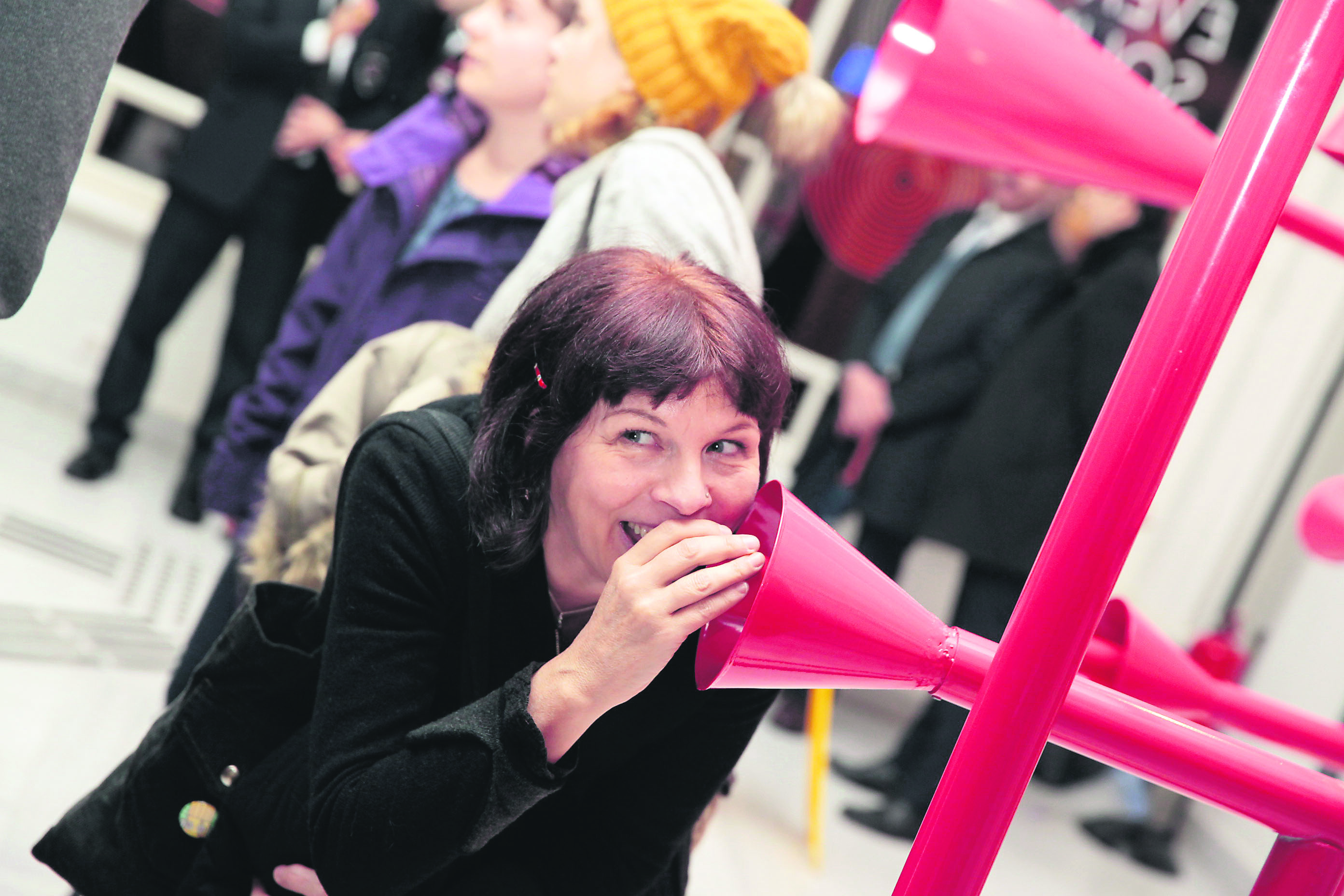 Another highlight of the "Everyday Sounds" exhibition is "Another Day in the City," a video installation scripted and edited by Vassilis Danellis. Featuring sounds recorded on Istanbul's streets, the video's animations have been created by Hürcan Emre Yılmazer.
"The idea for the animation started with a question," Işıl Ünal and Cem Kozar told Daily Sabah. "Would it be possible to write and tell a story, only by using sounds? Without using visuals and dialogues, we wanted to hear and focus on the sounds of the city." Ünal and Kozar went to Vassilis Danellis, a Greek writer living in Istanbul, with this question in mind. Together they started discussing the script and Vassilis suggested focusing on thoughts instead of dialogues.
"Thoughts are silent, so we could hear the city and people's thoughts would guide us through it. Our short story has a protagonist who takes a short walk from Tünel down to the Karaköy pier. He is lonely and curious about people around him. So in each scene we present his thoughts alongside thoughts of people he encounters on the way."
Mine Erkaya and Ateş Erkoç were responsible for the sounds of the project. Together they helped transform the short story into a script with sounds. "We decided on which sounds we should collect. Mine Erkaya was responsible for the sound design and field recording. Ateş Erkoç did the foley recordings."
The production team believed that the sound experience would be the most important part of their project. So they were delighted when they received support from Dolby Atmos, Extreme Audio and Pana Film Studios, who sponsored the project.
"Dolby Atmos is a new technology. It allowed us to design sound three dimensionally and create an immersive sound experience. Near the end of our sound mix process, we realized the answer to our initial question. It is difficult to design the story with sounds only. At least for this story we needed to read people's thoughts and include some suggestions about what was going on. We worked with Hürcan Emre Yılmazer to create the visuals. We did not want visuals to be the main element. So they are actually silhouettes of people and thought bubbles that guide us through sounds."
The reaction of ANAMED visitors to these sound installations had been very positive so far. Some loyal visitors had told ANAMED staff about how "Everyday Sounds" is different from their previous exhibitions since it touches on more "modern" issues.
"They have a point indeed, because the emphasis of this exhibition is on the cultural heritage dimension of sound," ANAMED curators told Daily Sabah. "So preservation of something contemporary is our subject here. In previous exhibitions, though, either archaeology or history was on the foreground. We realized that this exhibition has widen our visitor profile and added new people interested in contemporary issues to the top of our loyal visitors. We are happy to enlarge our audience while staying within our mission."
ANAMED visitors tend to engage with each section of the exhibition. "They seem to enjoy Istanbul's sounds, even if that means the noise of traffic jams. In the gallery visitors choose noise over silence. It might, of course, be different in daily life, but here people willingly expose themselves to sounds some of which are not necessarily pleasant. One of the purposes of this exhibition is to expose people to various sounds, and raise awareness about them."