I visited an old Beyoğlu building last week to see "Gleaners," a photography exhibition that takes its inspiration from a film and a painting. Hanif Han, where Versus Art Project is located, was silent when I went there on a Wednesday morning but I forgot about the silence after seeing the first image as I suspect you will do once you visit the gallery.
Leyla and Mert Ünsal, who run Versus Art Project, have invited curators Selim Süme and Ezgi Bakçay to their gallery. "It was our chance to realize this photography exhibition idea we've had in mind," Bakçay told Daily Sabah in an interview last week.
"A film by Agnes Varda, the grandmother of the French New Wave, was the inspiration behind this show," Bakçay said. "Her documentary film 'Les glaneurs et la glaneuse' begins with François Millet's painting 'Gleaners,' continues with rural and urban scavengers and reaches from there to artists who work on found material. Eventually Varda defines herself as a 'gleaner'. While making a film she was bringing to the editing room stuff she collected from the history of art and cinema, from the street, from ordinary human stories, her dreams and her memory."
Selim Süme and Ezgi Bakçay then discussed whether such a method of collecting information had a connection with the art of photography. "In our eyes, 'gleaning' lied at the heart of the epistemological notion of photography ," Bakçay said. "The methods of photographic reproduction played a key role in changing the artist's role as someone who creates from nothing, who constitutes meaning from scratch."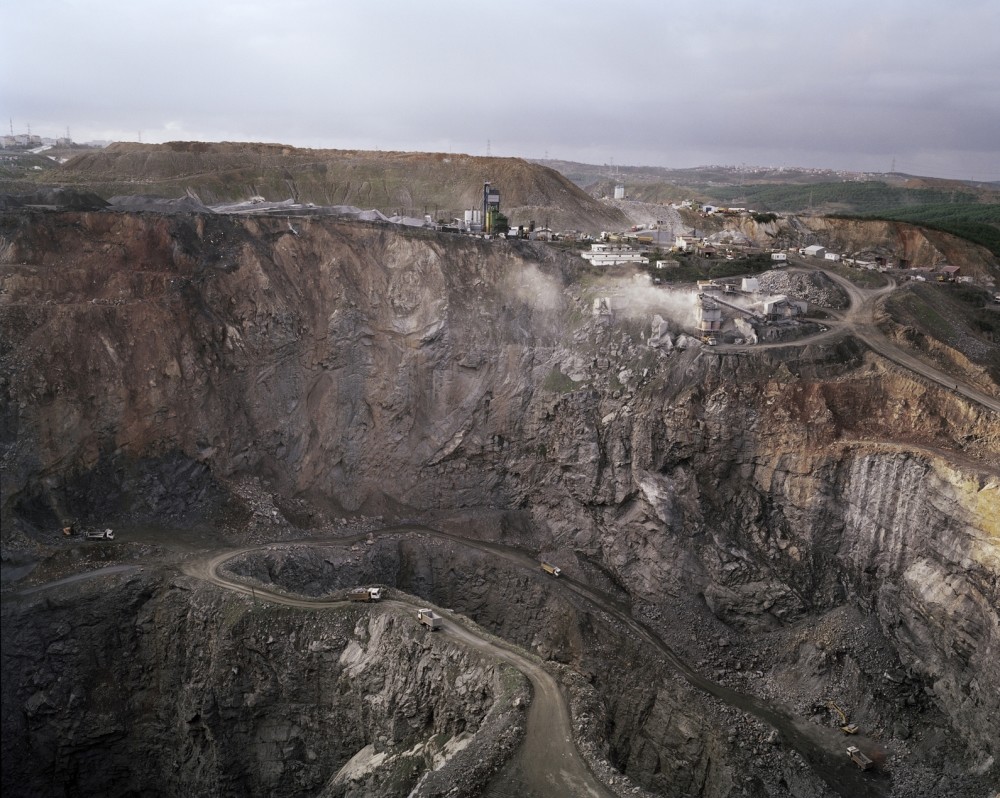 The show has an impressive list of artists and features works by Serkan Taycan, Ali Taptık, Selim Süme, Sevim Sancaktar, Civan Özkanoğlu, Yusuf Sevinçli, Gözde Türkkan, Metehan Özcan, Ege Kanar, Alp Sime, Kerem Uzel Melisa Önel, İrem Sözen, Görkem Ergün, Sinem Dişli, Ata Kam, Uğur Çolak and Serdar Darendeliler. "We are aware that this is a big show," Selim Süme said. "We think that it is possible to read the works of artists together and make connections between them. They have their stylistic differences but I can say that they all share an interest in questioning the ontology of photography, using found material and searching for a particular notion or subject."
In an interview with Indiewire's Andrea Meyer in 2001, Agnes Varda talked about how gleaning itself is forgotten in our day. "The word is passe," she said. "So I was intrigued, by these people in the street picking food. And then I thought, what's happening to the fields of wheat? Nothing is left in the fields of wheat. So I went to the potatoes, and I found these heart-shaped potatoes, and it made me feel good. Made me feel that I was on the right track. (...) It is true that filming, especially a documentary, is gleaning. Because you pick what you find; you bend; you go around; you are curious; you try to find out where are things. But, you cannot push the analogy further, because we don't just film the leftovers. Even though there is some analogy about people that society pushes aside. But it's too heavy an analogy."
The artists of "Gleaners" show had collected material from numerous places. "Their works bring together material from the streets of the city, the skin of the body, the memory of history, the gardens of nature, the masks of identity," Süme explained. "They take us to a ride to a place where hierarchies are eroded, the exchange value is no more, the object had lost its function and images became half-transparent."
Despite the massive improvements in smartphones and image sharing platforms, Istanbul's photography community is still small: people who share an artistic interest in the art of photography mostly know each other personally here. "We have been following these artists closely," Süme said. "I can even say that we are acquainted with even their very early works. Because these people are our friends."
The curators told me about how their exhibition expresses the sensibilities of a generation. "A particular generation's aesthetics finds its expression in this show," they said. "We are offering a view from the works of a generation whose members had been producing photographs during the past twenty years. They are friends and as friends they can talk to each other through their work and care about similar issues."
They told me about the need to move away from "function and necessity" in photography. Asked to elaborate on what set works on display here apart from those based on such principles, Ezgi Bakçay said: "We live in a world where our relationships with humans, society and nature are defined through necessity and function. We lead lives dominated by the exchange value of things in the market. And these value mechanisms that remove all differences from things, function through images. They give shape to the world and our bodies."
Offering a very interesting analogy, she went on: "Just think of the selfie. When we take a picture of ourselves, we also attempt to connect our own image with an image of beauty and wealth. This is why all the profile pictures people use in their social media accounts have been resembling each other so much. There are image packages in the public sphere; one features beauty, happiness and success, while the other has animosity, rage and aggressiveness. And how do we turn into subjects? By way of collecting them. This is how we constitute a society. Art, on the other hand, shows interest to surplus, waste, ordinary, ugly and passe images, places and lives who resist becoming ordinary. The artist's role as a gleaner starts at the point where objects and images lose their current exchange value."