Six years after displaying her artwork, "Plan B," at the Turkish pavilion in the Venice Biennale, Ayşe Erkmen opened her new show in Istanbul's rapidly gentrifying Dolapdere neighborhood last month.
"Ripple," the Turkish artist's immersive site-specific installation, is exhibited in an Istanbul neighborhood formerly best known for its car repair shops, miles away from the world's leading art event, the Venice Biennale that opens to the public this weekend.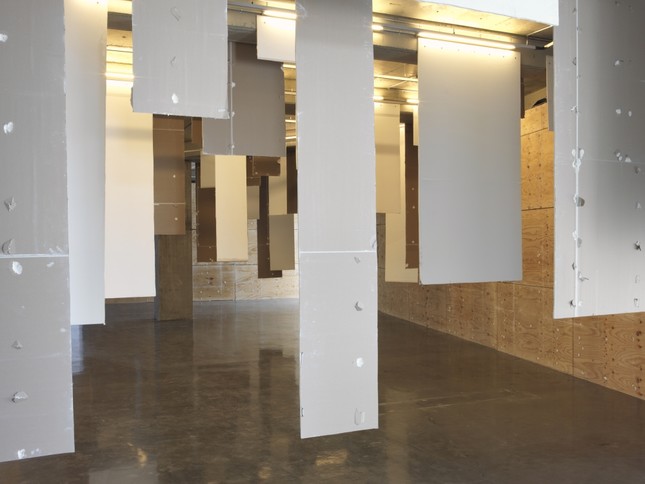 In "Ripple," Erkmen explores the various transformations of a neighborhood through sound and sculpture. The show makes particular use of the road leading from Pangaltı to Dolapdere, long populated by repair stores and tradesmen. It is their fates that Erkmen is most interested here through what can perhaps best be described as an attempt to architect an increasingly problematic subject in space through contemporary art.
Upon entering Dirimart, a contemporary art gallery located on that road, viewers are met with an immersive flood of movement. There are no plasma screens around nor is there a projector in sight; just some geometrically shaped pieces of wood. And yet that makes all the difference.
"In this exhibition, there are things flying, there is walking on the street, there are forms being folded, turned around... certain movements, vibrations, sounds and especially changes in and around the venue comprise the exhibition," Erkmen recently told the Turkish curator Fulya Erdemci in an interview.
For this first part of her show, Erkmen has transformed a very flat toned reading of all the names of the stores on this particular road into a sound frequency that, in its turn, has been turned into an abstract sound.
"The words will be hidden in this transformed sound," Erkmen explains. "This sound will carry into the exhibition space, which is the starting and finishing point of the walk that begins in Pangaltı."
There are, indeed, no words to be discerned here, in the large exhibition venue of Dirimart. When I visited on a recent weekday, drywalls that make up the partition were connected to the beams on the ceiling: dozens of them, hanging from above like newly washed clothes hung outside to dry. The effect of this ostensibly simple installation was dizzying, one that is similar to stepping into an abstract painting by a modernist master.
"It is as though the walls took flight and stuck to the ceiling," Erkmen has told Erdemci, the curator. "The surfaces left behind by the broken drywall particles will be visible, that is, the materials of the manufactured walls will change."
The next part of the exhibition features the most fun bits of "Ripple." In a much smaller gallery, floor plans of Dirimart Dolapdere are on view in the shape of sculptures, dozens of them, running and dancing in front of the viewer. This room, according to Erkmen, is "treated like a 'showroom!' It is jam-packed with sculptures. Their sculpture-like forms will be created by movements such as the cutting, folding, and crumpling of Dirimart's floor plans."
Erkmen's sculptural interventions into European cities, including Berlin and Istanbul, are by now legendary. She has applied Turkish grammatical suffixes on the ochre facade of Heinrichplatz, a corner building in Kreuzberg, Berlin's Turkish neighborhood. Her iconic "Sculpture for Tünel," placed at Taksim's Tünel Square, is familiar to many Istanbulites. Less known here are Erkmen's works "Pond to Pool to Pond," a pool that purifies the water in a pond by a temple in Nara, Japan, and her work from 2002, "Not a Good Sign" exhibited at Secession, Vienna.
For her new project in Ghent, Erkmen had a similar intervention in mind. "The location (Korenmarkt), like Tünel, is a very central and very crowded area. I hope this sculpture does not stand idly either and does something together with the audience... The sculpture should be able to establish a relationship with the audience perhaps but this should not be a very close relationship. It should be very easily understood, liked, appreciated the fun and thus completely finished work. It should be open-ended or have more than one end."
The sculpture, scheduled to open in September 2017, will join other works in Erkmen's hectic schedule for this year, "Art and Alphabet," a new exhibition at Hamburger Kunsthalle, in mid-July and a joint exhibition with Mona Hatoum at Leipzig Museum of Fine Arts in November. This last show will be a "bit of a retrospective," the artist says, "but I also plan to make new works."