Starting this weekend, there are a wide range of opportunities to learn a new skill in the performing arts from the experts, or in many cases expats as it were. The skills showcased range of arts from dancing hip hop to improv, learning swing to storytelling. Whatever your passion may be, you bet there is a workshop in Istanbul on offer this month to get you to go and glow onstage.
Feb. 11-12 Istanbul Street Dance CarnivalThis weekend, the Zorlu Performing Arts Center will be holding the eighth Istanbul Street Dance Carnival's "Show Zone," in which Turkey's up and coming talent will be competing in front of an esteemed jury to represent the country on the international stage. Eleven dance troupes that have already vied for the spot will be competing in a dance battle that will be held in the central foyer of the Zorlu Performing Arts Center, starting at 7 p.m. on Saturday, Feb. 11, with the battles beginning at 7:30 p.m.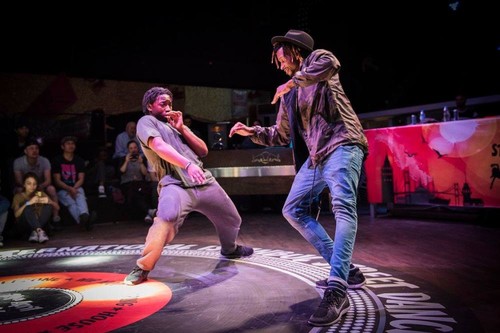 This free event will be an excellent opportunity to check out and support Turkey's rising stars in this relatively new genre to come to this country. If you are asking yourself "what is street dancing," then just think of evolving dance styles such as break dancing, hip-hop, dancehall, locking and popping. For historical reference, legends in the genre are such greats as Michael Jackson, Janet Jackson, Beyonce and Madonna.
Deciding on the dance troupe's fates and offering guidance will be a jury of some of Turkey and the world's top street dancers and instructors, who will also be holding workshops for newbies and aficionados all weekend long. On the jury, will be Ayben, none other than Turkey's top rap performer Ceza's younger sister, who is paving her own trail in rap and dance. She not only has her own solo album "Sensin O," but she has also taken part in dozens of compilation albums and was also featured in Fatih Akın's award-winning film "Crossing the Bridge: The Sound of Istanbul."
Ekin Bernay, the winner of the Nike Women Turkey competition, who currently resides in London, where she studied Dance Movement Psychotherapy and in addition to performing on esteemed stages such as Sadlers Wells and The Place, she is also a dance therapist working with individuals with autism and Down's Syndrome.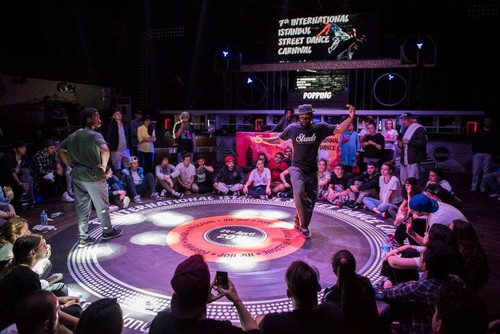 A hip-hop dancer from Sweden, Jonna is certainly not limited to the genre and in fact was the creator of her own Hip Hop Experimental style. She has performed with the Nike Blast Convention, XFactor Sweden, the Eurovision Song Contest and the Grammy Awards and is currently on the European tour of "The Nutcracker Reloaded", a version which synthesizes ballet and hip hop. Jiggy is probably the most recognized and accomplished dancehall and raga trainer in the world. Hailing from France, where he also came in first in the country's top television dance competition with his "Hey Crew" as both a dancer and choreographer. He has been on the journey and taught dance in countries all over the world.
Over the weekend, a number of these esteemed dancers will be hosting workshops in their genre that are open to dance enthusiasts of any level. The workshops are as follows: On Saturday, Feb. 11, from 1 p.m. to 2:30 p.m. Ekin Bernay will be teaching a Modern Dance Workshop and from 2:30 p.m. to 4 p.m., Jiggy will be following up with a workshop on dancehall. Both workshops will take place at the Hillside City Club at İstinyepark. Then on Sunday, February 12, Jiggy teaches a dancehall workshop from 3:30 p.m. to 5 p.m. and Jonna will lead a Hip Hop Experimental workshop from 5 p.m. to 6:30 p.m., both of which will be held at Dans Buluşma in Beyoğlu. The cost to take part in each workshop is TL 50 ($13) and to participate send an e-mail to info@streetdancecarnival.com or check out www.streetdancecarnival.com for more info.
Feb. 11 Beginning Swing Classes by Istanbul Lindy HoppersBet you didn't know that Istanbul actually has an extremely active swing scene, "Lindy Hop" to be exact, led by none other than the Istanbul Lindy Hoppers. The first-ever swing school and community in Turkey, the Istanbul Lindy Hoppers also organize their very own festival each spring, by the name of "Crossover İstanbul, Lindy Hop & Solo Jazz Dance Festival."
This Saturday, Feb. 11, their new season of classes begins with starting level courses offered on both the European and Asian sides of Istanbul. The new beginner course in Lindy Hop will take place on Saturday at 4:30 p.m. at Stüdyo Savoy in Kadıköy and at 6 p.m. at Stüdyo Harlem in Taksim. There will also be a Tap Jazz class and a beginning Solo Jazz course on Saturday at Stüdyo Savoy in Kadıköy, held at 3:30 p.m. and at 6:30 p.m. respectively. To register e-mail istlindyhop@gmail.com or check out http://www.istanbullindyhoppers.com for more info.
Feb. 11 Make Music at Kolektif JamminThe co-working and creative events collective, aptly named Kolektif House, will be hosting one of their "Kolektif Jammin'" sessions in which everyone is welcome to bring an instrument or just themselves to perform, dance or just listen. This free event will take place at Kolektif House Sanayi from 8 p.m. to 12 a.m. To learn more check out www.jamsessionsturkey.com.
Feb 11-12 Storytelling School with Judith LiebermanTurkey's resident storytelling expert and French expat Judith Lieberman, will be offering a series of workshops on how to be an effective storyteller. Beginning this weekend, will be the start of five different modules that will take place two days every month. This weekend, Feb. 11-12, the focus will be on "explaining with sincerity." Held from 10 a.m. to 5 p.m. on both days in Osmanbey, the cost to attend each module is TL 500. For eight weeks between Feb. 28 and April 18, Judith will also be leading a storytelling course geared toward parents that will take place every Tuesday between 10 a.m. and 1 p.m.
Feb 16 Foundations of Improv WorkshopOn Thursday, Feb. 16, Asian Side Improv will be hosting a Foundation of Improv workshop at Böcek Cafe, located in Moda's Caferağa neighborhood. This event will take place between 7:30 p.m. and 9:30 p.m. and will cover the basics such as how to connect to your scene partner and create a shared and temporary reality on stage. Asian Side Improv are the newest additions to the English-language improv community and host regular improv jams on, you guessed it, the Asian side of the city. The cost to attend this workshop is TL 10 and it is a unique opportunity to gain some stage skills should you ever want to take the stage in Istanbul's active improv, stand-up comedy and spoken word scene. Check out their Facebook page for more info.
If you want to stick to being an audience member or maybe check out other improv experts in town, then tonight, Friday, Feb. 10, The Clap and Ephemerata will be performing "An Evening of Improv" at the Yota Improvisation Theater in Beyoğlu between 8:30 p.m. and 10:30 p.m. The Clap and Ephemerata are two crews of primarily expats who stage long-form improv shows in English.
Feb. 17 Take the stage for 3.5 minutes at Impact HubImpact Hub Istanbul, Turkey's branch of the global positive impact-driven co-working and co-creating network of venues, which is located in Kağıthane, will be hosting a special evening in which they will be opening up their space to anyone interested in taking the stage for three-and-a-half minutes. This will be a non-judgmental space for people to tell a story or showcase a talent.