Organized by Yabangee, the expat events website, and held at Atölye Istanbul, the innovative platform and creative space located in Bomontiada, the second Expat Spotlight will take place today from 7:30 p.m. to 10 p.m. in which seven expats residing in Istanbul will share their personal experiences.
Held in collaboration with and at Atölye Istanbul in the renovation marvel that is Bomontiada, formerly Turkey's first beer factory, "Expat Spotlight" is Yabangee's new monthly talk series, which showcases the freshest and most inspiring contributions being made by Istanbul's diverse international community. A selection of Istanbul's expats, who make a contribution to the city's cultural, sporting, humanitarian, and business spheres share moving stories, reflect on personal experiences and participate in a resourceful dialogue, open to an audience of foreigners and locals alike. This evening's event will be centered on the theme of "Writing," it will take place in English, and begin at 7:30 p.m. with doors opening at 7 p.m. and entrance is free.
The guest speakers at tonight's event are some of the city's best writers that turn their experience in Turkey into their craft. MC'ing the event will be Katrinka Nadworny, a regular contributor to Yabangee and a U.S.-born expat who also has a very successful and appealing travel blog entitled Katrinka Abroad.

James Tressler is another regular contributor to Yabangee and an American expat who is a prolific writer with a number of books about Istanbul under his belt including, "The Trumpet Fisherman and Other Istanbul Sketches," "Letters from Istanbul, Vol. 1, 2 and 3" and "City Schwerzos: New Stories from Istanbul."
Luke Frostick and Thomas Parker are the co-founders and editors of "The Bosphorus Review of Books," the first English language online literary journal in Istanbul. The two met through the Spoken Word Istanbul community and recently published the second edition in March.
Hailing from New Mexico, Paul Osterlund is a regular contributor to Culinary Backstreets, Al-Jazeera English, Roads & Kingdoms and Balkanist and William Armstrong, who hails from the U.K. is also the presenter and producer of the podcast Turkey Book Talk. Jennifer Hattam is an expat from San Francisco and a successful freelance writer who contributes to The Atlantic, Cornucopia, BBC Wildlife and Time Out Istanbul.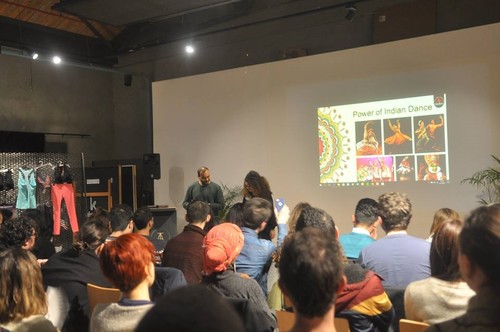 This is the second in this new monthly talk series, which will bring together the city's diverse international community to share moving stories and personal experiences in a variety of professions. The first, held last month focused on expats serving in "Health and Wellness." Last time, approximately 70 people attended the event, which is also conveniently and pleasantly located at Bomontiada, one of the most exciting cultural complexes that has become a contribution to the quaint yet lively multicultural Bomonti neighborhood in Şişli. Not only does Bomontiada host one of the best live music venues in the city, Babylon, but it also has impressive and creatively decorated dining venues that are well worth discovering such as Kilimanjaro and the American cuisine restaurant The Populist and of course also houses the "interactive and creativity platform" that is Atölye Istanbul. There will also be a social hour introduced to the event tonight, so attendees will have a chance to mingle and meet others in the international community.
I had the opportunity to speak with Tarik Yassien, one of the main team members who runs much of the organizational efforts behind Yabangee, which he loosely describes to me as being a volunteer-driven English resource and community related to life in Istanbul. "Essentially we're a blog," says Tarik, adding "but we do try to help promote the occasional gathering and bring people together, both locals and foreigners."
Tarik, who hails from New York but moved to Istanbul a few years ago to discover his Turkish roots, is just one of many members of a strong team of writers, photographers and editors to name just a few of the 80 or so contributors to the website, most of which are expats, so "it's a 100 percent group effort," he tells me, adding "The demographics of the team vary in age and country of origin. We've got people involved from America, the U.K., Ireland, France, Germany, Ukraine, Russia, Iran, etc. and at different life stages from university students to people who have settled down here to start families.
"Everyone has their own lives [working full-time, maintaining a family, et cetera] and just contributes ideas, content, photos, et cetera whenever they can [mostly via email]. So while the team is quite large and we do manage to cover a pretty big scope of Istanbul life, we're not a professional outlet or anything like that. It's very much a labor of love and we do our best to keep it going," said Tarik.
I asked Tarik how the Expat Spotlight series came to fruition to which he said, "Expat Spotlight came about after meeting with the Atölye Istanbul team. Yabangee has always been keen on having formal events that promote dialogue and forge connections such as lectures, screenings, workshops, et cetera in English, but we have never had access to a proper space.
"Atölye has some genuinely ambitious objectives for their future and a large component of that involves working with the international community both in Turkey and abroad, so it seemed like we complimented each other quite nicely," explained Tarik adding Atölye is also able to support the project in ways that we, as a volunteer group, just aren't able to do considering our resources and format. They've really put their full weight behind helping us and it's been immense.
"There's definitely a lot of value in offering this type of event to the international community here, as it highlights meaningful contributions from other expats and also allows us the opportunity to get to know one another," said Tarik, adding that anyone who wants to contribute, whether it be to speak at a future event or to simply get involved with the team or community at large, can contact editor@yabangee.com.
The invaluable Yabangee website not only shares information on what's going on in the city, but they also provide a lot of useful advice on tips on navigating life in Istanbul. This community, created by and for foreigners residing in Turkey, provides an excellent avenue for fellow expats to get to know one another, especially when the team hosts their own specially organized of events.
In fact, on Saturday, March 25, Yabangee will be hosting a double bill of events that will be an excellent opportunity to meet and mingle with the city's many foreign residents.
During the day on Saturday, Yabangee will be joining the Worldwide InstaMeet 15: Kindness. In this event, instagrammers across the globe will be coming together under the theme of "kindness." Yabangee will be charting new routes and photo opportunities on a tour for photographers of beautiful Istanbul. Follow their Instagram page to stay afloat of this special program.
In the evening of March 25, there will be a Yabangee & Friends Spring Secret Terrace Social. This event will be a social gathering to mark the arrival of spring by celebrating in classic Istanbul fashion on a rooftop terrace with drinks and music. The location of the venue will only be released to those selected to be on the guest list. So, reserve your spot on yabangee.com for a chance to take place in this super special social mixer geared for expats.